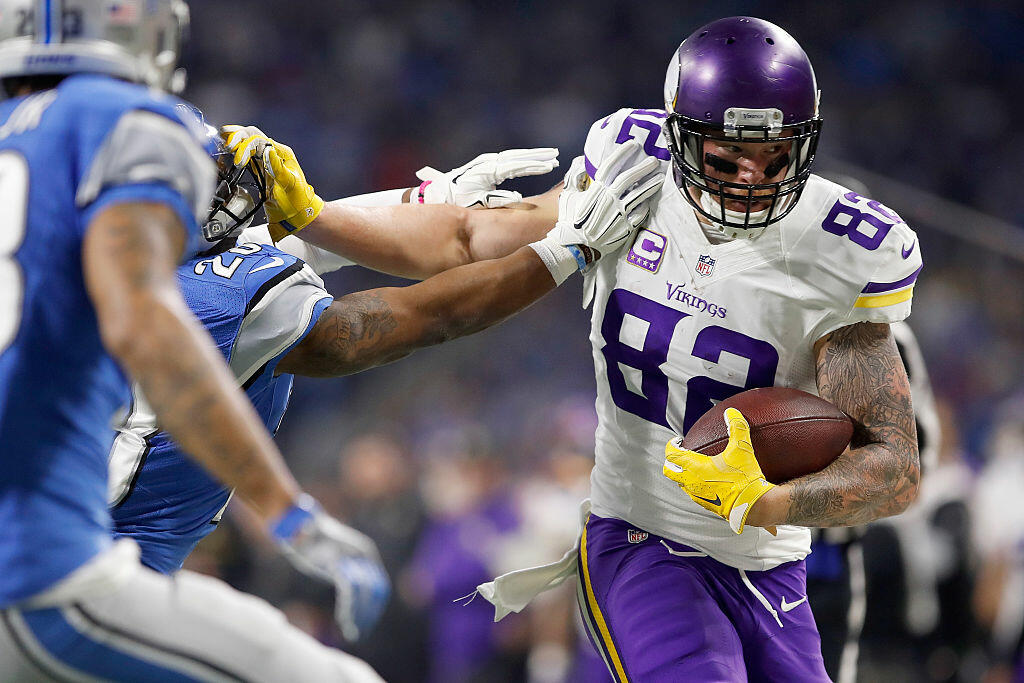 This article was originally posted to PurplePTSD.com
Another relatively quiet week on the free agent front for the Minnesota Vikings and not much has changed when it comes to the real impact players on roster. Last week we covered the "5 Players That Would Be The Biggest Winners After Free Agency" highlighting a group of guys who had a new space open up or some pressure relieved by the team's recent acquisitions. As with most things in life, with every ebb there is a flow, every heads there exists a tail and with this list there is also a handful of players who will be negatively affected by the additions, the subtractions and philosophical changes that come as a part of this puzzle.
Like we did last week, highlighted below is a list of the team's transactions, including a handful from Thursday's release so we remember exactly what we're dealing with here.
Re-Signed: WR Adam Thielen, CB Terence Newman, OL Jeremiah Sirles
Acquired: RB Latavius Murray, DE Datone Jones, T Mike Remmers, T Riley Reiff, CB Terrell Sinkfield, WR Mitch Mathews, TE Nick Truedell
Lost: T Andre Smith, WR Cordarrelle Patterson, CB Captain Munnerlyn, LB Audie Cole, TE Rhett Ellison, P Jeff Locke, T Matt Kalil, WR Charles Johnson, G Brandon Fusco, T Jake Long, LB Chad Greenway (retired)
Remains On The Market: RB Matt Asiata, RB Adrian Peterson, QB Shaun Hill, FB Zach Line, T Jake Long, DE Justin Trattou
So that's where we stand, now onto the five players that might see a negative impact on their 2017 season due to the moves listed above.
I've always been a "go big or go home" type of guy, so let's start right at the top of this list with the biggest name tagged here, TE Kyle Rudolph. The 2016 season saw Rudy post what could arguably be the best year of his career. The biggest improvement for Kyle last year didn't have much to do with catches, touchdowns or blocking but with what allows him to lead up to those opportunities...his health. For just the second time in his career, Kyle was able to appear in more than 8 games last season. In fact, he appeared in all 16 games for the Vikings and with that consistency, he was able to post some big numbers. A career high 83 receptions, a career high 840 yards and a very impressive 7 touchdown receptions, not too shabby. But let's take a step back and think about how those passes came the way of Kyle last season and how that might be changing for the upcoming year. QB Sam Bradford set an NFL record last year with a completion percentage of 71.6%. While still an NFL record, that number came with its fair share of criticism since a larger majority of Bradford's passes were short underneath routes and dump offs...out of necessity. With no offensive line to pave the way for a running back, the short passing game becomes an extension of your run game. With no offensive line to protect the quarterback for longer than two seconds, if you want to move the ball through the air you're going to have to work through small chunks of yardage and shorter passes. Which brings us back to Kyle. Generally speaking, throughout most of the league many of those underneath passes, many of those dump off opportunities go the way of a tight end and many of them did for Kyle. That's not to say that Kyle is immune to deeper passes and big gains, but they're certainly not his forte. With more time to throw (hopefully), with an improved run game (hopefully) and with more trusted and proven options lined up out wide (hopefully) we might see a dip in Kyle's production as the ball gets spread around. One step further, Kyle's never been known as the greatest run blocking tight end and if the team has the good fortune of running the ball more to balance the offense better, Kyle may not be in the mix as often. All of these things are obviously to say that Kyle himself hasn't made any improvements in speed or blocking ability of the offseason, which he certainly may be doing, but based off of last year's evidence, it could be a coming back to earth year for Kyle in 2017...
CLICK HERE to read the rest of this article at PurplePTSD.com...