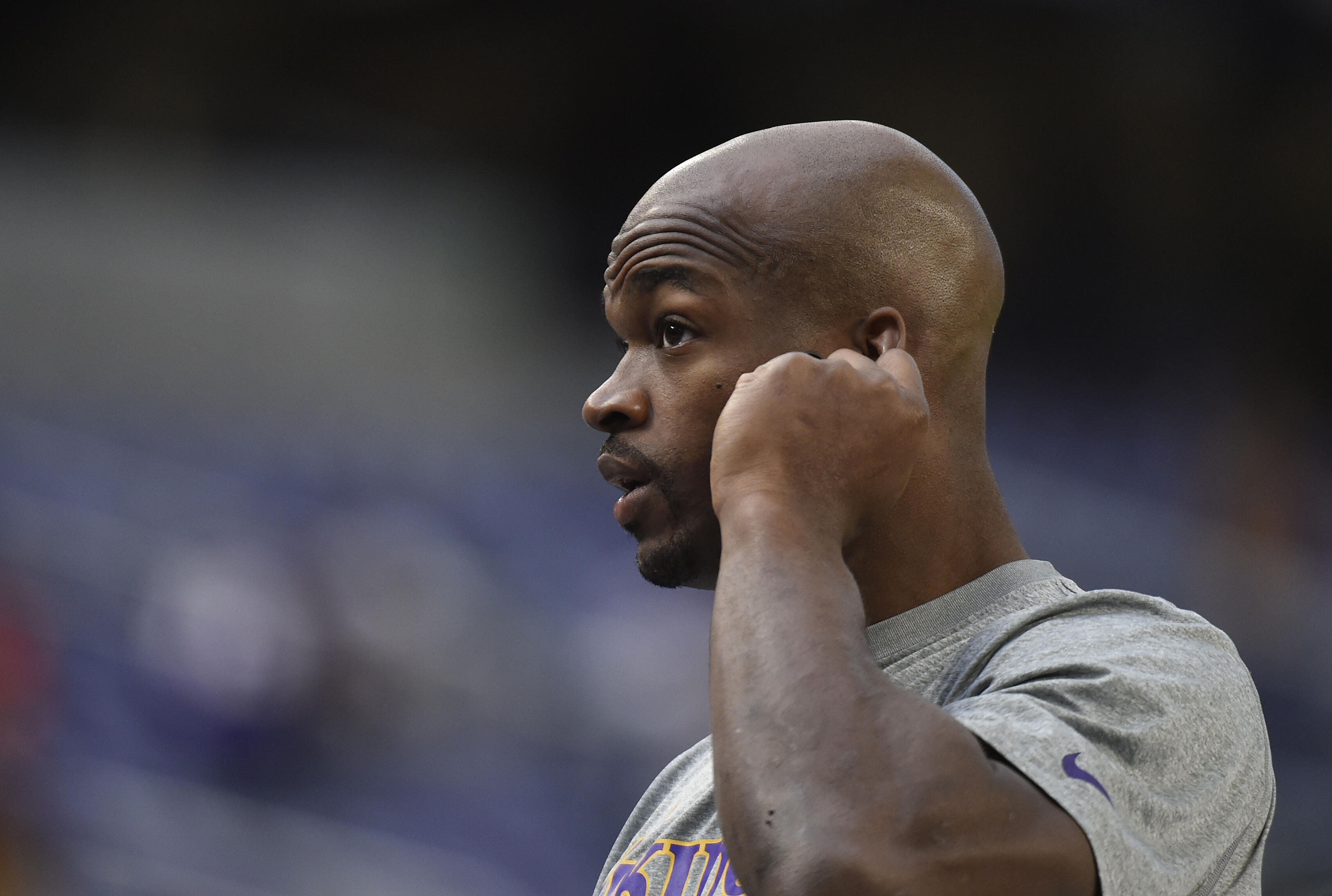 I'm baffled right now.
As of early this morning Adrian Peterson is a New Orleans Saint. That's not completely surprising given the fact that he met with them a few weeks ago and the rumblings have been around for awhile now. What I can't seem to figure out is why in the world New Orleans chose Adrian and why Adrian chose New Orleans?
Let's go back to when Adrian first hit the market.
All the experts kicked back and tried to predict which team might be a good fit for Adrian. We thought it would be easier as there were a few obvious attributes we associated with the decision. Since he's near the tail end of his career, we mentioned teams that would be contenders for a Super Bowl in 2017. Since he seemed to think pretty highly of himself still, we talked about teams that might be willing to pay a lot of money. And since he still seems to think that he has enough of the "it" factor to compete in the NFL, we looked at teams that had a starting spot open for Adrian.
All throughout that process, the New Orleans Saints NEVER came up. Not once, even as an afterthought or a dark horse.
But it takes two partners to dance, so it would have to make sense for the Saints to bring in a guy like Adrian Peterson right? Nope, no chance.
I might be able to understand why Adrian would choose the Saints if there weren't any other options, but I can't find a single one that would explain to me why the Saints are choosing to bring Peterson into the fold?
The Saints already have a "starting running back" in the fold with Mark Ingram. And he's coming off the best year of his short career in New Orleans with 1,043 yards and six touchdowns on the ground adding in 46 receptions and four scores through the air. Ingram understands the system in place while Peterson brings in a mentality where he is the focal point of the offense. Does Adrian come in to back up Ingram? Okay, then in what role?
The Saints are arguably the most pass heavy team in the league right now and none of that lines up with Adrian Peterson's skill set. He can't catch passes, if he does he hasn't been able to turn his hips cleanly in open to open up after the catch, and goodness gracious he can't pass block. On what down do they expect for Adrian to go in there and not tip their hand towards the run game?
You could maybe start talking some sense into me if you say they're bringing him in to be a goal line back but even that hasn't been a total strong suit for Peterson. The last time we saw him, given it wasn't behind a great offensive line, he was getting stuffed on the one yard line. And with that, how man goal line, short yardage situations does a team find themselves in each game? Maybe two? Is that really worth $3.5MM?
And maybe more importantly, adding Peterson to the fold, even at a low rate changes the future of the franchise by pushing them away from drafting a high end running back in the first round of this year's draft. That may end up being a good thing, but it's a one maybe two year solution if all goes well. Effectively, they're choosing to pass on Stanford running back Christian McCaffrey, another thing I just don't get.
With that laid out, it can't be worth the baggage, it can't be worth the health concern, it can't be worth the diminishing returns...unless they know something that we don't know but I can't get over the fact that he just signed a $3.5MM deal to warm the bench. I mean, more power to him.
Maybe Peterson wanted to play with Drew Brees? That will very quickly be the best quarterback he's ever played with. He told PFT this morning that it felt "right within his spirit" so there's that too. That's all good with me, I still don't know what the Saints are doing here?