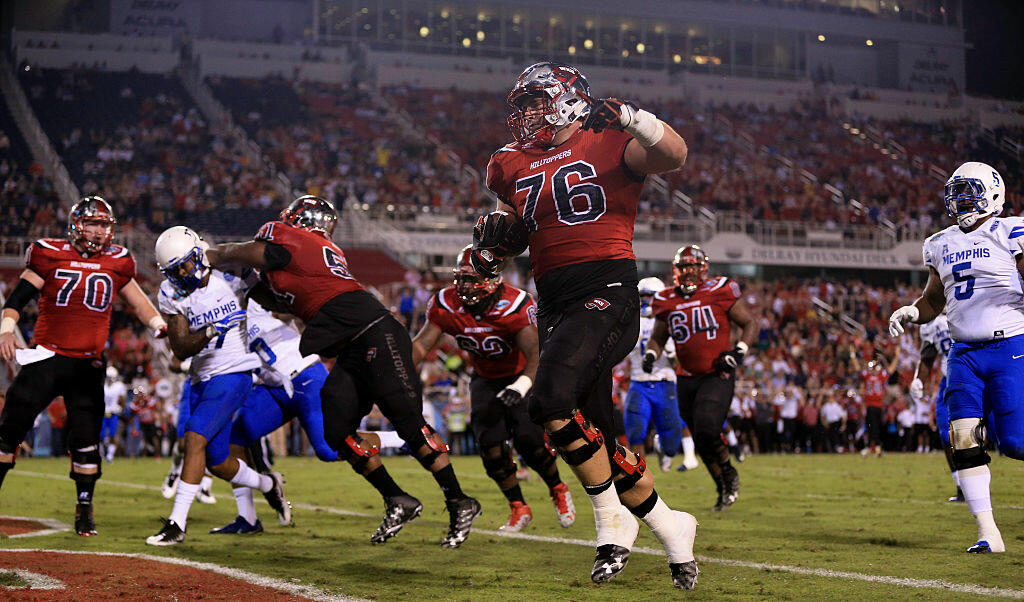 The first round of the 2017 NFL Draft is in the books and the Vikings have been sitting tight with no action through round one. So now we turn the page and roll on to rounds two and three where it's expected that the Vikings will be VERY active. With an extra third round pick and an extra fourth, there's room to move up in the second round if they want to. And to be honest, there are some pretty attractive options that have fallen a few spots and could be targets for the Vikings to hit on in the early parts tomorrow night.
1. OG Forrest Lamp, Western Kentucky
Lamp is the overall best player on the board period, Lamp played tackle in college but doesn't have tackle size is expected to shift into the inside and play guard at the NFL level. Lamp is likely a target of the Green Bay Packers with the first pick in the second round after losing out on T.J. Lang and other offensive linemen in free agency.
2. RB Dalvin Cook, Florida State
Thought to be the third best running back in this year's class, Cook was slated to go towards the back end of the first round...that was before things got cooky. Health concerns might have factored into Cook's drop but he would be a good fit for a Minnesota Vikings offense that is looking to lock up the future of their run game.
3. CB Jourdan Lewis, Michigan
Tough nosed and aggressive for being undersized coming into the league but at 5' 10" tall and 188lbs, Lewis is not small. Touted as a blanket coverage slot cornerback that could fill the void left by Captain Munnerlyn nicely for the Minnesota Vikings.
4. DL Malik McDowell, Michigan State
When it comes to his talents, McDowell should probably have been selected in the earlier parts of the first round. Yet here he sits, still available as day two rolls around. But it's not a diluted sample or surveillance tape that pushed Malik down in the draft, it's his effort level. Scouts aren't confident that his drive will translate to the next level saying that he "takes plays off". That said, if motivated properly he will be a big time player in the NFL.
5. OT Cam Robinson, Alabama
Robinson is rated by many outlets as the top offensive tackle in this draft and he's still on the board if the Vikings were interested in going up to get him. A 6'6", 322lb behemoth of a man, Robinson is great blocking the run with room to grow for pass blocking and could fight for a starting roll on the Vikings line right from the get go.
Other Names To Consider...
S Budda Baker, Washington
CB Quincy Wilson, Florida
RB Alvin Kamara