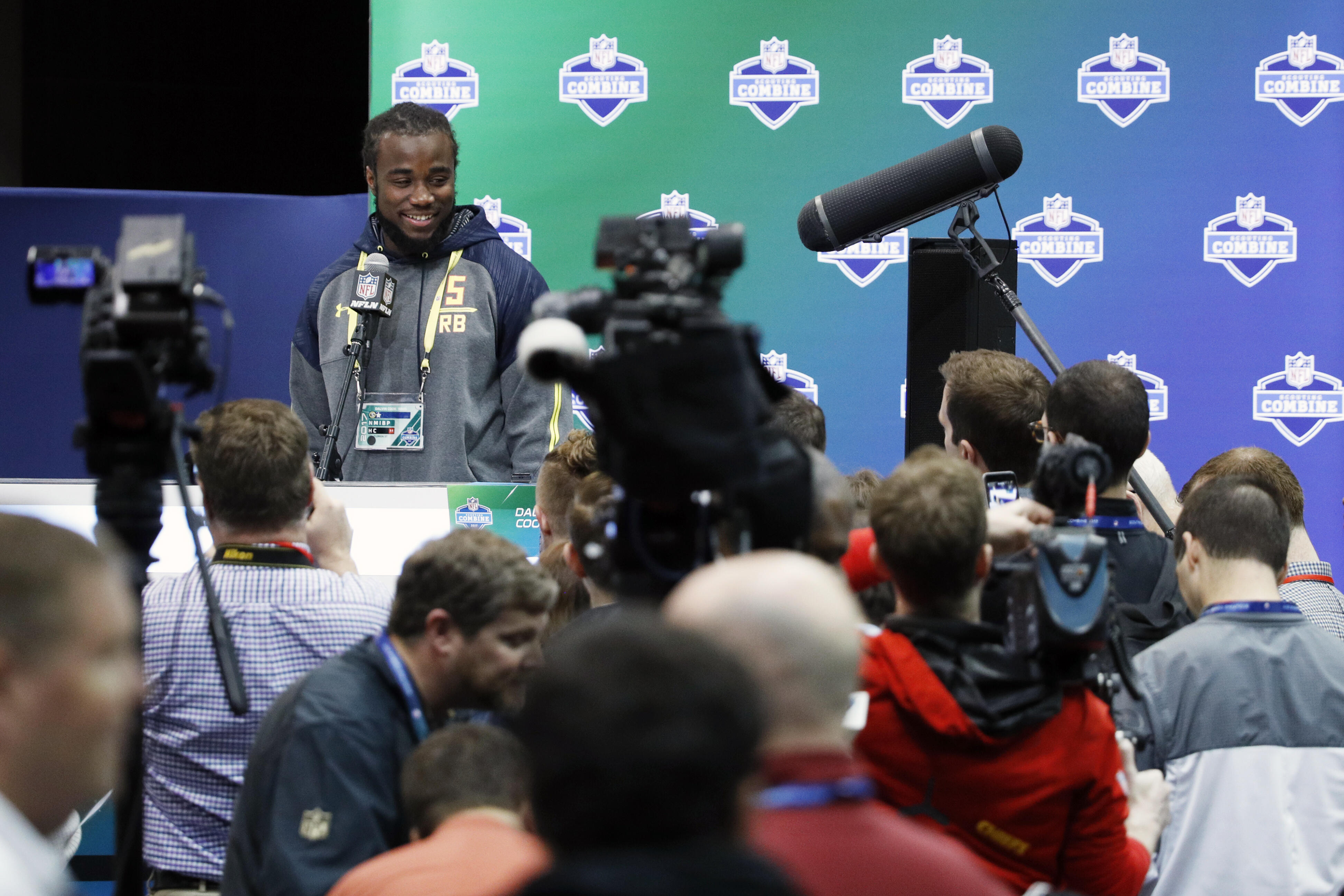 With the NFL Draft officially in the rear view mirror for another year now is the time that we start speculating. It's been far too long since the NFL work has been able to toss around any crazy knee-jerk reactions. For my dollar, that's the best part about the league! Know-it-all fans and media bantering back and forth about player they barely know filling into a team that stands to be completely different in a scheme that we know nothing about. It's why we all love the game!
So let's jump into the fold. With no first round pick this season (see Sam Bradford trade with Eagles), the first soiree we have has to be their second round pick running back Dalvin Cook. The hot button issue at hand with Cook is this, can Cook fill in as the starting running back for the Minnesota Vikings on opening day against the Saints on September 11th?
There's an argument to be had here.
First let's look at the incumbent (of sorts). With Adrian Peterson out in Minnesota and signed on with the Saints, Minnesota opted to bring in former Oakland Raiders running back Latavius Murray to slot into the backfield behind Sam Bradford. At first, everybody seemed thrilled. All signs point to Murray being a good locker room guy, a good community guy and a good football player willing to focus on the areas that Peterson struggled (namely pass protection and pass catching). It seemed like a perfect fit for a team that was ready to move their offense and their franchise in a different direction.
Then we started to see a few things, small things, rise to the surface that tempered some of that initial excitement. Murray underwent ankle surgery, something that the Vikings knew about prior to signing him. To this day, there is no official timetable for return. Then you start to look at some of the numbers and realize that Murray didn't exactly "shine" behind a pretty good offensive line, with a pretty good young quarterback out west with the Raiders. Then the dollars and cents start to factor in. What originally might have looked like a steal of a deal started to look a little bit like digging through the bargain bin to take a stab on something that might be broken beyond repair.
Then the Vikings not only select a running back with their first pick in 2017, but the trade up to actively go get a guy in Dalvin Cook.
Cook was thought to have first round talent but character concerns and durability dropped him to a point where the Vikings had to make a move to get him. If you've watched his college highlight reel, you'll see why they were intrigued, if you haven't watched it I suggest that you CLICK HERE and do so now.
But could Cook come in as a rookie and steal the job that looked at one point to be Latavius' to lose? Sure, it's a possibility.
Murray is signed to a two-year deal but all that is guaranteed to him is a measly $3.5MM in year one. If it doesn't work out or if Cook steps up to take the job, you cut bait after year one and find some other sort of injury insurance on the open market. By all accounts, Cook has the vision, the patience, the speed and the ability to play at the next level, I mean heck, people are comparing him to LeVeon Bell right now! Assuming that it will translate to some level in the NFL, there could be some legitimate room for him to work into a starting role.
So is starting by the beginning of the season too much of a pipe dream? I think it might be.
Cook has all the talent in the world with the ball in his hands. At that point you have two things to worry about; protect the football and avoid tacklers. While dodging the opposition is somewhat reactionary I am worried about the second piece here, protecting the football. It's a whole new ball game in the NFL. Beyond that, I'm worried about how he'll translate early to situations in which he doesn't have the ball in his hands. Like with most rookies, there's likely to be an adjustment period learning how to run routes and how to block in the passing game in the NFL. You don't see many young players come into the league ready to do that from the outset.
In conclusion, I think that there might be an above average chance that before the season ends Cook will work in as the starter. Kicking it off for opening weekend on Monday Night Football though, you might be better off calling the name of the seasoned veteran than throwing the rookie's feet to the fire right away.