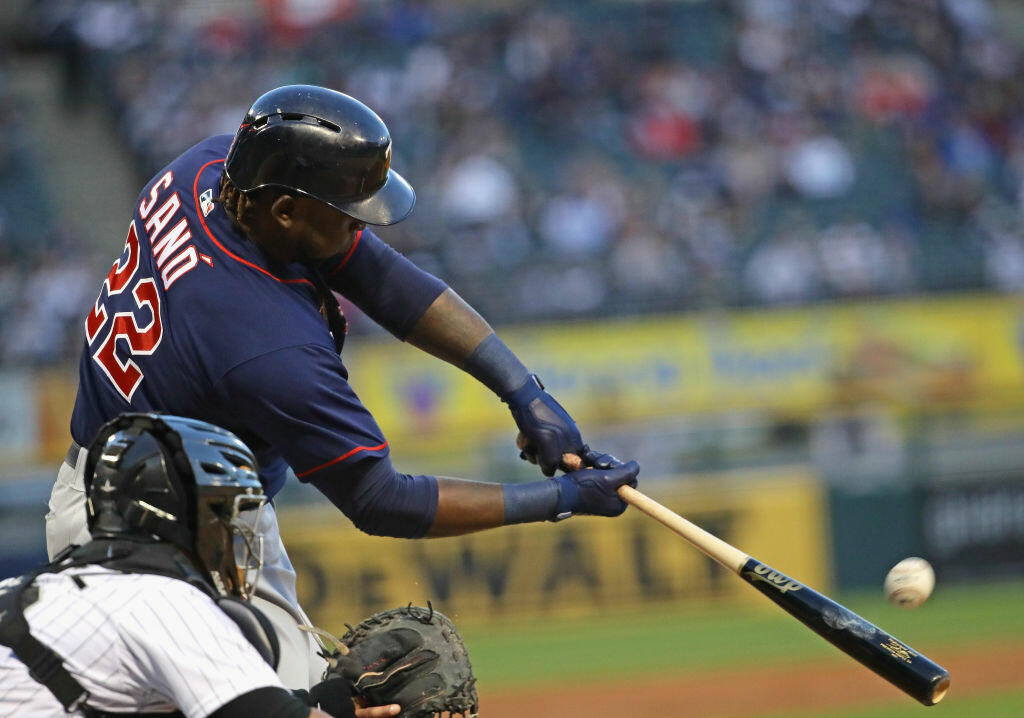 Defending Home Run Derby Champion Giancarlo Stanton of the host Miami Marlins and rookie sluggers Aaron Judge of the New York Yankees and Cody Bellinger of the Los Angeles Dodgers are among the eight participants in the 2017 T-Mobile Home Run Derby, Major League Baseball announced today. The 2017 T-Mobile Home Run Derby will be held on Monday, July 10th at Marlins Park in Miami, and broadcast live by ESPN and MLB.com beginning at 8:00 p.m. (ET).
The annual showcase also features Colorado Rockies outfielder Charlie Blackmon; Stanton's Marlins teammate Justin Bour; Kansas City Royals third baseman Mike Moustakas; Judge's Yankees teammate Gary Sánchez; and Minnesota Twins third baseman Miguel Sanó.
Stanton will be participating in his third career Derby, while each of the other seven participants will be participating in their first Derby.
Stanton and Bour will become the 20th and 21st players from a host team to partake in the Derby. Overall, it marks the fifth consecutive year for the Derby to feature a hometown competitor. The others include David Wright at Citi Field in 2013, Brian Dozier at Target Field in 2014, Todd Frazier at Great American Ball Park in 2015 and Wil Myers at Petco Park in 2016. Stanton has 21 home runs on the season, while Bour has 18 long balls.
Stanton won the 2016 event after hitting 61 home runs, the most-ever in a single Derby, eclipsing Bobby Abreu's 41 home runs in 2005. Stanton, who became the first Marlins player to win the Derby, defeated the defending champion Todd Frazier in the final round. Overall, Stanton ranks seventh all-time with 67 career Derby home runs over his two appearances (also 2014 in Minnesota). Other Marlins to participate include Gary Sheffield (1996), Miguel Cabrera (2006), Dan Uggla (2008) and Hanley Ramirez (2010).
Judge and Bellinger will become the eighth and ninth rookies to compete in the event, joining Wally Joyner (1986), Jose Canseco (1986), Mark McGwire (1987), Mike Piazza (1993), Kris Bryant (2015), Joc Pederson (2015) and Corey Seager (2016). Judge, who leads the Majors with 27 home runs, joins his teammate Sánchez, who has 13 homers, as the fifth and sixth different Yankees to participate, joining Tino Martinez (1997), Jason Giambi (2002-03), Nick Swisher (2010) and Robinson Canó (2011-13). Bellinger, who paces the NL with 24 home runs, is the eighth different Dodger in the event, joining Piazza (1993-94), Raul Mondesi (1995), Hee-Seop Choi (2005), Matt Kemp (2011-12) and teammates Yasiel Puig (2014), Pederson and Seager.
Blackmon, who has 18 home runs out of the leadoff spot this season, joins previous Colorado entrants Dante Bichette (1994), Ellis Burks (1996), Larry Walker (1997, 1999), Vinny Castilla (1998), Todd Helton (2001), Matt Holliday (2008), teammate Carlos González (2012, 2016), Michael Cuddyer (2013), Troy Tulowtizki (2014) and Justin Morneau (2014). Moustakas, who has 23 home runs on the season, becomes the first Derby competitor from Kansas City in 26 years, and just the third Royals player overall to compete in the Derby, joining Bo Jackson (1989) and Danny Tartabull (1991). Sanó has 20 round-trippers on the year, and he is the seventh different Twins player to join the Derby, along with Tom Brunansky (1985), Gary Gaetti (1989), Torii Hunter (2002), Justin Morneau (2007-08) and teammates Joe Mauer (2009) and Brian Dozier (2014).
The T-Mobile Home Run Derby Bracket Challenge also returns this year, giving fans a chance to predict the results of the Derby at Marlins Park. To enter, visit www.MLB.com/bracketchallenge once seeding is announced – stay tuned for more. One perfect bracket will receive four tickets to Game One of the 2017 World Series and a $500 Mastercard gift card.