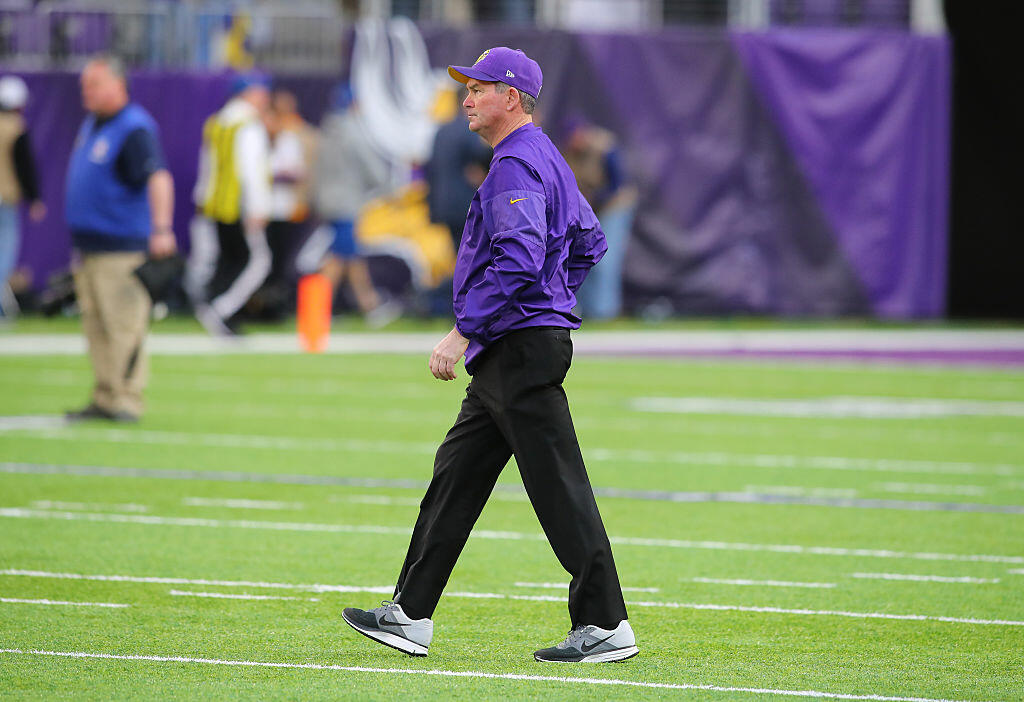 Last night the Minnesota Vikings kicked off the 2017 preseason schedule in Buffalo, NY and it was an interesting style of football. There will be some growing pains, there will be some learning and hopefully no more gosh darn injuries.
Still, a few things stuck out from the play and like you many of the takes are generalizing what I saw on TV and not what they were actually working on inside the meeting room, because how could I know that? So, here are some of those knee-jerk armchair reactions from what we endured last night
Dalvin Cook looked okay, but clearly has more to learn...
It's tough to say what could have been for Cook last night if the o-line had done a little better. Still, we got to see him in real action last night. He ran to the tune of 5 carries for 13 yards and more impressively caught 4 passes for 30 yards so all in all it wasn't hideous. The plus side on the passing should give us a little glimpse of what he could look like when and if the offensive line gives him a little room to run. Pulling up in the open space with guards pulling ahead of you is as close to the actual thing as you can get to what it's like when an offensive line actually blocks. So worst case scenario, if the team has to play dink and dunk like they did last year, now they have a running back that can catch in the flats and help keep a defense more honest.
The offensive line was scary bad last night...
The common thought last year and carrying over again to this year is that if the offensive line can't keep Bradford upright the Vikings are in trouble. Last night was not a good sign for this offensive line that couldn't keep an average at best Buffalo defense away from the quarterback and couldn't open holes for Dalvin Cook. Sure Riley Reiff didn't suit up, they didn't scheme for the Bills specifically and they haven't had any time to gel as a group but at some point your just blocking the guy in front of you and they struggled with that last night. "Look out blocks", "Ole Blocks" they were all on display last night and that needs to change.
Young wide receivers looked pretty good...
It wasn't Adam Thielen or Stefon Diggs turning heads last night, instead it was 7th round pick Stacy Coley making moves with 3 catches for 67 yards. Furthermore, Rodney Adams looked okay in the return game and caught a 12 yard touchdown pass in the second half. The better those guys look the tougher it's going to be to get a guy like Jarius Wright to slip onto the 53-man roster if he keeps posting 1 catch for 9 yard nights.
First team defense looked aggressive, but porous...
Common thought for the 2017 season continues to be the offense will get by but the defense will dominate. If last night was any insight that might be what we're gonna get again. The first team defense got into the backfield and threw down a couple sacks last night but the overall recap wasn't glowing due to poor containment of the run game just. like. last. year...
Mike Zimmer was none to pleased with his team's performance last night...
He said it at halftime during his interview with KFAN and he said it again in the postgame interview, it didn't get any better. He wasn't too pleased with anything last night. That might sound negative but it gives the team real life tape evidence of mistakes to take back to the classrooms at Winter Park and learn from. As we've seen so far, Zimmer don't take no crap and he won't accept sub-par performances like last night.