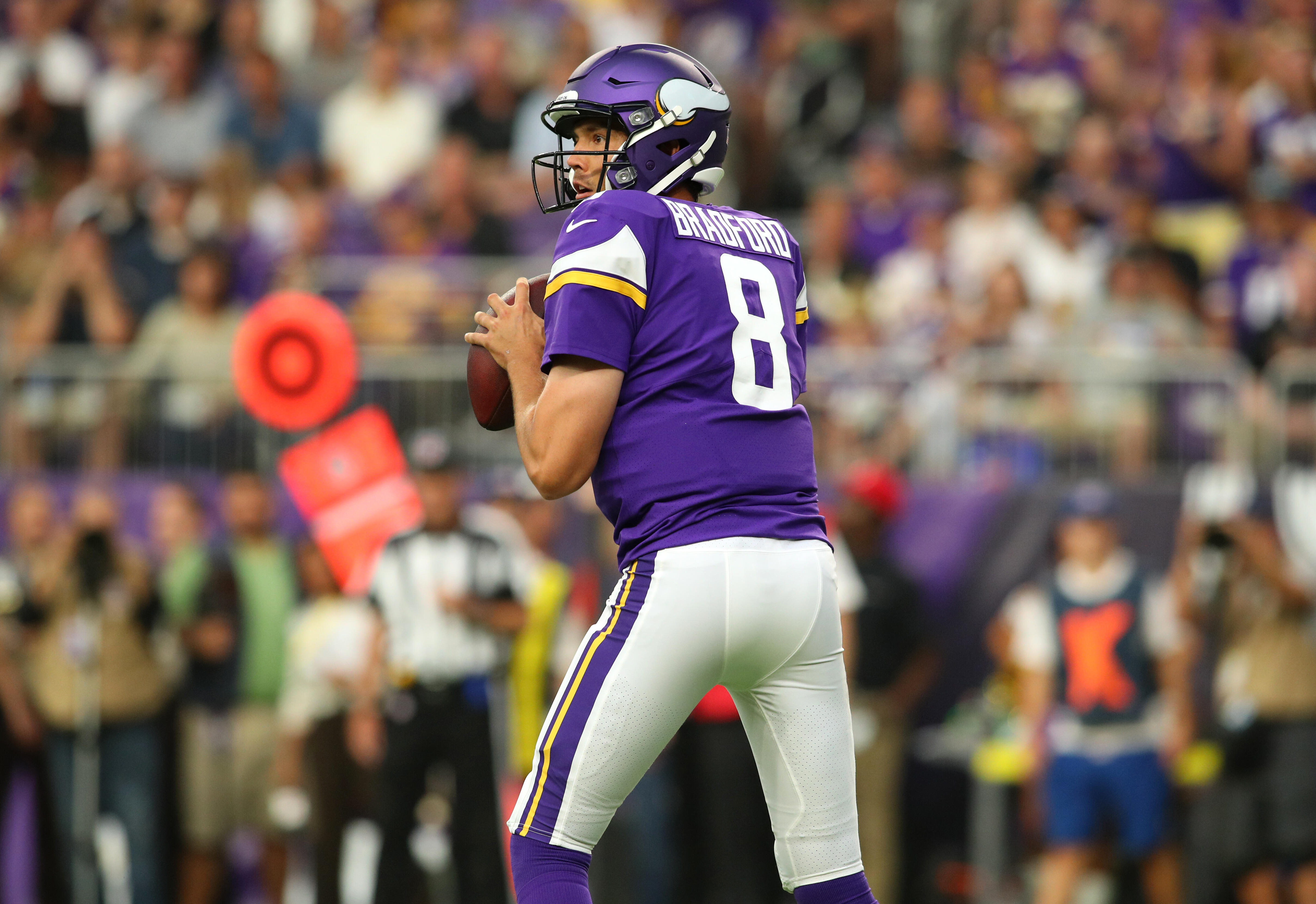 Welp, not sure any of us saw that exact game playing out the way that it did last night but who cares, the Vikings won and are now 1-0 to start the season for a second straight year. With that said, I would argue that this one felt a little better than last year's win as in 2016 the win was aided by two defensive scores. Last night at U.S. Bank Stadium it was pretty much complete domination by the Vikes.
Thus, here are the five things that stuck out to me the most after last night…
1. I'm sold, give Sam Bradford a contract now…
I can hear you all right now, "pump the brakes Aj it was one game, against the Saints crappy defense nonetheless." I can hear that argument, but given the current situation with the Vikings quarterbacks I have a few things to say. I LOVE Teddy Bridgewater, but we've NEVER seen a game like that out of him. Teddy has had impact, but not the way Sam did and there's reason to believe it could get better as the offensive line gels, the running back gains vision and things come together come midseason. There's no certainty on Teddy's future as a passer and furthermore there's not certainty surrounding his health. We are all hoping he comes back, but nobody knows how he's going to come back if he makes it. Sam is much more of a proven commodity and the type of quarterback that wins games in the NFL nowadays. Lock him up now and save a few pennies before the open market gets into his head.
2. I'm encouraged but need to see more from Dalvin Cook…
I know this sounds super negative given the fact that he just set the rookie rushing debut record for the Minnesota Vikings all-time with 127 yards in game number one, but I think that Dalvin left a lot on the table Monday night, especially in the first half. There's room to grow for the young rookie as well as the young offensive line and as the line strengthens and Cook's vision widens I think there are holes to be had and yards to be gained. That's not even considering that I think he'll have an impact in the passing game before the year is out as well. There are good things to come for Dalvin Cook and it's tough to complain too much about a 127 yard debut.
3. How about that offensive line?!
I don't remember a time where there was noticeable stellar play on the offensive line. Not only was Sam Bradford protected and upright for most of the game, but there was one play with Berger and another with rookie Pat Elflein where we saw them pull and block down the field rather than trip over them selves and block the ghosties like their predecessors had. Riley Rieff has a solid debut at left tackle and I know I'm not alone thinking that there's something special at center with Elflein. Give these guys a few games to actually play side-by-side and there could be gold in them thar hills! Also, stay healthy...please?
4. Defense Bends but doesn't break against tough threat…
No the New Orleans Saints are not the team of yesteryear and no Drew Brees is probably no longer "in his prime", that said they are still a dangerous offensive team and the Vikings held them out of the endzone until their final drive. There was a little bend, don't break to the purple defense last night but they held the Saints to four field goals on four decent scoring opportunities, three of which were inside the redzone. The got enough pressure on the quarterback while accumulating only one sack but the coverage in the secondary was the best we've seen in awhile. Multiple times Brees was pushed out of the pocket with nowhere to go forcing him to throw the ball away for his own safety. I like it.
5. Diggs & Thielen, Thielen & Diggs...HOLY SMOKES!
Have a night Stefon Diggs and Adam Thielen! Who would have thought that a 5th round draft pick and a rookie minicamp invitee would go on to combine for 250 yards receiving in front of a national stage? Look out for Adam Thielen to be the single most added player in all of your fantasy football leagues this week, no joke! The dual success of these gentlemen will only help their individual causes too as Bradford now has dangerous options on either side of the field...oh yeah and Rudolph is no slouch himself.
Sam's got a defense, he's got passing options, he's got protection and he's got a back in the backfield...let's go!