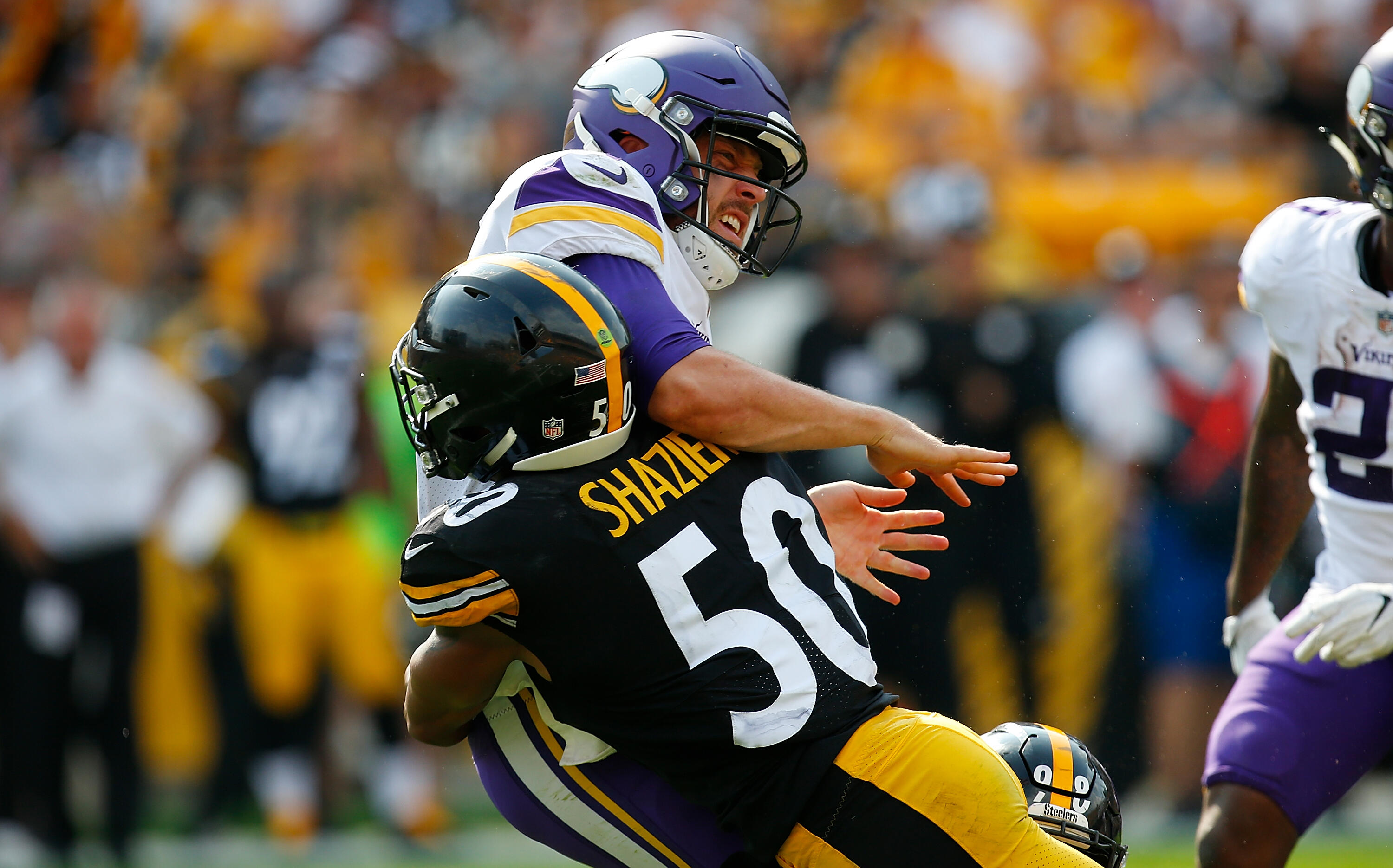 Well, it wasn't a pretty trip to the Steel City but not many are, am I right?
Late breaking news left Sam Bradford on the sideline and left the Vikings just a bit short as they fall to the Steelers by a final score of 26-9. That said there was more that went into the final outcome than just missing Sam Bradford. Now that we've slept on it and (hopefully) pushed our knee-jerk reactions to the side, we assess it. Below are five of the most glaring observations I had walking away from Sunday's loss.
Everybody settle down, the sky is not falling...yet
Sunday proved to be a little bit of a rude awakening of what could be if this Sam Bradford knee injury lingers past the one week that we all hope it will only be. Keenum came in and did his best, but his best might not be good enough to win many games, but it will win some.
Let's say Bradford is out another week or two with this knee issue, Keenum will get more comfortable, he'll take more first team snaps and more importantly they'll be able to shape the offense around some of the things that he does well and away from the things he doesn't do so well. Still, the Vikings should have been in this game regardless of Keenum's deficiencies. It really wasn't Keenum's level of play that lost them this game. It was a factor, but the mental mistakes and lapses were the real issues that led to the Steelers pulling away and changing the trajectory of play.
At the end of the day, the Vikings smoked a bad team at home last week and lost to what we think is a good team on the road without their QB, while shooting themselves in the foot. I'm cool with that, long term assuming some of those problems get fixed and Sam's not done for the season.
Kickers need a little swift kick in the butt…
There is officially an epidemic here in Minnesota surrounding our kickers and the struggles to convert extra points. I realize that they moved the XP back a few yards two years ago to make it tougher, but last time I checked they made it tougher on ALL kickers, not just the Vikings guys. Still the Vikings are THE SINGLE WORST TEAM at converting XPs since the switch missing 13 extra points since 2015. That's not good.
Kai Forbath doesn't think it's a big deal and knows what he did wrong, but Mike Zimmer is none too happy showing concerns after the game. Asked if he thought the missed XPs were a problem, Zimmer said "yes". Nothing more, nothing less.
Message received, hopefully.
We'll have to see what they do to right these wrongs and/or motivate Forbath before these missed opportunities for points actually cost the team a game.
The offensive line came back to earth a little bit vs a better line…
We were all thrilled with the performance that the Vikings newly formed offensive line put on the field last Monday versus the Saints, but we remained skeptical since the Saints stink. Well, Sunday they came back to earth against the Steelers 3-4 defense.
They couldn't keep Keenum clean, they couldn't open holes for the run game and every lineman except rookie center Pat Elflein got busted for some sort of penalty. There were missed blocks, missed assignments and moments where they straight up got burnt off the line. There was one series where the Vikings started to finally get some momentum getting into Pittsburgh territory only to have three straight plays where Keenum was running for his life as soon as he hiked the ball.
Tampa Bay brings with it a tough defense so they won't have much time to relax and figure things out but they'll need to.
Rhodes held his own against the best in the league…
If there were to be some sort of silver lining that we can pull out of this game it's on the defensive side of the ball. You probably don't hear that too often when you allow big plays and 26 points. That said, Xavier Rhodes held his own against the best wide receiver in the game.
Brown was held to five catches for 52 yards and most of them were not up against Xavier Rhodes. There was one penalty where "X" got a little handsy, but outside of that it was step for step with the best, a guy who blew up for 182 yards the week before.
Defensive line continued to shine...
Following the pattern of some sort of positivity, the defensive line was able to pressure Roethlisberger and held the elusive Le'Veon Bell to only 3.2 yards per carry.
Everson Griffen wrangled Ben twice in the backfield and Danielle Hunter added another but he was under pressure most of the afternoon. Take away some bone-head mistakes and it was a very solid showing for the Vikings defensive line.