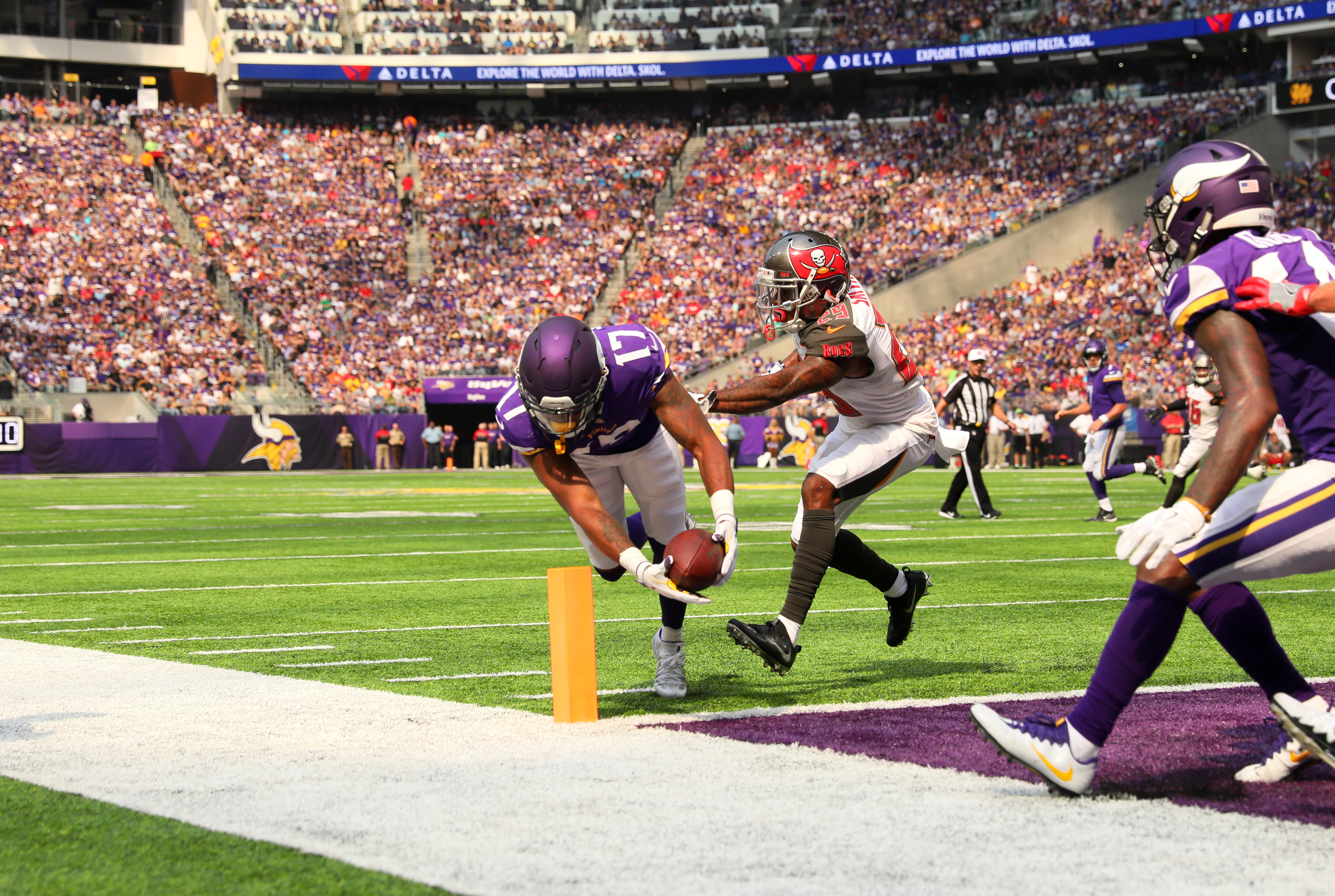 Man was that something! The Vikings "opened up a can" on the Tampa Bay Buccaneers from the first drive on and kept their foot down the entire way through to a 34-17 victory.
Here's how it went down from the VOX, the voice of the man who called it all, Paul Allen...
FIRST QUARTER:
After two straight successful handoffs to running back Dalvin Cook and a first down, backup quarterback Case Keenum went play action and looked for Detroit Lakes native Adam Thielen deep...
Knocking on the doorstep once again, it was time to give the ball back to the rookie who found the goal line to give the Vikings a 7-0 lead early...
Second Quarter:
After exchanging a few possessions back and forth, Case was ready to roll again and did so beautifully putting together a 13 play, 76 yard drive that would end up in the hands of under utilized wide receiver Jarius Wright at the stripe...
Down by 11, Jameis Winston looked to get his team back on the board again. The Bucs were moving the ball, that is until Winston lofted a little too my air under an attempted touchdown pass to Desean Jackson and Trae Waynes stepped in front to take it away...
Leading now 14-3 the Vikings weren't content to take an 11-point lead into the locker room for the half. Instead Keenum started at his own 8-yard line and used a 47-yard pass to Stefon Diggs to get a little breathing room...
Back within striking distance, Case smelled blood in the water and went back to his favorite target Stefon Diggs who was ready to "Win a Pie For It" in the endzone...
HALFTIME: Vikings 21 | Buccaneers 3
****************************
Third Quarter:
The Bucs started with possession in the second half but were forced to go three and out. Back with the ball again it didn't take the Vikings very long to get rolling again and who else would it be but Stefon Diggs again...
Famous Jameis would strike back through with a 15 yard TD pass to Cameron Brate followed by another to Desean Jackson but with two FGs from Kai Forbath the Vikings still held on to a 34-17 lead.
Then Jameis got silly throwing back-to-back interceptions to close out the game for the Bucs.
FINAL: Vikings 34 | Buccaneers 17