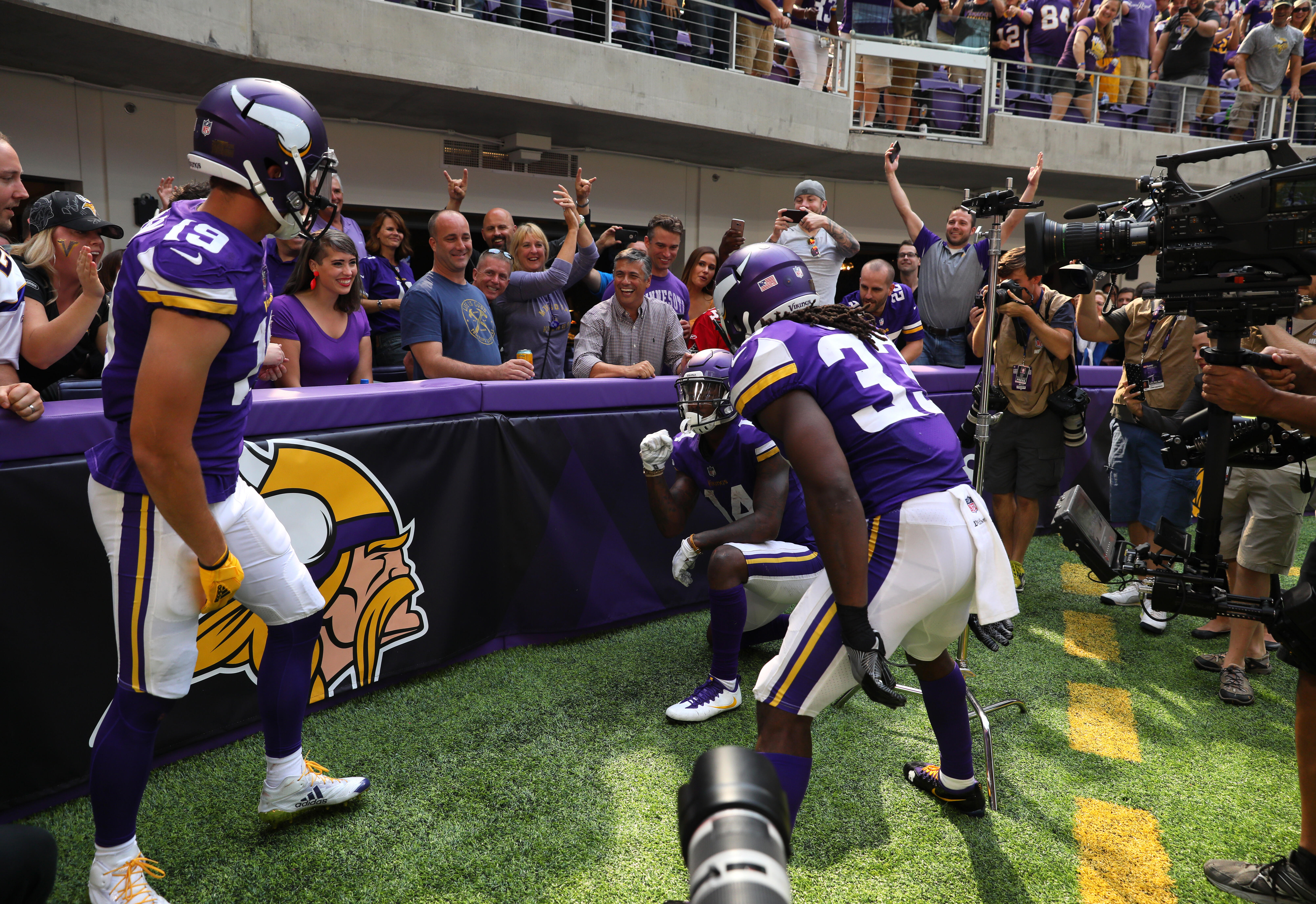 Minneapolis, MN - Wow. Well, I think it's safe to say that none of us saw that coming! I even predicted that they would win, but not in this sort of a manner. I mean they scored 34 points and held a semi-dangerous offense to 17, most of which came late in the game.
All of the sudden that Minnesota Vikings bandwagon is chalk full of people again!
Here are the five things that stuck out to me the most from Sunday's win against Tampa Bay.
This Vikings One-Two Punch might be best in the league...
That's not an overstatement you guys, this Minnesota Vikings one-two punch at wide receiver is legit and probably the best in the league. I mean, statistically there's no arguing that right now. Take a quick peek at this list below... Sandwiched right there in between gigantic receiving names like Antonio Brown and Julio Jones are our two guys Adam Thielen and Stefon Diggs. Better yet, both Thielen and Diggs had a SEVERE down-week last weekend in Pittsburgh. These guys are legit.
Sunday against the Buccaneers Diggs caught two touchdowns and 173 yards while Thielen reeled in 5 grabs for 98 yards. Let's just say that your the opposition out there, who do you guard? Stop Diggs and Thielen blows up for 157 yards like he did week 1. Lock down on Thielen and Diggs blows up. These two guys are so talented, so reliable and incredibly solid in the run game as well. There's no tipping off, there's not plan of action, there's no way that you can completely shut down that passing game...unless the offensive line malfunctions. Let's not do that again.
In Case we Trust...for now
Holy smokes, Case Keenum ate his Wheaties on Sunday morning! Dude came to play. His final line of 369 yards was a career high for the journeyman QB but it was more so the control of the game that impressed me. I expected the offense to be toned down a little bit to "better fit case" and it might have been the opposite. Especially looking back to that first quarter, Case and the Vikings noticed something in the Buccaneers secondary that allowed them to stretch the field vertically and they tried to do just that over and over again.
Like I mentioned above, Thielen and Diggs helped the cause, but even Keenum's control of the run game and adjustments made at the line of scrimmage with the offensive line were much improved. I don't want to jump to too many large conclusions but if that's what a more comfortable Case Keenum looks like, the Vikings will be just fine no matter who they are lining up against.
No joke gang, This Rhodes Closed...
We kind of say it in passing and them move on, but Xavier Rhodes is one of the best CBs in the entire league right now. He's obviously passing the eye test, but there's also a story to be told through the advanced statistics and analytics. Check out this stat highlight below which showcases how opposing #1 wideouts are faring when lined up opposite Xavier Rhodes.
Those are some SICK numbers and he's doing it against some of the best wide receivers and the best offenses in the league!
We saw a good example of what happens when quarterbacks turn away from one side of the field this weekend, they start to force passes that aren't really there and fall into traps of the rest of the defense when the team knows they can trust X to lock down on his own.
Cook is a shoelace away from busting something big...
Man Dalvin Cook is fun to watch, and he hasn't really done anything "crazy" yet. He just scored his first NFL touchdown, a 1-yard run, has yet to break off a huge run, but he's been super exciting because he's all around solid and that's a huge breath of fresh air.
Just this last week we saw him do some special things on the ground, contribute in the passing game and then save the quarterbacks life with a perfectly timed chip block on Tampa Bay's most dangerous defender. He's not afraid of contact, not afraid to get dirty and is special with the ball in his hands. In fact there were a few runs where he was no more than a shoelace away from breaking open one of those big runs. Still, despite that, he's rushed for the most yards for a Vikings rookie through-three games. That's ahead of some household names like Adrian Peterson and Chuck Foreman, you guys ever heard of them?
Vikings defense locks down to solidify win...
Outside of the slopfest in Pittsburgh last week, the Vikings defense has been incredibly solid this year. Bend don't bread was the motto of the first game and like the first, yesterday's game yielded a few scores once the boot was taken off the throat but still an impressive effort all around.
More importantly, Everson continues to pressure the QB. Having that ever-present presence in the backfield cannot be underestimated. Those hurries and hits lead to rushed and forced decisions for the opposition and as we saw this week that leads to turnovers, three interceptions to be exact for the Vikings defense.
There are certainly some things I would like to see the defense do better with though. Danielle Hunter has been rather MIA so far, Trae Waynes seems to be reverting and Tremaine Brock needs to get his feet a little wetter still.