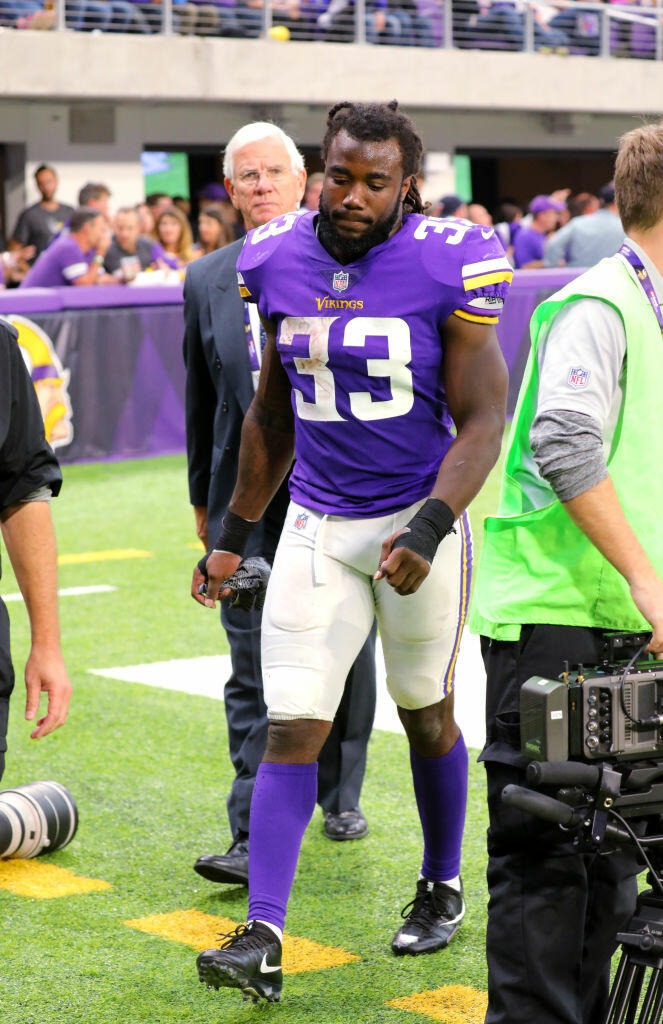 It was a somber locker room for multiple reasons today following the Vikings 14-7 loss to the Lions. Not only was it an ugly game with self-inflicted wounds and three turnovers lost, but the entire team is fearing the worst for rookie running back Dalvin Cook after a knee injury knocked him out of the game in the third quarter.
Below are excerpts from the coaches and players who are hoping for the best as Cook prepares for an MRI on Monday.
Asked how worried he was about Dalvin Cook, here's what veteran DE Everson Griffen had to say...
"[I'm] worried. He started off strong, he is an excellent running back. I pray for him that everything comes out negative. I just hope he bounces back. The train is going to keep on moving. We have [Latavius] Murray, Jet [McKinnon] and we have C.J. Ham. Next guy up. We hope Cook comes back healthy."
Asked a similar question, here's the response from WR Stefon Diggs...
"DC is a hell of a runner. We also lose his mentality, the persona he brings to the team. We believe in him always, it sucks to see him go down, but we also got to have the "next man up" mentality, because there's a whole lot of football left. I trust the guys that we have back there. They'll get the job done. Of course it hurts, but you got to keep moving forward."
Same for WR Adam Thielen...
"You obviously feel for a guy like Dalvin, who's an extremely hard worker and a great guy so hopefully everything's alright with him, we'll be praying for him."
TE Kyle Rudolph...
"You hate to see guys go down, especially young guys that are playing so well and ready to come into their own. Unfortunately that's part of our game. If you're around this game long enough you're going to deal with it. You hate to see it, and I talked to him a little bit, you have to be there for him. That's the worst part of our game, when you're hurt and you can't be out there with your team."
And coach Mike Zimmer...
"It's disappointing when you lose a guy...I just went in and talked to him. I told him, he's not the first great running back to have an ACL if it is one and come back pretty darn good. Dalvin will have a great career."
You can listen to Kyle Rudolph's meeting with the media in the player below...