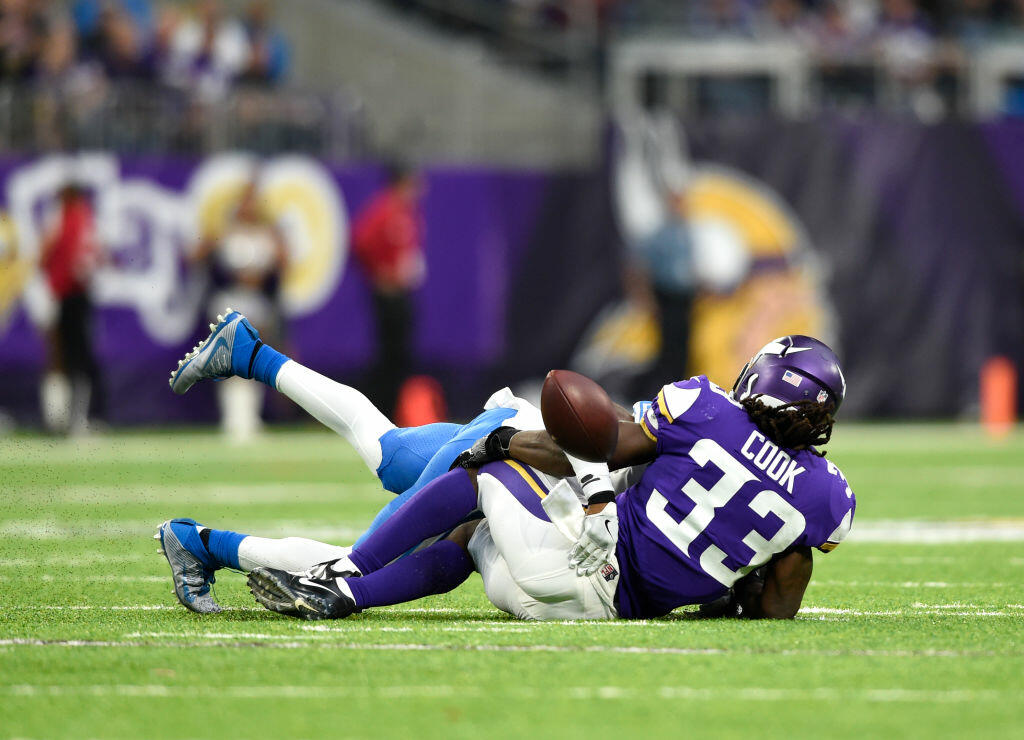 Not much went right for the Minnesota Vikings in the second half of Sunday's game. Three turnovers, miscommunications and more went into it, but the biggest bummer news of the day surrounds star rookie running back Dalvin Cook who left the game in the third quarter with a knee injury.
The injury came in the form of a non-contact play as Cook broke into the second level of the Detroit defense and went to play his left leg for a juke. It was apparent via the video below that the knee in question gave out sending Cook crumbling to the ground and putting the football right at the level of the defensive back's helmet leading to a fumble and Lions recovery.
Cook would eventually get up and walk off the field (mostly) under his own power, but was immediately ruled OUT of the game and went back to the locker room for x-rays with certified head trainer Eric Sugarman.
After the game Cook was hobbling around the locker room with a large knee brace on his knee and walking under the power of crutches.
Joining KFAN right after the game Mike Zimmer shared the concern regarding the knee saying, "Obviously we are worried about his (Dalvin Cook's) ACL. He'll get it looked at tomorrow morning and we'll take it from there."
Asked how bad he felt for his rookie RB Zimmer said, "I just went in and talked to him. I told him, he's not the first great running back to have an ACL, if it is one, to come back pretty good. Dalvin will have a great career."
Cook will have an MRI first thing tomorrow morning to diagnose the extent of the injury.
Heading into Sunday's game, Cook was the second leading rusher in the NFL with 288 yards through three games. At the moment of the injury, he had already tallied 66 more yards and a touchdown on the day.