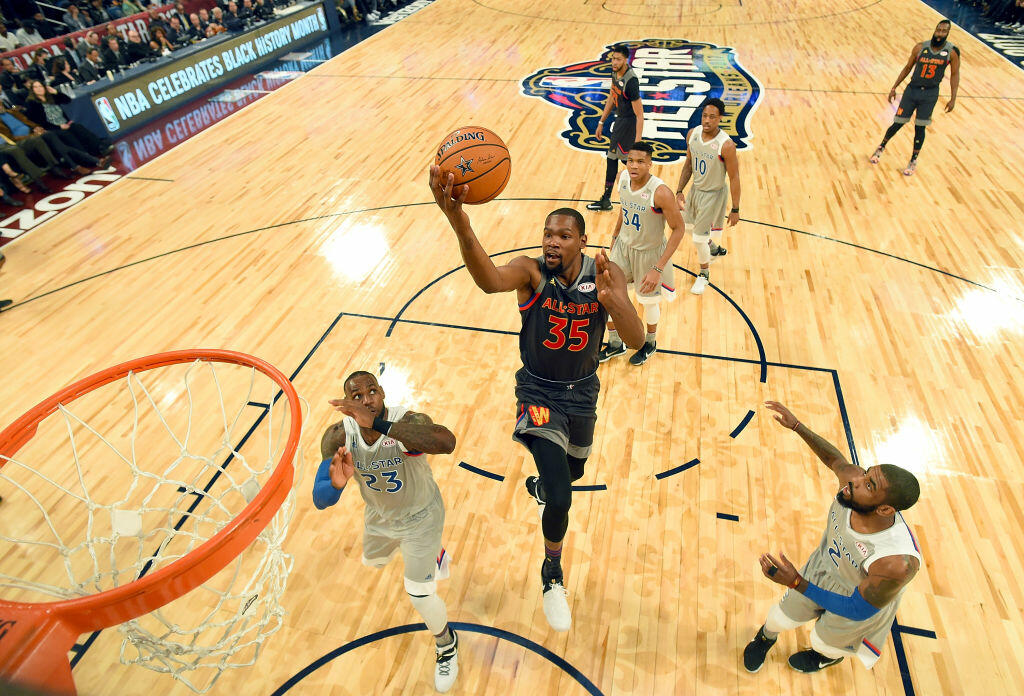 NEW YORK, Oct. 3, 2017 – The National Basketball Association (NBA) and National Basketball Players Association (NBPA) announced today a new All-Star Game format for NBA All-Star 2018 in Los Angeles. This will mark the NBA's first All-Star Game without a matchup between the Eastern Conference and the Western Conference.
Under the revamped format, two captains will draft the 2018 All-Star teams from the pool of players voted as starters and reserves, making selections without regard for conference affiliation. The captains will be the All-Star starter from each conference who receives the most fan votes in his conference.
The 67th All-Star Game will be played at Staples Center on Sunday, Feb. 18 (8 p.m. ET/5 p.m. PT), with TNT televising the midseason classic for the 16th consecutive year.
"I'm thrilled with what the players and the league have done to improve the All-Star Game, which has been a priority for all of us," said NBPA President Chris Paul of the Houston Rockets. "We're looking forward to putting on an entertaining show in L.A.
"We're excited about the new All-Star format and appreciate the players' willingness to try something new," said NBA President, League Operations Byron Spruell.
In another new feature, the 2018 All-Star teams will play for charity. Each team will select a Los Angeles-area charity or national organization where donations will be used to support local efforts.
The process for selecting the 24 All-Stars will remain the same, with 12 players from each conference earning spots. The 10 starters – two guards and three frontcourt players per conference – will continue to be chosen by a combination of fans (50 percent of the vote), current players (25 percent) and basketball media (25 percent). The NBA's head coaches will still select the 14 reserves, voting for two guards, three frontcourt players and two players at any position in their respective conferences. Specific details about the draft will be announced at a later date.
TNT will reveal the All-Star Game starters and captains on Thursday, Jan. 18 and unveil the reserves on Tuesday, Jan. 23. NBA All-Star Voting 2018 presented by Verizon will tip off on Monday, Dec. 25 before five Christmas Day games across ESPN, ABC and TNT.
The process for determining the 2018 All-Star Game head coaches is unchanged. The head coaches whose teams clinch the best record in their respective conferences two weeks before the All-Star Game will earn the nod, though the Golden State Warriors' Steve Kerr and the Boston Celtics' Brad Stevens are ineligible for the honor because they coached in the 2017 All-Star Game. Each All-Star Game coach will lead the team that includes the captain from the same conference.