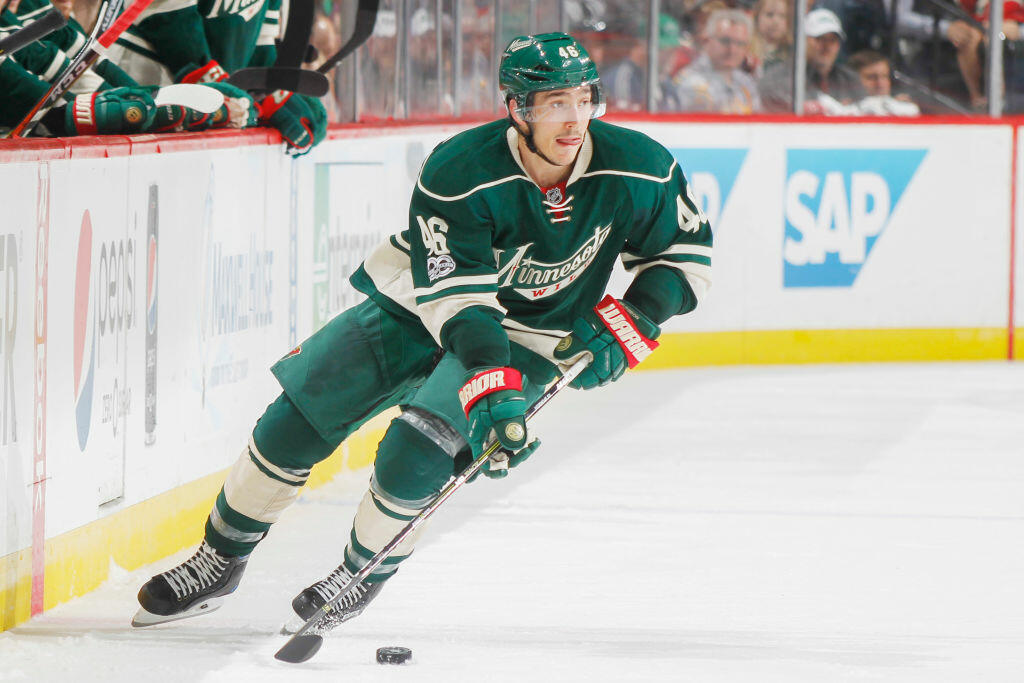 Michael Russo  | TheAthletic.comOctober 4, 2017
The childhood stories were flowing so heavily, Jared Spurgeon was nearly in tears.
"Remember when I gave my mom a root canal because I hit her in the face with a puck bag?" said Tyler Ennis, nearly causing the chocolate milk he was drinking from a kids-sized carton to come out his nose.
As a kid, Ennis' mom, Diane, turned their unfinished basement into a makeshift salon to cut the hair of neighbors, friends and anybody else who needed a trim.
The problem is that unfinished basement doubled as a hockey rink used by Ennis, Spurgeon and dozens of their friends.
"We'd have some sick tourneys down there," said Spurgeon, who typically was a goalie during these contests.
"I was pretty good," Spurgeon said.
Ennis rolls his eyes: "Let's just say, he was not a high-end goalie."
Every Friday night in fact, they'd create teams of three to play for a "Stanley Cup" made out of paint cans. Every new invitee etched his or her name on Ennis' basement wall with a puck.
"The whole wall is covered with names — hundreds of names, even people that weren't friends," Ennis said. "Remember the kid we didn't like?"
"Yeah, I have no idea who that guy was," Spurgeon said, snickering. "What was his name again?"
They eventually figured it out, but … back to the root canal story.
"I don't know how my mom had any clients," Ennis said. "She would cut hair in our basement and let me fire pucks all around them. So this one day, I took a sharp angle shot. She was cutting a little kid's hair, like three years old!
"Somehow, the thing just whizzed by the kid and, boom, hit my mom in the face. She dropped down to the ground, I knocked out three of her teeth and she still finished the haircut! She yelled at me, though."
"No more shooting pucks!" Ennis said, mimicking his mom.
"It really was amazing," Spurgeon said, laughing. "We'd have these full-blown games while people were getting haircuts."
"It must have been really annoying for her clients," Ennis said, laughing. "People would be getting haircuts, and I'd just be blasting pucks by them and literally stickhandling through their legs like they were my defenseman, and my mother never once reacted."
Well, until Ennis knocked her teeth out.
*****
For Spurgeon and Ennis, this Minnesota reunion still doesn't feel real.
Best friends since their days playing mites in Edmonton, after being ice and ball hockey teammates until age 15, Spurgeon and Ennis are now teammates on the Wild and will officially play their first NHL game together Thursday night when the Wild visit the Detroit Red Wings.
This has literally been a dream come true since the two bosom buddies — Spurgeon a defenseman, Ennis a forward who can play all three positions — learned while working out in an Edmonton gym on June 30 that Ennis was traded to the Wild from the Buffalo Sabres.
Honestly, what were the chances 15 years ago that these two now-27-year-olds would be sitting directly across from each other in the same NHL locker room?
Two boys born seven weeks apart. Two boys virtually inseparable since they were five years old. Two boys coached together by their dads (in fact it was Tyler's dad, Bruce, who altered Spurgeon's fate by switching him from forward to defense as a 14-year-old). And two boys who had to overcome tons of doubters because of their 5-foot-9 frames.
"It's still, like, pretty crazy," Ennis said.
Danielle and Jared Spurgeon have three children (ages 7, 3 and 4 1/2 months), although lately, it feels like four because Tyler — known as "Uncle Rico" in the Spurgeon household — is always there.
"Boy, girl, boy, … boy," Spurgeon said, eyeballing, then kiddingly pointing at Ennis.
"Well, Dani's a good cook," Ennis said, laughing.
But because Spurgeon's older brother is also named Tyler, naturally there couldn't be two Uncle Tylers. So Ennis has taken on the nickname from the movie Napoleon Dynamite.
The Spurgeons live in Edina. Ennis has moved into former Wild Erik Haula's condo in downtown Minneapolis.
He'd live in the Spurgeons' basement if he wasn't allergic to their 140-pound Bernese Mountain Dog, Noah.
"He's massive," Ennis said.
"And a cuddler," Spurgeon said.
Ennis doesn't let the pooch stop his visits though. He chows down a Claritin any time he comes over for dinner.
"I like to go for seconds, but Zach, their oldest boy, gets mad at me if I eat all of the food," Ennis said. "So I have to wait until he's full."
Zach is especially close to Ennis' heart.
"I scored my first NHL goal the day he was born. Isn't that nuts? First NHL game and first NHL goal. Nov. 14, 2009, the day Jared and Dani had their first child," Ennis said.
*****
To this day, Spurgeon and Ennis say their parents — Barry and Debi and Bruce and Diane — are best pals, and Spurgeon's grandparents acted as another set of grandparents for Ennis.
Spurgeon's grandparents have a "sick cabin" two hours north of Edmonton in the town of Smoky Lake, and they still go up there to go four-wheeling, tubing and golfing.
If not at the cabin, they'd hang out in Ennis' "dungeon," talking to the girls on an old Edmonton-founded social media site, Nexopia.
"It was basically Facebook, and it's how you talked to your friends back then and met new people," Spurgeon said.
In high school, there was this beautiful girl named Danielle LaRose. Spurgeon, Ennis and all their mutual friends liked her … a lot.
"She was a grade above, so she was kind of a steal," Ennis said. "She was like, 'The Girl,' in high school. Jared was like, 'The Man,' … put it that way."
LaRose and Spurgeon became high school sweethearts and have been together ever since.
Of course, poor "Dani" had to deal with the Spurgeon-Ennis inseparable friendship more than any of their mutual pals.
"They used to dress me up in the goalie gear and shoot pucks at me," Dani Spurgeon said, rolling her eyes. "I was terrified, and a lot of times I'd go down and couldn't get up."
"Yeah, she wasn't very good," Ennis said, "but it got our [shooting] confidence up."
They'd go on double dates, with Ennis once dating Dani's best friend. Dani and her friend even traveled around Alberta watching Spurgeon and Ennis play junior hockey.
"They didn't even go to school," Dani cracked. "They showed up late in the middle of every class."
"No, no, no," Jared said. "We went to every class … and got straight A's."
Joked Ennis, "You can't go to school when you're busy winning WHL championships."
It is true.
Amazingly, two guys cut from the same AAA bantam team once upon a time won consecutive Western Hockey League titles — Ennis with Medicine Hat in 2007, Spurgeon with Spokane in 2008.
*****
"I used to do Tyler's laundry," Dani suddenly blurts out.
That's true, too.
During the 2012-13 lockout, Spurgeon and Ennis were teammates on the SCL Tigers, a Swiss team in a farm town called Langnau im Emmental.
The Spurgeons' oldest child, Zach, was two at the time, "and we were on like the exact same schedule."
"They would nap at the same time and wake up the same time," Dani said, laughing.
"We'd make dinner, and yell, 'Kids, it's time for dinner, and both doors would open at the same time," Jared said, laughing.
There were always shenanigans with the three, like filling the bathtub with colorful aqua beads or dropping water balloons onto the snow-covered balcony below them or traveling to other countries like France or Italy.
"Well, there was nothing to do," Dani said.
"Dani was a little mischievous," Tyler added.
"I like to say we saved her from the road she was going down in high school," Jared said, chuckling.
"Yeah, she hung out with the bad crowd before she met us," added Tyler.
Maybe the funniest — and grossest — story of their Switzerland adventure was a lunch they went to at a local restaurant.
"There was a big language barrier there," Ennis said.
"Like a big one," Dani said.
"We're at this restaurant and they didn't speak any English. Like not even a little," Ennis said. "I ask for the soup du jour, and the only word I understand is 'swine.' I'm like, 'Oh, like ham or bacon soup.'
"So I'm eating it, and it doesn't taste very good. One of the waitresses starts giggling and can tell I don't like it. Finally, somebody that spoke a little English comes over and goes, 'Do you know what you're eating?'"
The waitress goes back to the kitchen and returns with a tray full of chopped up pig snout.
"Like, it was a real pig snout. It had whiskers on it and everything," Ennis said. "I figured getting the soup of the day would be safe, but it went the complete opposite."
"We suddenly look around the restaurant, and everybody's eating pig snout, like with mustard, like it's a delicacy," Spurgeon said. "None of us could eat anymore, but everyone was crushing it."
Added Dani, "It was so gross."
"Don't tell Nino," Spurgeon said of his Swiss teammate, Nino Niederreiter. "He might like it."
For the record, Niederreiter says, "They played in about as much of a farm town as you can get, and it's not one of my favorite dishes."
*****
It's time for Jared and Dani to really rib on Ennis now.
"Have you seen Tyler act?" Dani says, laughing.
"Yeah, I act a little. I'm a good actor," Ennis said. "In fact, I get chocolate milk for the rest of my life, although it's a pain in the butt."
Ennis did an endorsement for Upstate Farms in Buffalo and thought it would be funny to have written into his contract that he'd get free milk forever.
"The problem is I have to call them to get the free milk, and they send me a crate of milk, like a giant tub that comes to my door," Ennis said. "I open it up, and it's all singles. So, I put them in the fridge, but you can only drink three or four of them before you have to throw the rest out.
"It was a great commercial though. The director thought he was Martin Scorsese. He was really dialed in for this commercial, like legit sitting in the chair and everything."
"Have you seen Enzo Sauce?" Jared Spurgeon says, laughing.
Yup, Enzo Sauce, named after his nickname, "Enzo."
"Yeah, yeah, yeah. It's a charity I started, and there's a hot sauce for it, and me, Jack Eichel, Sam Reinhart, Ryan O'Reilly and Marcus [Foligno] filmed a commercial for it," Ennis said.
"What's in that sauce?" Dani asks.
"Secret ingredients," Ennis answers.
"Actually, all the wives were talking the other night that we need some ranch and hot sauce in the [wives' room] for our chicken," Dani said.
"I swear, girls like it more than guys," Ennis said. "I used to use it with my pregame meal, so everybody started calling me, 'Sauce.' That's how it started."
The sauce, made by a restaurant in Buffalo, was sold in major grocery stores there. The charity supported Roswell Park, a cancer institute in Buffalo, and the Matt Cook Foundation. Cook was a friend who passed away from a rare bone cancer at age 18.
Right now, the charity is on hold as Ennis tries to figure out if he can transfer it to Minnesota. If he does, he will choose a local charity to support in Minnesota.
*****
The well-known, tight-knit Spurgeon-Ennis friendship isn't exaggerated. As kids, they hung out every day, and it has continued into adulthood.
"People hang with us, and they're like, 'Wait, this is real,'" Ennis said. "Like in Philadelphia, last year, when I had my abdominal surgery, like four hours later, I'm eating at Del Frisco's.
"I'm with my physiotherapist who came with me to take care of me after surgery. And, I swear to God, we're at dinner, and he's talking to me about my childhood and all this stuff. And hockey and all that stuff. And we were talking about Jared, and I start telling him a story about me and Jared and how we made it and all that stuff, and as I'm telling this story, I see Jared walk in. I go, 'Actually, he's right there! Jared's right behind you right now.'
"I had no idea Minny was in town playing the Flyers. How random is that?"
They're incredibly loyal to each other.
You can hear it in Ennis' voice and see it in his eyes how it still bothers him that so many coaches and scouts and teams and media members overlooked Spurgeon when he was younger.
Ennis was a first-round pick, selected 26th overall by the Sabres in 2008.
Spurgeon wasn't supposed to be drafted, so he didn't travel to Ottawa for the draft and actually slept through the phone calls from Ennis to let him know the Islanders actually selected him 156th overall.
"I was sleeping. And I woke up, and I got a call from him, and he said, 'You got drafted,'" Spurgeon said. "And I said, 'No I didn't!'"
Ennis stopped by the Islanders' table and picked up Spurgeon's jersey for him. As all Wild fans know by now and are thankful for, the Islanders ultimately dumped Spurgeon without offering him a contract. The Wild scooped him up and ultimately signed him.
He's now one of the Wild's best defensemen.
Entering his eighth season already, Spurgeon makes more than $5 million per year and is coming off a career-best 38 points and a plus-33.
"There was a point where I felt like Jared's brother, and my dad, and Jared's family, and my family were the only ones who knew how good he was," Ennis said. "We just kept telling everybody, 'This guy's so good, he needs a chance.' Like he was the best defenseman at World Junior camp, and he didn't make it.
"I mean, even look at (when they won) the Memorial Cup. No one was really talking about Jared, but he was the best player on that team, too.  So, it's pretty cool to just see him continually defy everyone's odds, you know what I mean?
"It was just a matter of time. I guess now everyone's starting to realize it. Which is really nice. But, for a while, it was really frustrating for a lot of people."
Spurgeon, always humble, says it doesn't matter to him.
"I know what I can bring to the team and stuff like that," he said. "I think growing up it bothered me a bit more, just like Ty said. You're trying your hardest and trying to get noticed, and it wasn't really happening. But I'm fine with just hanging out under the radar."
Ennis is a three-time 20-goal scorer but has missed 90 games the past two years because of a concussion and sports hernia.
"It's been a bad couple years," Ennis said. "The team (Buffalo) wasn't obviously doing well. The organization, obviously so many changes and everything. It was tough, but I had, you know, five coaches, and three GMs and two owners. So, I almost felt like I had been traded a few times, you know what I mean?
"It's tough to get any kind of rhythm going when you have all that turnover in all those years. So it was just a little bit chaotic to get relationships with coaches and GMs when everyone is turning over that much. And then with the injuries, I was just really frustrated the last few years. That's the easiest way to put it. Just really tough couple years."
Ennis will get eased into this season. He got a chance in training camp on a line with Niederreiter and Eric Staal in place of injured Zach Parise, but it appears as if he'll start on the fourth line in Detroit.
The winger isn't worried about that right now.
"Honestly, I'm excited to be on a team that has a really good chance of winning the Stanley Cup," he said. "I think I can slide up and down, so whatever combination they want to put me with I'll do my best wherever I am. Try my hardest. You know, you look at the lineup, and we have 12 really good forwards."
There's no doubt Spurgeon and Ennis still can't get over how their lives have led to this point.
Best buds, sleepovers … and now teammates in the NHL.
"Just for one of us making it, it's pretty insane. But for both of us to make it, and then end up on the same team is amazing," Spurgeon said. "Especially for two smaller kids who were both cut from a bantam team [because] we were too small, and [Tyler] wasn't drafted in the WHL draft, and then to come up and be a first-round pick, it was just, I don't know, it was just defying stuff all the time.
"And we want to continue to do that [in Minnesota], too."
As Ennis and Spurgeon wrap up their meal, they look at Dani and go, "Let's go shopping."
The three of them then head off to Lululemon. The sound of giggling echoes in the Galleria.
Note: This article was originally published on The Athletic. The full article with related photos and video can be found by CLICKING HERE...
And for a limited time only, CLICK HERE to get 20% your first year subscription at TheAthletic.com.
Michael Russo covers the Minnesota Wild and NHL for the Athletic. After becoming a sportswriter at 16 years old, Russo spent 27 years with the South Florida Sun-Sentinel and Minneapolis Star Tribune and is a three-time Minnesota Sportswriter of the Year. After covering the Florida Panthers for 10 years, Russo will begin his 13th season covering the Wild. Russo can be seen on Fox Sports North and the NHL Network and heard on KFAN (100.3-FM in Minneapolis) and on the Russo-Souhan Show (mnspn.com). Follow Michael on Twitter @RussoHockey.
Read More at TheAthletic.com:
Wild need continued production from well-paid Granlund, Niederreiter Brian Hall Oct 3
Daniel Winnik on not being signed this offseason: "It's nuts" Michael Russo Oct 3
Russo: Here's how the Wild will manage the cap without injured Zach Parise Michael Russo Oct 2
Wild's Jason Zucker on his hometown: "Vegas will bounce back" Michael Russo Oct 2
Russo: Parise absent, Kunin, Murphy Iowa-bound, Winnik still present Michael Russo Oct 2
Peterson: A deep dive into Devan Dubnyk's fancy stats Derek Peterson Oct 2