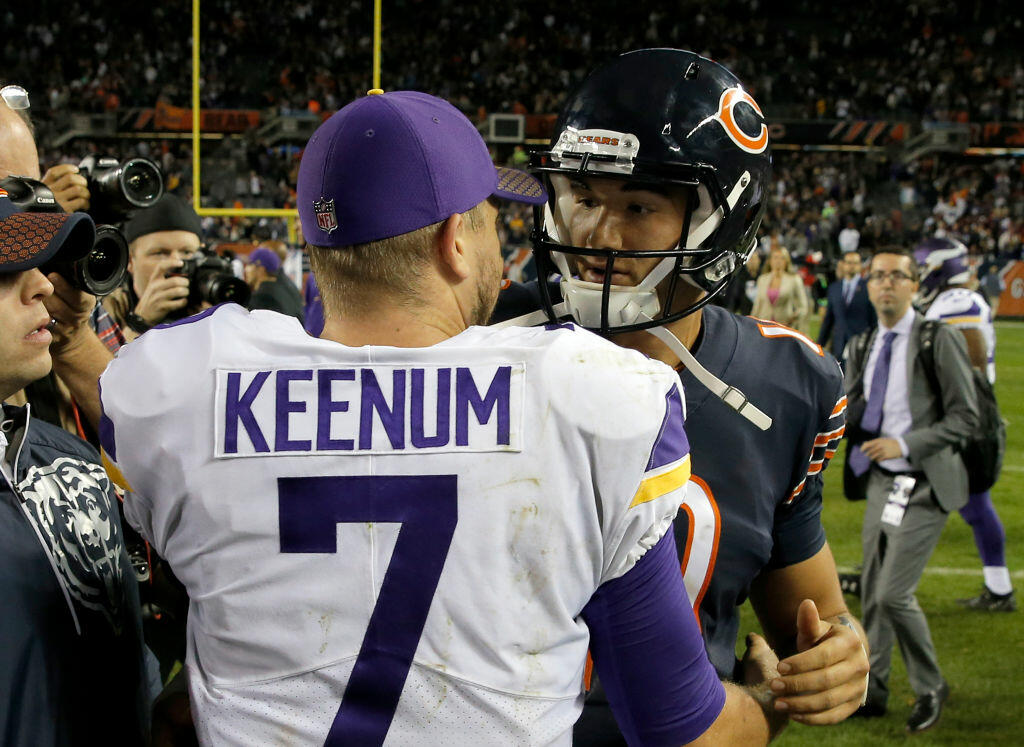 Some could argue that the result of Monday Night's game was expected, a three point win for the Minnesota Vikings. But it;s how we got to that point that I don't think anybody fully could have predicted.
For starters, the Bears opted to dump Mike Glennon for the rookie quarterback Mitchell Trubisky. The writing might have been on the wall for this switch to be made after Glennon continued to struggle in the teams last game, a Thursday night affair a week and a half ago against the Packers. On the whole Trubisky showed some promise. He was mobile, showed off a cannon of an arm but also showed off his inexperience and rookie level decision making. When the final horn blew, Mitchell was 12-for-25 passing with 128 yards and one TD. It wasn't terrible but left plenty of room to grow.
But for the Vikings, things were a little more messy.
After missing three straight weeks with what we suspect to be a bone bruise, starting quarterback Sam Bradford returned and quickly made it clear that he probably shouldn't have.
He appeared timid, something he did not do the last time he played and tossed for more than 300 yards and three scores against the Saints. He appeared immobile and was clearly favoring the injured knee which was clearly not 100% healed. That would push Sam to complete only five passes on eleven attempts for only 36 yards.
Just before halftime, Mike Zimmer made the decision to move to Case Keenum and that was they way things stayed after the half.
Keenum on the other hand wasn't a world beater but was just the breath of fresh air that the Vikings needed. While he didn't prepare as the starter for the Vikings this week, you could tell that he was physically more comfortable and mentally more confident throwing the football. With Keenum under center the offense got moving and looked to be a little more of the team that had already racked up multiple wins this season. Even though it was against an already injured Bears defense, Keenum led the Vikings to 20 points on 17 of 21 passing which would be just enough to beat the Bears 20-17.
But it was a rookie mistake by the Bears QB and not Case's heroics that would land the Vikings in field goal range with just over two minutes to go.
Backed up deep in their own territory Trubisky dropped back to pass and was sucked into a brilliantly laid trap by veteran safety Harrison Smith. Smith flashed an open passing window just long enough for the young QB to see it and then jumped underneath and in front of the passing route for the interception setting the Vikings up within field goal range right near the end of the game. Five plays later, the Vikings had set up Kai Forbath with a chip shot 26 yard field goal which he would hit with only :12 remaining.
The Bears couldn't muster up a miracle and the Vikings would win the game, only their third in the last 15 tries at Soldier Field.