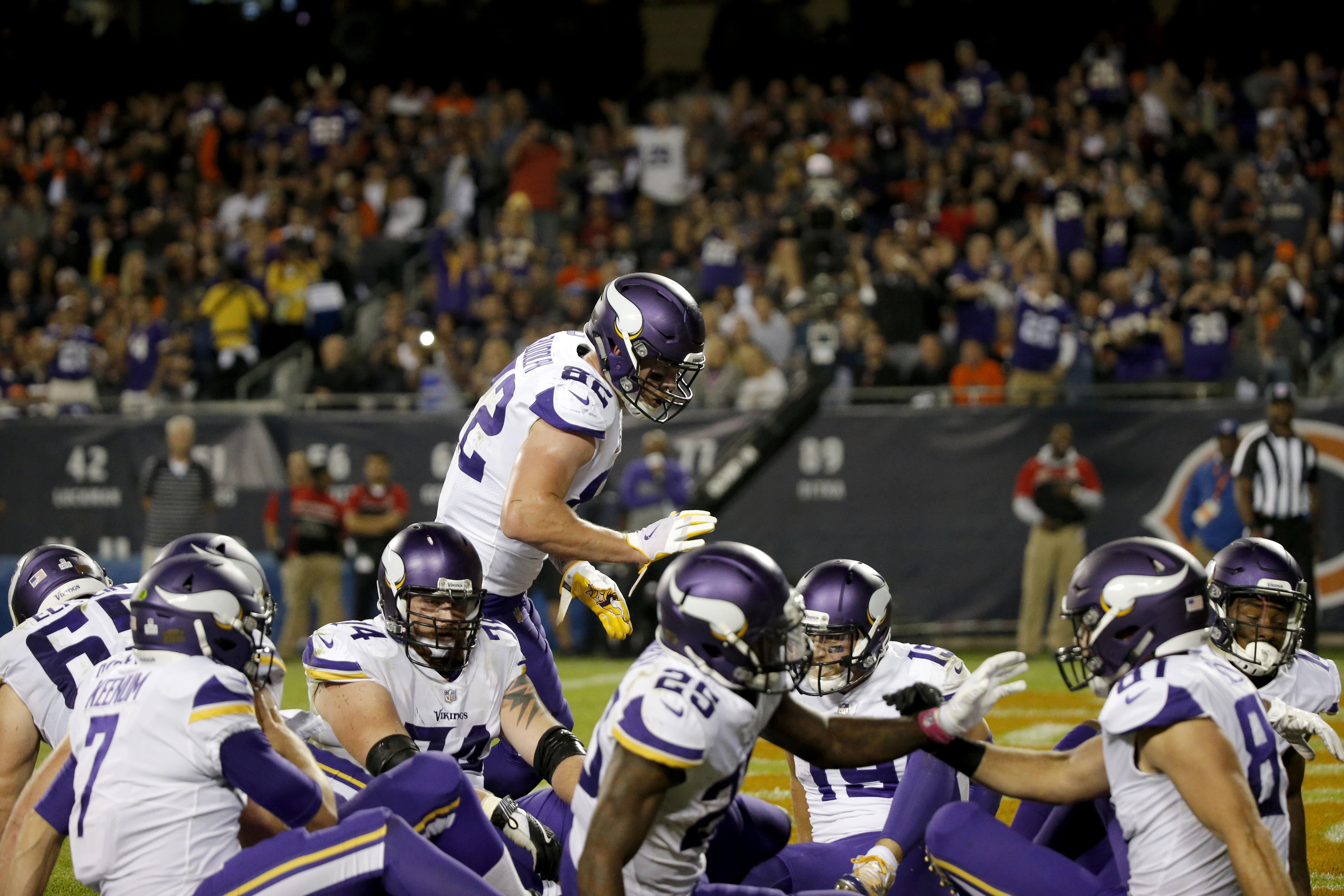 I don't think that we can say it was a pretty win, but it's a win nonetheless. The Vikings walked out of Soldier Field with their heads held high for only the third time in their last 15 visits after fending off an up and coming group of Bears for a 20-17 victory. We saw an ugly first half, a relief from the bench and then an efficient third and fourth frame leading to the win.
Here are the five things that stuck out to me the most after the game...
Will we see Sam again?
It's the unavoidable observation but Bradford might be done...like I'm talking done done. Done in Minnesota, done in the NFL, done as a quarterback. Odds are someone will take a chance on him again but I'm not sure that I want that investment to come from the Vikings after last night. I'm well aware that I was the guy calling for an instant contract extension after week one, but man did things get real fast.
You can read my full breakdown on this QB situation by CLICKING HERE, but with Sam hurt, Case holding down the fort, Teddy's return around the corner and Sloter in the fold, making a big investment on Sam is out of the question right now. And for the short-term, there's no way we see him again until he's 100% or darn close. Based on the performance, injury and body language we saw last night I wouldn't be surprised if that was the last time we see Bradford playing in a purple jersey.
McKinnon takes the edge in the run game…
I was actually pleasantly surprised with how Murray looked early in the game last night. He ended up with 12 rushes for only 31 yards but watching him turn around and change directions last week, I'll take this week's 2.6 yards per carry.
And then McKinnon got LOOSE! It was a big 58-yard run that sprung the gates for McKinnon but the long run mixed in, McKinnon looked good in the passing game and the run game. Good enough that is to build a little confidence that the run game will not completely die off after Cook's injury.
Tackling remains an issue...
The Vikes were saved a few times last night by penalties that negated big Chicago gains but whether it be Mackenzie Alexander, Eric Kendricks, Andrew Sendejo, Xavier Rhodes or Everson Griffen, the Vikings have had some issues wrapping up the opposition.
I'm no expert and I never played in the NFL, but it appears to be a problem surrounding over aggression, over committing just flat out putting yourself in a vulnerable position where something as simple as a stutter step will send the defender sliding right on by them. This is certainly the sort of thing that won't slip through the cracks with a coach like Mike Zimmer but they need to figure something out because they've allowed mediocre running backs success and in some cases it's directly cost them points and games.
Michael Floyd slow rolls into the fold…
Back on the field for the first time as a Minnesota Viking, Michael Floyd debuted last night catching one pass for 19 yards in one target. It's likely that Floyd will work himself into the offense more over the next few weeks as the Vikings continue to seek stability at quarterback. For this same reason, we're not quite sure what sort of role he'll play going forward. Red zone threat? Big bodied receiver across the middle? Possession receiver? Who knows...
Turnovers are starting to come in bunches…
With three turnovers two weeks ago against the Tampa Bay Buccaneers, the Vikings tacked on another two last night versus the Bears. As we saw with Winston, some of that has to do with poor decision making and inexperience but it's clear that the Vikings defenders are "smelling blood in the water" and going for the ball more often. Just think, had they held onto the three opportunities they had for interceptions in last week's loss to the Lions, it would have been three straight weeks with multiple turnovers...too bad they didn't.