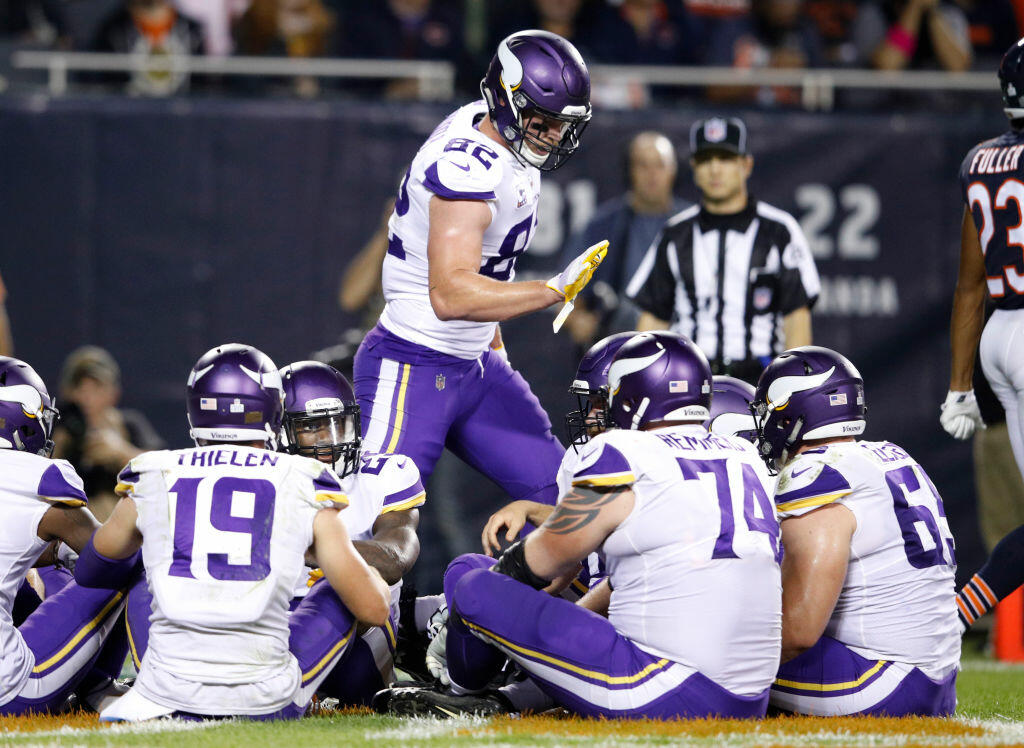 It's a controversy that has swept the nation for the better part of the past two days and Minnesotan's have been smack dab right in the center of it all.
Is it "Duck, Duck, Goose" - OR - "Duck, Duck, Grey Duck"?
It all started as the Minnesota Vikings scored a touchdown on Monday Night Football this week against the Chicago Bears.
"We wanted to do something fun on Monday Night Football," Vikings tight end Kyle Rudolph told the media Wednesday afternoon. "I don't know where the idea came from. No one's done duck, duck goose yet in the NFL...I said, when we score, whoever scores gets to be the ducker and everyone else sits down."
Rudolph went out to say that it was important to them that they involved the offensive linemen who "usually get left out" and "don't like to dance", so they landed on a game that is so easy a child could do it.
Admittedly, Rudolph said he was glad that he's the one who scored because his 6'6" frame doesn't fold into a "criss-cross applesauce" seating arrangement very easily. He also mentioned that the outcome of the celebration was one of the coolest things he's every seen after scoring a touchdown in his career.
I turned around and I see Mike Remmers, Joe Berger and Pat Elflein sprinting at me getting ready to sit down," Rudolph added.
Then the controversy sparked.
With lineman and a smattering of wide receivers sitting in a circle on their backsides in the endzone. Rudolph, "the ducker", started walking around the circle. The ESPN microphones then picked him up saying, "Duck...Duck...GOOSE!"
Twitter about exploded. Anything related was quickly trending on Twitter in Minnesota.
#DuckDuckWhat
#GreyDuck
#DuckDuckGoose
#DuckDuckGreyDuck
Rudolph, a Cincinnati, Ohio native playing football in Minnesota said Goose and Vikings fans throughout the globe lost their minds!
Today he explained...
"I said duck duck goose because everyone in that huddle knew what I was talking about except for Adam [Thielen]," Rudolph laughed.
Thielen, a Detroit Lakes native admittedly didn't know that "duck, duck, goose" was a thing until he attended college at Minnesota State Mankato and started meeting more people from outside the state.
"This state is the only state in the county that calls it that," Rudolph added. "Minnesotan's are proud about their duck duck grey duck and it's something to hang your hat on I guess."
The celebration has already caught on elsewhere as young football players have continued the storied tradition of imitating their heroes. Even Kyle's younger sister, a volleyball player at Transylvania, sent him a video of her volleyball team doing the "duck, duck, goose" celebration in their game as their newly adopted ace celebration.
Going forward though it sounds like Kyle has learned his lesson and will adopt the ways of his newly adopted home.
"I guess my kids will be raised on duck duck grey duck," Rudolph stated. "I'll have to tell them that one day you'll leave Minnesota and go to college where you'll probably get made fun of and we'll have to teach you that it's 'duck, duck goose' everywhere else in the world."
Listen to our entire conversation with Kyle Rudolph in the media player below...