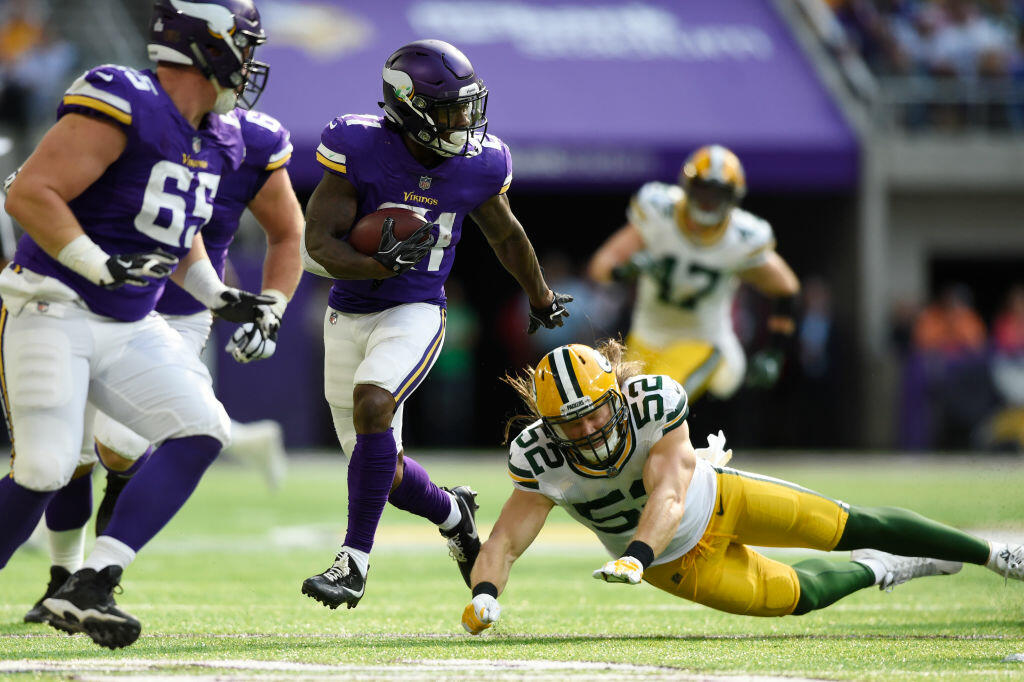 For many Vikings fans, all hope was lost when rookie running back Dalvin Cook was diagnosed with a season ending ACL tear. Already down their starting QB, the Vikings were now down their star rookie running back with only Latavius Murray and Jerick McKinnon left in the fold.
In his first shot, Latavius Murray looked old. McKinnon, we've seen in the past just didn't seem to take it. That was until he started getting more opportunities over the past two weeks.
Last week against the Bears on Monday Night, McKinnon tallied 16 carries for 95 yards and one touchdown. He looked good but dropped a pass and fumbled once in Chicago.
Fast forward then to this week and McKinnon got the lion's share of carries, 16 to be exact, adding another 69 yards and 1 TD on the ground while catching 5 passes for 30 yards and another TD. He did have another pesky fumble, but seems to be taking the lead for the starting running back opening.
"It was a great collective effort," McKinnon told KFAN after the game. "It was a good team win...we stuck with it through the good and the bad...We're just trying to keep this thing going. Dalvin was making plays all over the field. Me and Tay are just trying to pick up where he left off."
Meanwhile, with only 5 fewer rushes, veteran Latavius Murray has only put up 59 yards since Cook's injury.
The performance isn't going unnoticed by the coaching staff, but either are some of the mistakes that continue to pop up with McKinnon on a weekly basis.
"Jerick did a nice job," head coach Mike Zimmer said. "He caught the ball well today, good to get the perimeter. There are still some things we've got to correct with him. It's always good correcting after wins."
McKinnon was officially announced as the starting RB today but still sits as the #2 on the unofficial depth chart at Vikings.com.
We'll have to wait and see how the Vikings utilize the two-back backfield next weekend against the Baltimore Ravens.