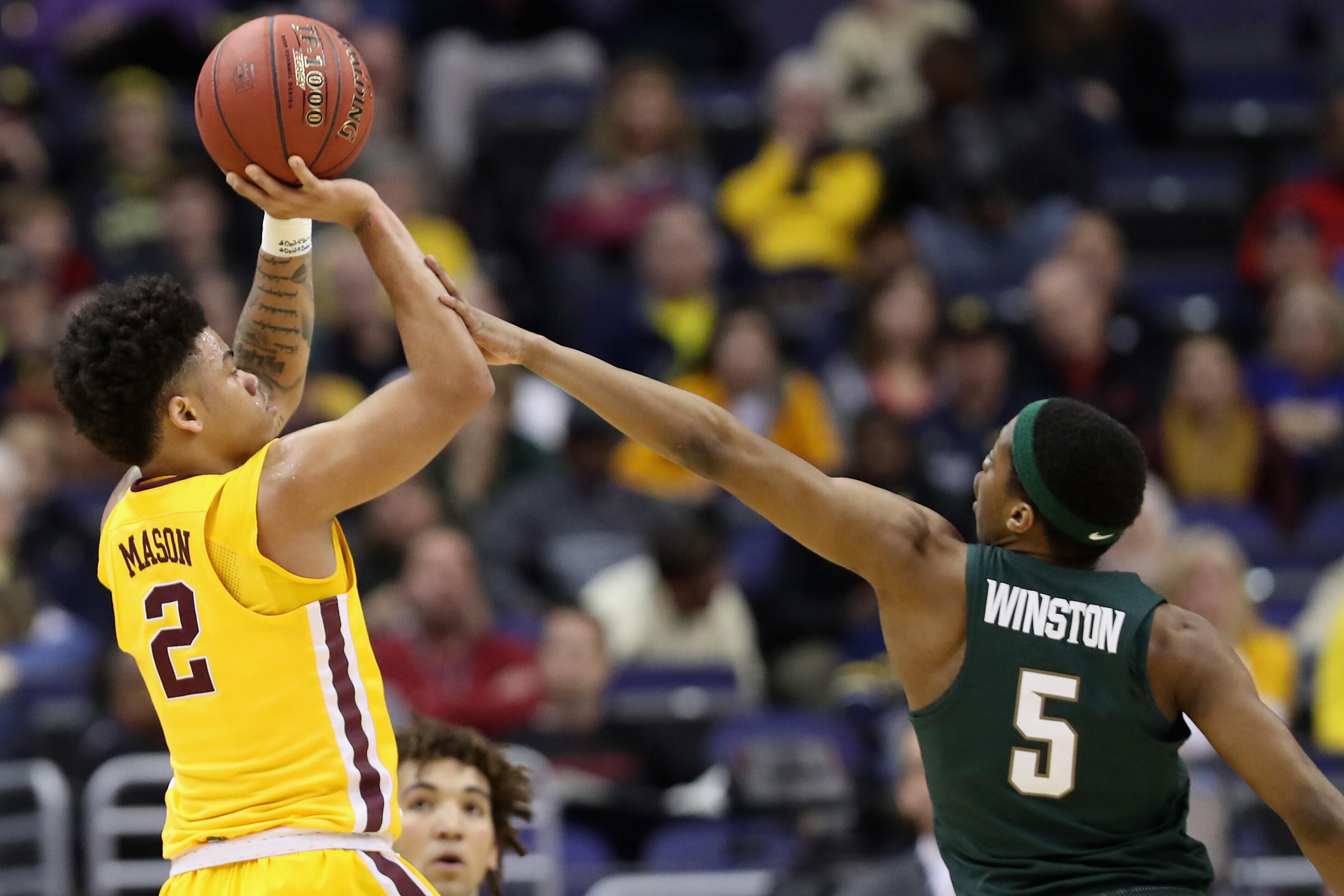 SPRINGFIELD, Mass. - University of Minnesota senior Nate Mason has been selected among the top collegiate point guards heading into the 2017-18 season, as he joins a group of 20 on the 2018 Bob Cousy Point Guard of the Year Award watch list.
A first-team All-Big Ten selection by the coaches, media and Associated Press, Mason also earned USBWA All-District Team honors. He led the Gophers in scoring, assists, steals, free throw shooting, and minutes played as he also became the first NABC All-District Selection for the Gophers since Trevor Mbakwe in 2013.
Mason moved to 23rd on all-time scoring list (1,214 points), fourth in career assists (382) and 14th in career steals (129), while posting the second-most assists in single season school history (169). The Decatur, Ga., native became the first player in school history with more than 500 points and 100 assists in a season. His 15.2 points per game last year was ninth among Big Ten players, while his assist/turnover ratio of 2.6 was third in the conference.
He started every game and scored in double figures 30 times, including six games with 20+ points and two with 30 or more, also adding a pair of double-doubles during the year. Mason anchored a Gopher team which won 24 games, the nation's best and school-record single-season turnaround of 16 victories, and a berth in the NCAA Tournament.
Mason is one of three Big Ten players on the watch list, along with Iowa's Jordan Bohannon and Northwestern's Bryant McIntosh.
Named after Hall of Famer and former Boston Celtic and Holy Cross guard Bob Cousy, the annual honor now in its fifteenth year recognizes the top point guards in Division I men's college basketball. A national committee comprised of top college basketball personnel determined the watch list of 20 candidates.
By mid-February, the watch list of 20 players for the 2018 Bob Cousy Point Guard of the Year Award will be narrowed to just 10. In March, five finalists will be presented to Mr. Cousy and the Hall of Fame's selection committee. The winner of the 2018 Bob Cousy Award will be presented at the ESPN College Basketball Awards Show presented by Wendy's in Los Angeles, CA on Friday, April 6, 2018. Broadcast information will be released at a later date.
Previous winners of the Bob Cousy Award include Frank Mason III, Kansas (2017), Tyler Ulis, Kentucky (2016), Delon Wright, Utah (2015), Shabazz Napier, Connecticut (2014), Trey Burke, Michigan (2013), Kendall Marshall, North Carolina (2012), Kemba Walker, Connecticut (2011), Greivis Vasquez, Maryland (2010), Ty Lawson, North Carolina (2009), DJ Augustin, Texas (2008), Acie Law, Texas A & M (2007), Dee Brown, Illinois (2006), Raymond Felton, North Carolina (2005) and Jameer Nelson, St. Joseph's (2004).
For more information on the 2018 Bob Cousy Point Guard of the Year Award log onto www.hoophallawards.com.