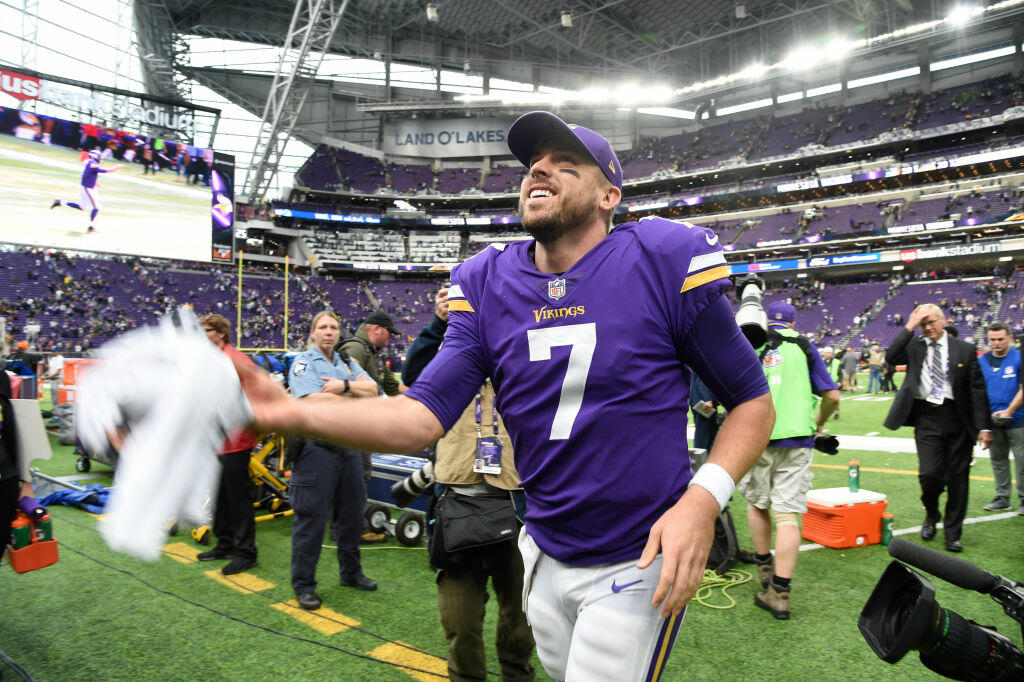 This article originally posted to PurplePTSD.com...
The Minnesota Vikings are 4-2 on the season after a 23-10 victory over the Green Bay Packers on Sunday at U.S. Bank Stadium. On top of that, it's likely that Aaron Rodgers is out for the year with a broken collarbone suffered in the first quarter of that game. Because of that, the landscape of the NFC North division has shifted dramatically and it leaves the Minnesota Vikings in the driver's seat with a more than decent chance to win the division and make a playoff run towards the Super Bowl hosted right here in Minnesota.
Now let's all slow down and read that last sentence again. I didn't say the Vikings are on their way to the Super Bowl, only that they should have a good shot at the division and the playoffs giving them a chip, a chair and a chance to make a run for the first home hosted Super Bowl in NFL history.
But you can't screw it up.
The Vikings already wasted opportunities on VERY WINNABLE games in both of their losses this season, the first against an underachieving Steelers squad in week two and then again versus the Lions at home in week four. No more of that. And in my opinion, the most important thing that the Vikings coaching staff can do to continue playing strong football is to leave Case Keenum as the starting quarterback of this team.
I'm not talking next week when Kyle Sloter is his only real competition. I'm talking for the rest of the year...no matter what the health of Teddy Bridgewater proves today or the healing power of Sam Bradford looks like, leave Case as the starter the rest of the way and you should make the playoffs.
Here's the logic…
Over the past three seasons, serving in 18 games as the starting quarterback between St. Louis, Los Angeles and Minneapolis, Keenum has posted a solid .500 record. Mind you that was with some HORRENDOUS Rams squads and dealing with the in and out turmoil of this season with Minnesota already. Right now, with the Vikings, he's having the best season of his career averaging 226.8 yards per game passing, completing more than 64% of his passes and throwing 5 touchdowns with his first interception coming on a tipped pass yesterday versus Green Bay...
CLICK HERE to read the rest of this article and how Teddy/Sam factor in to the mix over at PurplePTSD.com...