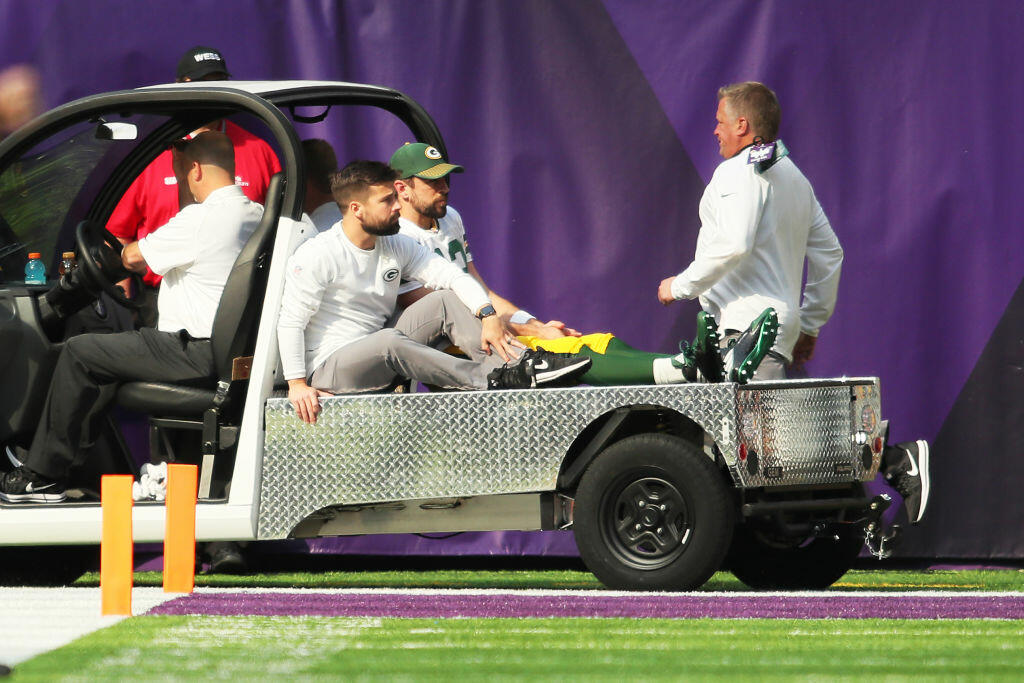 MINNEAPOLIS -- All week, in advance of the Packers' lone scheduled visit to U.S. Bank Stadium of the season, the talk was that Aaron Rodgers and his Green Bay teammates could be visiting Minnesota again in February, for Super Bowl LII.
But in the span of one play, the Packers and their fans went from hopes of playing for another title to hopes that Rodgers will just return to the field in 2017.
"Losing Aaron Rodgers speaks for itself. In my opinion, he's the best player in football," Packers head coach Mike McCarthy said. "This is a team game. This is the ultimate team game. We need to be better with the 11 people on the field that we have, regardless of the phase that we're in. Ultimately that's my responsibility."
Rodgers was hurt with a little over six minutes to play in the first quarter. Rolling out to his right, he made a downfield throw that ultimately fell incomplete. As he released the ball he was hit by Vikings linebacker Anthony Barr. Rodgers went down on his right arm and shoulder, and did not get up right away. He walked off the field, exchanging words with the Vikings defenders, then was examined briefly on the sideline before being taken off on a cart.
Later in the game, the Packers official Twitter feed announced that Rodgers suffered a broken collarbone and may be out for the season.
It's the second broken collarbone of Rodgers' pro career. He missed seven games in the 2013 season after suffering a similar injury versus Chicago when he broke his left (non-throwing) collarbone.
Backup Brett Hundley, who played college football at UCLA, expressed confidence in his ability to get ready for Green Bay's home game next Sunday against the New Orleans Saints.
"It's a tricky situation, especially when the starting quarterback goes down and you're just in there, but I've been preparing for this moment for a long time now," said Hundley, who had thrown 10 NFL passes, with two completions, before Sunday. "Obviously we didn't get the job done today, but we'll be back and we'll be better."
And even after a 23-10 win that tied them with the Packers atop the North division, Vikings players lamented the fact that their nemesis was lost in the process.
"We pray for Aaron Rodgers' speedy recovery," Vikings defensive end Everson Griffen said. "He is one of the best quarterbacks in the game. I pray for him. I love playing against him. He is a competitor."
Copyright © 2017 TTWN Media Networks LLC