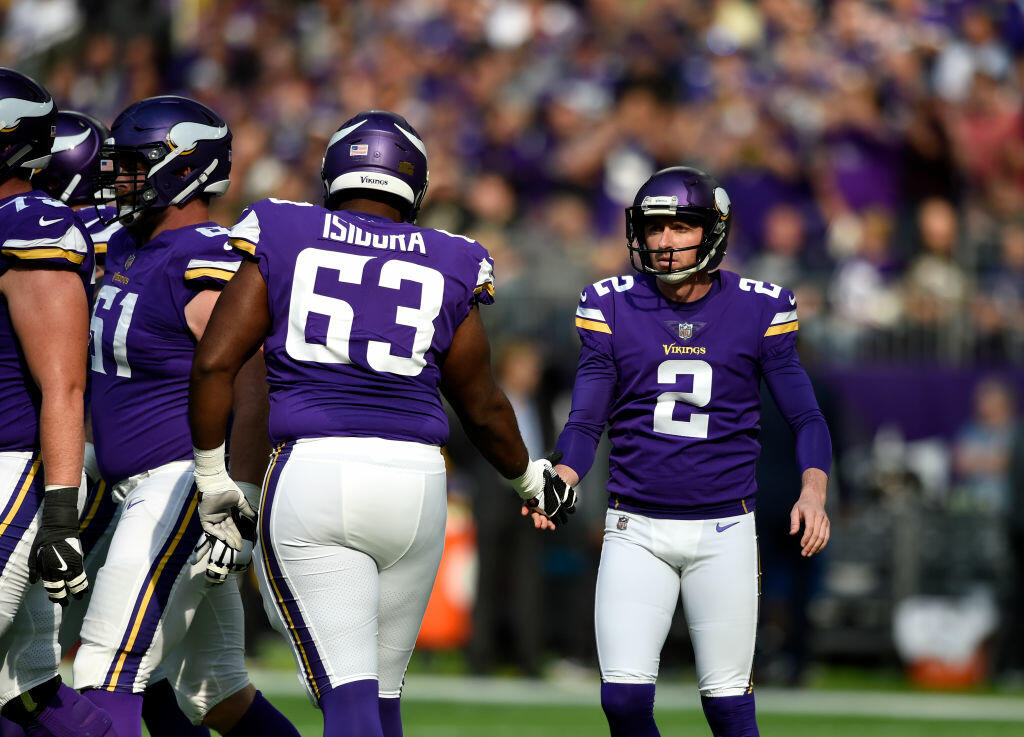 MINNEAPOLIS -- Minnesota Vikings fans still hold their breath a little bit when their team lines up for a field goal. It's been that way since Jan. 10, 2016. That was the bitterly cold day when the team's season ended in a 10-9 home playoff loss to the Seattle Seahawks.
Blair Walsh, then Minnesota's kicker, missed a chip-shot 27-yard field-goal attempt with 26 seconds to play that almost certainly would have given head coach Mike Zimmer his first playoff win. Since then, fans in purple cringe just a little every time the Vikings line up in hopes of splitting the uprights.
On Sunday, new kicker Kai Forbath did what he could to ease that trauma -- six times. Signed as a free agent last season after Walsh had a tough start and was cut, Forbath set a career high with his half-dozen field goals, hitting from 52, 51, 43, 43, 34 and 32 yards in Minnesota's 24-16 win over the Ravens.
True to his quiet nature, Forbath shunned the spotlight after his career-best game.
"I took it one kick at a time. I had opportunities today and I took advantage of them," said Forbath, who hit two in a game from 50 yards or more for the first time in his career. "Those are good for the stats, but it is the same amount of points wherever they are kicked from. It was a good day."
It was a good day for kickers all around, with Baltimore's Justin Tucker -- statistically one of the most accurate kickers in NFL history -- hitting three of his own. Even Tucker tipped his cap to his Minnesota counterpart in the postgame locker room.
"You've got to give credit to Kai for hitting the ball pretty well today," said Tucker, who connected from 48, 57 and 47 yards. "And as a specialist, as a kicker, you like to see guys do well. You just don't want to see them do too well. But at the end of the day, it is what it is."
It wasn't a perfect day for Forbath, who kicked for UCLA in college and is with his fifth NFL team since entering the league in 2011. His extra-point attempt after Minnesota's lone touchdown hit the right upright. It was his third PAT miss this season. Still, the all-day performance drew praise from his coach.
"He's right on the edge of where he needs to be," Zimmer said. "I think it's good that our offense understands where they have to be in order to get a field goal if they're not going to get the first down."
And maybe those lingering fears of field-goal attempts can be eased, just a bit, in the minds of Vikings fans.
Copyright © 2017 TTWN Media Networks LLC