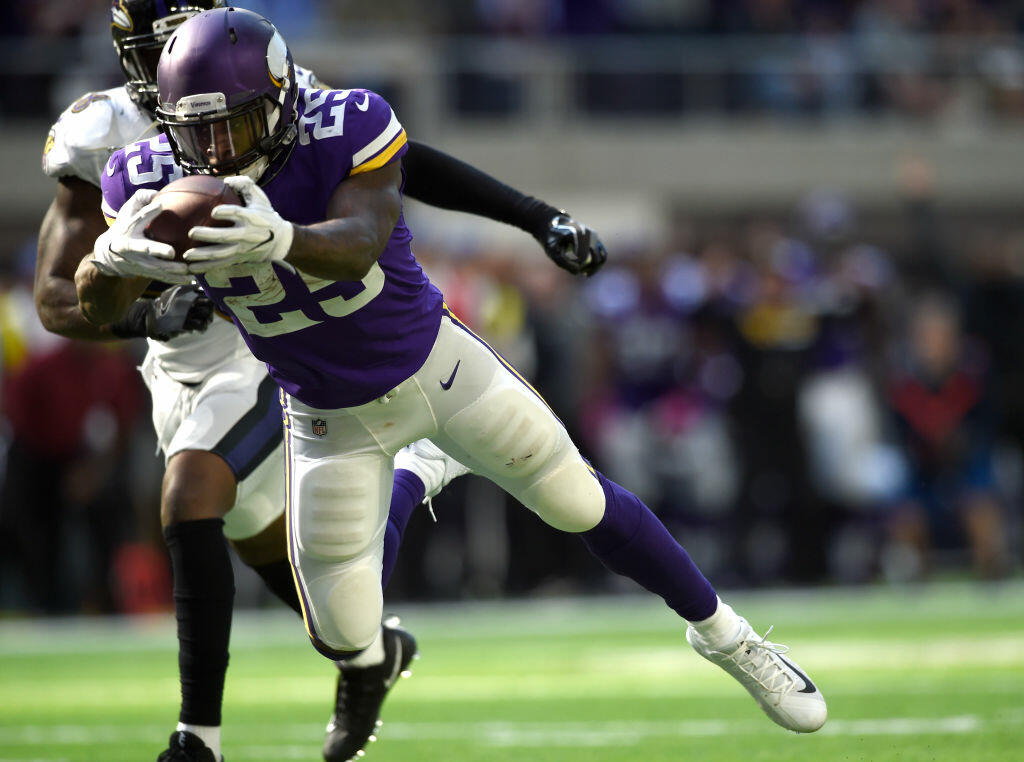 It wasn't even a month ago that we saw rookie running back Dalvin Cook go down with a torn ACL injury. At that point in time, Cook was second in the league for rushing yards and was seemingly coming into his own on a week-by-week basis. But he goes down with an injury and for a moment in time it seemed like all hope was lost.
But I guess we all undersold Jerick McKinnon.
In the two weeks following Cook's injury, McKinnon came out and found the end zone three times. He ran for 164 yards and reeled in another 81 yards through the passing game. All in all, heading into today's game against the Ravens, McKinnon had accounted for 623 all-purpose yards on the season, that was good for 6th best in the league.
But what about Latavius Murray?
At one point in time he was brought in to be serve as the replacement for Adrian Peterson. Then Cook was drafted and Murray was placed on the back burner.
When Cook went down, Murray came in and looked old. His change of direction struggles led one analyst to say that "it looked like the Titanic was trying to make a u-turn". That's not good. We got a little down on Murray until this week.
Murray made the most of his 18 carries today pushing out 113 yards and his first touchdown as a member of the Vikings. That TD saw Murray rumble in from 29 yards (video below) and he had another 35-yarder (video further below) that really proved maybe there is still more in the tank for Murray than we thought.
"I feel good," Murray said reflecting on today's performance. "It just felt good to be able to see the end zone, to kind of get in a rhythm. It felt really good, It felt like it had just been a while and I wanted to be productive for the team."
Establishing the run game is always going to be the first priority for this and any Vikings team. Establishing the run opens up other avenues on the football field and getting that done, keying in on McKinnon last week and Murray this week has allowed the Vikings to remain versatile despite the injuries to both their starting RB and QB.
Joining KFAN after the game, Murray said that the two-headed back field has been dubbed "The Jet & The Train".
So it will be The Jet and The Train that will look to carry the Vikings into London next week and then hopefully right on through to the playoffs a few short weeks from today.