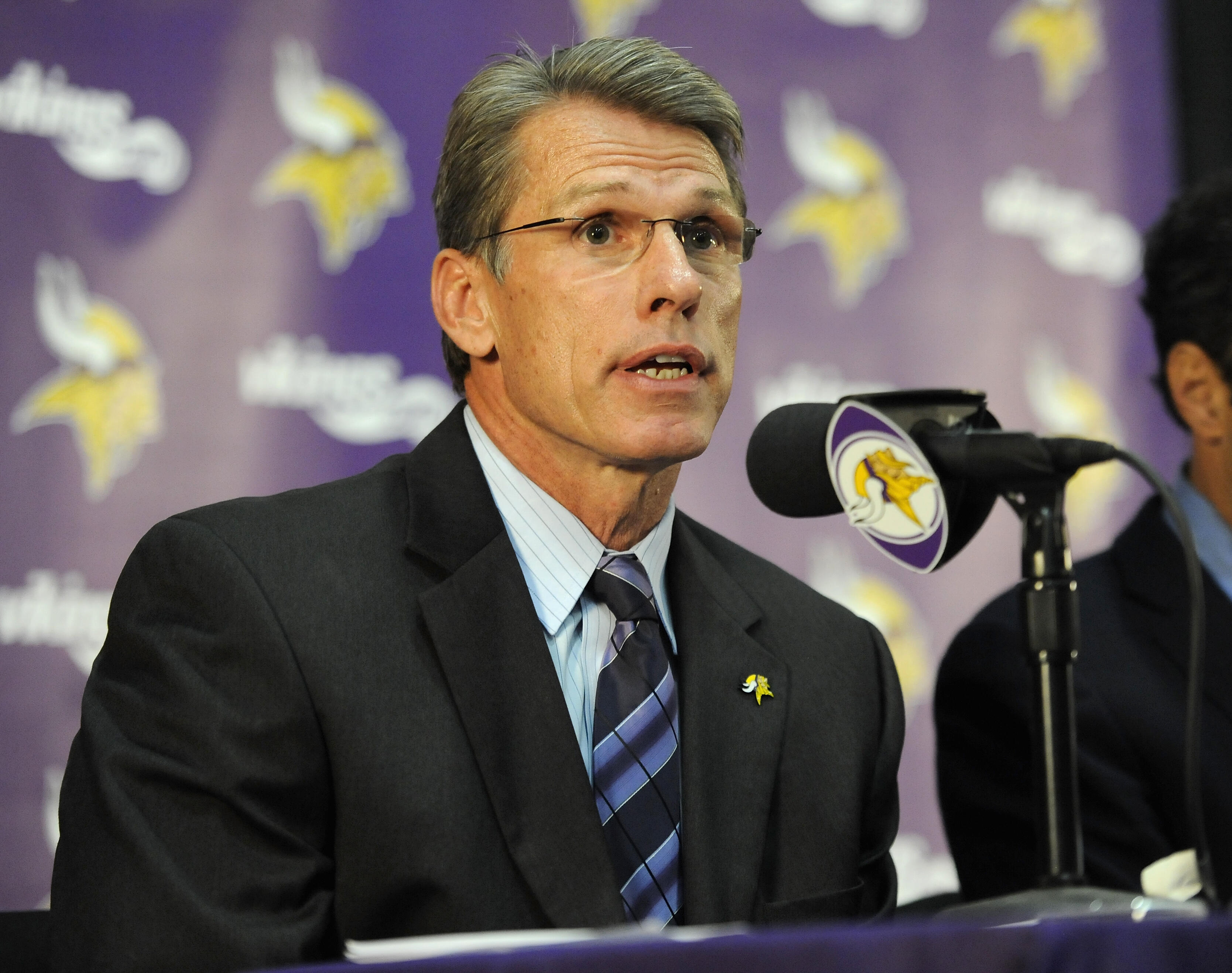 Wednesday afternoon marked the date of the annual Rick Spielman BYE Week media roundtable at Winter Park as the Vikings general manager sat down with the local media to deliver a bit of a state of the team message from the top of the personnel department.
While it's the GM's job to remain vague and protect any and all company secrets, there are a few things that you can read between the lines and learn from Mr. Spielman when he talks. Below are ten quick snippets from our conversation.
1. Teddy Bridgewater's 2017 fate to be sealed next Wednesday
Much of the conversation yesterday surrounded the multitude of scenarios surrounding the quarterbacks and the future of that position. One step further, a large part of that talk surrounded Teddy Bridgewater and his impending fate. That fate will officially be sealed next Wednesday as the 21 day deadline for the Vikings comes due. Spielman would not give the specific time deadline that the decision needs to be made only that it will be a joint decision from the doctors, the team trainers, coaching staff and Bridgewater. If activated he'll be on the 53-man roster the rest of the year. If not, he'll be deactivated for the remainder of the season.
2. The Sharrif Floyd situation still appears to be messy
Out of sight, out of mind for Sharrif Floyd right? Well, he's still a part of the team, still around Winter Park working out and seemingly not close to returning to the football field. Asked about Floyd's status, Spielman quickly shifted attention thanking the reporter for the question but instantly deflecting saying that it's a "complicated situation" with a lot of "business" that goes into it. Sounds to me like there is little hope for return and bracing for legal ramifications to come in to play away from the field.
3. Team is bracing for Pat Shurmur to get some Head Coaching interest
Watching the Vikings offense find success the past two years despite the fact that in each season the team has lost it's starting quarterback, starting running back and a myriad of offensive linemen has been astounding. And the rest of the league is watching as well. Because of that, the team is expecting that offensive coordinator Pat Shurmur will get some interest on the upcoming head coaching market. Shurmur got a quick two year shake with the Cleveland Browns from 2011-2012 but seemingly would be a candidate for another shake as openings become available at the season's end.
4. Still hope for Bradford return, but IR still a real possibility
The Vikings are still holding out some level of hope for a return to the football field for quarterback Sam Bradford this season. In fact, Spielman said yesterday that Sam has made improvements...but we don't know what that means. My inclination remains that Bradford is done for the year and given the impending timeline for Teddy Bridgewater (mentioned above), it would then be possible to see Bradford thrown on the Injured Reserve list to counteract the activation of Bridgewater, ending Bradford's once promising 2017 season.
5. With room to grow, Laquon Treadwell is "lightyears" ahead of last year
Rick isn't mincing any words when it comes to Laquon Treadwell saying that he's "lightyears ahead" of where he was as a football player last year. Now pump the brakes a little bit, that doesn't mean he's putting Treadwell on a Pro Bowl season or anything, it's more of a shot at how bad, how unprepared and how immature Treadwell might have been during his rookie campaign a year ago. Right now, he's a third, maybe fourth wide receiver catching a pass or two a game, so to think that that role is "lightyears" ahead of last year...woof. But a little optimism to go along with a disappointing rookie year.
6. Understandably so team is excited for future with Dalvin Cook
"He's intelligent...", "has natural instincts...", "he can be a complete back in this league..." those are just a few of the compliments that Rick Spielman had to say about injured rookie running back Dalvin Cook yesterday. Cook is out for the season but that doesn't mean that the Vikings aren't looking forward to his future with the team. While his success carrying the football left little up to the imagination, it was the intangibles of pass blocking, pass catching and the like that really impress Spielman looking forward to the future.
7. Mack Brown left the Vikings comfortable at trade deadline
It was an active trade deadline throughout the NFL the other day with a handful of big(ger) name players changing teams, and the Vikings weren't left out of the fun conversations. Spielman said that there were a handful of conversations and phone calls fielded by the personnel department over at Winter Park but it was actually a waiver wire claim that pushed the Vikings into inaction at the deadline. The GM shared that the one need the team considered shopping for was running back depth. Once the team acquired running back Mack Brown off of waivers, they deemed that need met and would only field calls that would overwhelm them moving forward. Most teams called to inquire about young talented players that are currently integral members of this team, trading any of them was not in the best interest of the organization.
8. Vikings went out of character to protect integral players
It's long been a characteristic of Spielman and the Vikings to not even field conversations surrounding player contracts until that contract has come expired or after the final season of that deal. However, this preseason, the Vikings locked up three players that were still under contract for at least one more year in Everson Griffen, Linval Joseph and Xavier Rhodes. According to Spielman, the Vikings went out of character to protect the young cornerstones of Mike Zimmer's defense though that decision is not mutually exclusive to that side of the ball.
9. Trae Waynes newfound swagger showcased on and off field
After getting off to a slow start in his NFL career, Trae Waynes started to develop a bit of a bad attitude towards the doubters and towards the press. Now, a few years later, as success is slowly coming his way that attitude has turned into a swagger that it helping him remain confident and find success on the field. Waynes is now a starter for the Vikings and Spielman noted on Wednesday that the success he has seen has led him to carry himself with more swagger, something that is seemingly more comfortable and natural for the young defensive back.
10. Putting #1 focus on offensive line showing early dividends for Vikings
The Vikings put a top focus on the offensive line during the 2017 off season. According to the fans, they left much to be desired missing out on some of the top line free agents and then parting ways with last year's big free agent splash Alex Boone on cut day. Still, the new look offensive line this season has been one of the stronger points and the catalysts for this year's success. According to Rick that comes from finding specific players that have specific traits that fits the scheme, fit the system and more importantly are in line with what offensive line coach Tony Sparano demands of his players.