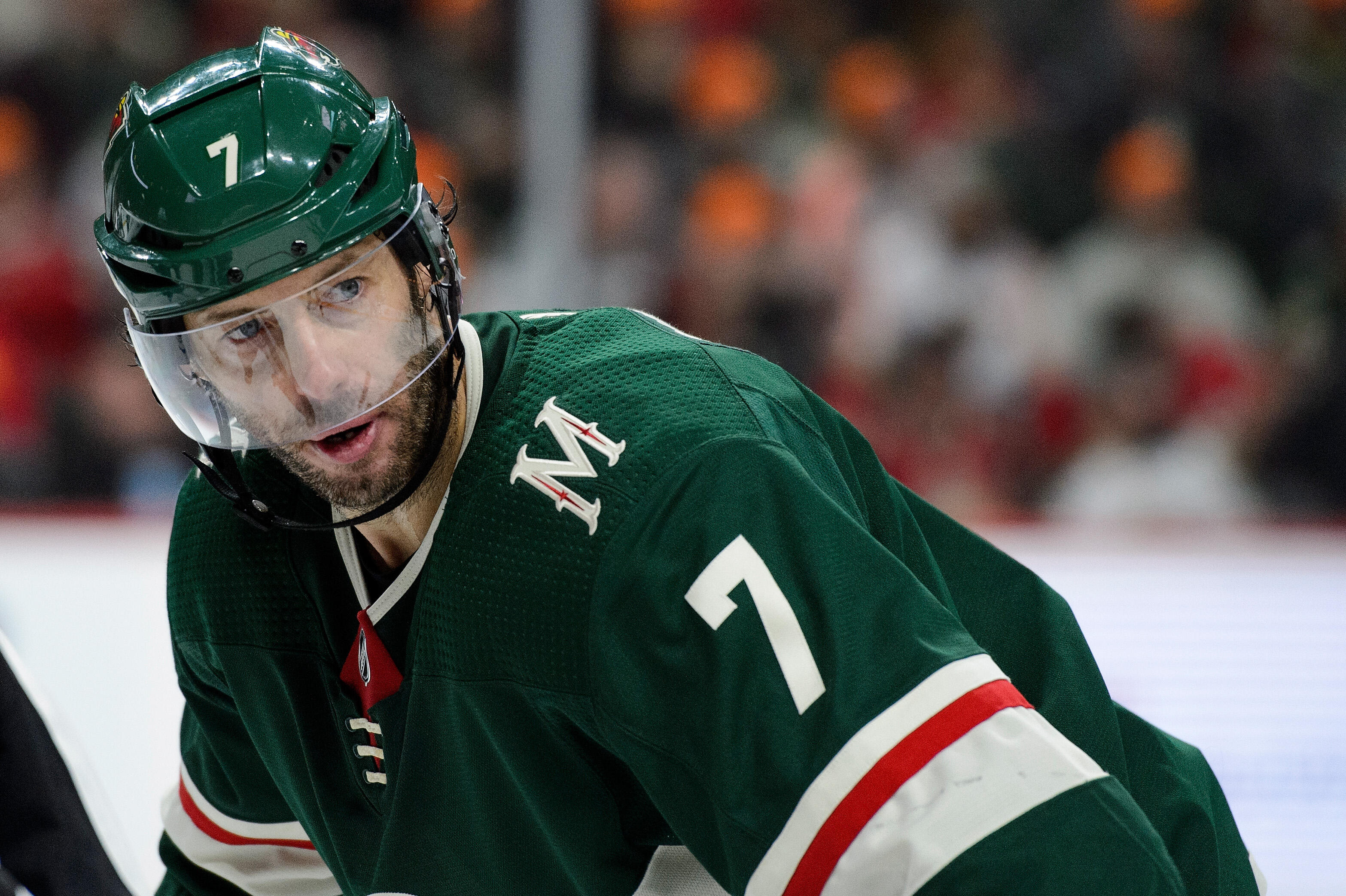 Editor's note: The Athletic spent the week with Matt Cullen, his wife, Bridget, and three children, Brooks, Wyatt and Joey, for a profile of the family and why Cullen, who turned 41 on Thursday, decided to forgo a chance at three-peating with the Pittsburgh Penguins or even retiring on top to instead return to Minnesota to rejoin his home-state Wild. Part I is on family, faith and why he decided to return to the Wild. Part II will run Friday and focus on how Cullen discovered the fountain of youth as the league's second-oldest player and how he and people that know him think he has gotten to this point.
EDINA, Minn. – As jubilant, traveling Penguins' fans serenaded him with a chant of, "One More Year!!!" Matt Cullen embraced his wife and three sons, and cried on his dad's shoulder during one tight, proud bear hug.
With tears running through his scrubby playoff beard last June in Nashville, Cullen said, "It's a pretty good chance this will be my last [game], and I can't imagine a better way to go out than this."
Not only did he just win a second consecutive Stanley Cup and third overall in his career, Cullen, at age 40, wasn't just a bit part for the Cup-clinching game. He was on the ice for Patric Hornqvist's game-winner with 95 seconds left, and no Penguins forward — not Sidney Crosby, not Evgeni Malkin — logged anything close to Cullen's 19 minutes, 42 seconds of ice time. No Penguins forward was more vital to the team's 4-for-4 penalty kill, including a third-period 5-on-3 disadvantage in a scoreless game.
Cullen easily and understandably could have ended his solid career in a blaze of glory, and, frankly, his homesick-for-Minnesota wife, Bridget, fully expected him to.
Two weeks later though, Cullen was back in Moorhead, Minn., acting like a crab around the house.
His wife finally had enough and sent him off to one of the only sanctuaries her husband has besides an ice rink — the gym.
A few hours later, Bridget decided to join.
"I go to the gym, and he's working out, and not like an easy bike ride," said Bridget, rolling her eyes. "He was working out like he was going to play again. I even took a video and sent it to his buddy, [recently retired NHLer] Mike Fisher, and asked, 'Does this look like a guy that's going to retire?' I mean, he was doing the lunge walk-and-hold thing!
"Lunge walks on the Fourth of July? Come on. I wasn't born yesterday. I'm like, here we go. He's planning on playing."
Sure enough, Bridget's suspicion was correct.
Six weeks later, Cullen, a 1996 second-round pick by the old Mighty Ducks of Anaheim, would sign a one-year contract for a 20th NHL season, but not with the Penguins. After much conversation, debate and praying with his wife over the decision, the born, bred and thoroughly proud Minnesotan decided to return for a second stint — and possible swan song — with his home-state Wild.
Cullen, the second-oldest player in the NHL behind 45-year-old future Hall of Famer Jaromir Jagr, turned 41 on Thursday.
Later in the day, he will play his 1,500th game, including the playoffs, which ranks second (behind Phil Housley) among Minnesota-born players in NHL history.
According to quanthockey.com, only 34 others in the long history of the NHL have played as a 41-year-old.
"Holy crap, that's crazy," Cullen said when told that footnote. "When you're younger, you just want to play on the high school team. I never dreamed or considered the NHL. For me, it was the high school team in Moorhead and maybe college. But once you get to the doorstep, you just try to establish yourself as an NHL player. And before you know it, here we are. It's goofy."
As tough as it was for Crosby to hear Cullen wouldn't be returning to Pittsburgh, the respect level is off the charts.
"I don't think you're going to see many guys that can do what he's doing," Crosby said. "Especially as things kind of go along, the league feels like it's getting younger and younger, and the way he can skate and the way he takes care of himself has allowed him to stay in it. He's got some pretty good genes on top of it.
"How hard he works and what a professional he is, that's so important to a team and to see someone with the passion that he has for the game after playing for so long, it's pretty amazing. It was great having them in Pittsburgh. He'll play as long as he wants to. I don't think anyone's going to kick him out."
***
Cullen was born in Virginia, Minn., starred at Moorhead High, played at St. Cloud State and is the oldest of four siblings – brothers Mark and Joe played professional hockey, and sister Annie was a competitive gymnast. His parents, Nancy and Terry, still live in Moorhead.
Matt absolutely loved his first stint with the Wild from 2010-13. He was heartbroken when General Manager Chuck Fletcher told him he didn't have the cap space to re-sign him. After signing a two-year contract with the Nashville Predators, the Cullens were so sad they had to leave Minnesota, they made an impulse purchase — a toy Fox Terrier they named, Minny.
"I said, 'We've got to get the kids a dog,'" Bridget said.
"Please. It was mostly for Bridge," Matt said, triggering laughter from them both.
Now that the family's back in Minnesota, they have a black lab on the way. They plan to name that dog, Sota.
Get it? "Minny" and "Sota."
That's how much the Cullens love Minnesota, and that's exactly why they decided that, if Cullen was going to play this season, it probably needed to be back with the Wild.
"Not many people would do that," Terry said, laughing. "Think about it, you win two Stanley Cups, they got you on the ice a lot, they use you a lot, they appreciate you, and you're playing with and you're friends with some of the best players in the whole world. It's pretty hard to just pick up and leave. So, he truly did love it in Pittsburgh, I do know that.
"To me, it showed how much that he cared about his family and how much he wanted the best for the family."
After his stint in Nashville, Cullen was considering retirement. But they took a leap of faith and signed with the Penguins solely because of his close relationship with Penguins GM Jim Rutherford, who twice acquired Cullen with the Carolina Hurricanes. Rutherford and Cullen won the first of three Stanley Cups together with the Hurricanes in 2006.
Because Cullen signed consecutive one-year deals with the Penguins, Matt and Bridget decided to home-school their three boys — Brooks, 11; Wyatt, 9; and Joey, 7 — so they wouldn't get too attached to the area and meet friends only to eventually leave them behind.
So, the past two years, the three boys were taught by a privately-hired teacher at the Penguins' practice facility.
The Cullens knew they had to get their children back to Minnesota and into a more stable environment around family, friends, school and hockey.
In Minnesota, every day of the week, one of the boys has at least a hockey game. Two of Joey's teammates include Ryan Suter's Brooks and one of Eric Staal's son Parker. Wyatt plays on the same team as Wild assistant coach Darby Hendrickson's son Rennick.
They all have similar attributes to Matt on the ice. Wyatt, especially, with his tucked-in No. 7 jersey, has an identical skating stride and tapes his skates and shin pads exactly like his dad.
"I get such a kick out of these games," Matt said as he watched Wyatt play Monday night from the corner glass.
The three boys go to the same Christian school with the Staal's kids. That's especially neat because Cullen and Staal are close friends from their days as Canes teammates.
"They love their new school," Bridget said of her boys.
"And it's small," adds Matt, "which is nice transitioning from 'Dream School' where they were in a locker room, had our team chef cook their lunch and they could run out and say hi to Sid on the ice anytime they wanted."
***
The Cullens are renting a home that has been passed on from teammate to teammate for years.
It's clear how quickly the Cullen boys have become comfortable in their new dwelling
One hundred feet from their basement's sliding glass door is a pond.
"We have minnow traps, and we have four crayfish and 10 minnows," Joey says between whipping shots during a mini-sticks game with Brooks.
"But I can't wait 'til the winter," Matt tells Joey.
"Hockey rink!!!" both boys scream excitedly.
"I'll never forget, but my favorite thing about playing for the Wild the first time was building the backyard rink," Cullen said. "I'd come up from games, shovel it off and flood it, and just decompress. Loved it, just loved it. It was therapy."
But this will be Cullen's first-ever foray into building a hockey rink on a pond, so he plans to call old teammates like Nick Schultz for tips.
Back upstairs, Cullen's sitting on a granite countertop in the kitchen while Bridget helps spread peanut butter and avocado on English muffins for Brooks and Joey.
Funny stories start flowing, like a few days prior when former Penguins teammates Crosby, Hornqvist, Ian Cole and Carl Hagelin came over for dinner and an intense game of mini-sticks that got the Swedes especially in a full sweat. Crosby — yes, the future Hall of Famer — tended goal.
The Cullen children wanted to pull a prank on the Penguins. They started bouncing ideas off one another when Joey's light bulb suddenly lit up.
"Let's put sleeping pills in their spaghetti," the 7-year-old yelled.
Matt had to interject: "How about we don't do anything criminal, Joey?"
At this moment, Joey had another great idea.
"I'm going to put my costume on and scare them," Joey said of his Athletic houseguests.
Five minutes later, Joey races back downstairs wearing a "burnt zombie" costume for trick-or-treating the next night. Wyatt was going as Donkey Kong, Brooks as a skeleton.
***
There's no guidebook that helps a professional athlete know when it's time to hang up his skates.
All Cullen knew was his body felt great, and in consulting with former players like Mark Recchi who "went out on top" after winning it all in 2011 with the Boston Bruins, he sure wished he played another year or two.
"So I started training pretty quick because I felt good and found myself wanting to get in there," Cullen said.
Once Cullen knew he wanted to play, he and his wife began to really talk about the proper place to play. Both the Penguins and Wild wanted him back, so the two began to lean on their Christian faith and pray.
They prayed a lot.
"This was a family decision," Cullen said of returning to the Wild. "It's home. The thing we thought about maybe more than anything is what's best for the kids. We thought about that a lot. In the whole big picture, we could be close to our family.
"The more we thought about it, it was like, what an unbelievable opportunity to finish at home at this point in our lives. And if you don't take a chance, you don't know what'll happen. We could do something special in Minny."
That was Bridget's feeling, too.
"It would have been so easy to go back to Pittsburgh and be comfortable," Bridget said. "You know the coach and know the system and you just won twice. But, he got this feeling. We prayed about it, and he's like, 'I can make a difference in Minnesota.'
"And we just thought this was better for the kids."
The hockey is tremendous, as Wyatt's undefeated squirts team proved later that night at Minnesota Made. On weekends, they can go back to Moorhead to see their grandparents or go to the family's lake cabin.
On Thanksgiving, the entire family is going to Matt's sister's house south of the Twin Cities. Matt's younger brother, Joe, who just became the assistant hockey director at Gentry Academy in St. Paul, is actually living in Matt's basement right now while he tries to sell his home in Moorhead.
Next week, Terry is bringing Wyatt, one of his 11 grandchildren, to Toronto for a hockey tournament.
"It'll be the first time I've done something like that. It'll be just the little guy and grandpa," said Terry, who was Matt's high school coach.
"That's going to be so cool for Wyatt," Matt said. "He just thinks the world of his grandpa in part because he just tells it like it is when it comes to hockey."
That's Terry's gift. To this day, he has seen virtually all 1,499 of Matt's games, and the two still talk after almost every game.
Matt might be 41, but sometimes he still needs some fatherly advice and an ear to vent to.
"As you know, I get a lot of hockey ideas from Bridge, but sometimes it's nice to hear what he thinks," Matt said, laughing.
Added Terry: "It's funny. He's 41, but our conversations haven't changed that much since he was 15."
Next month, when the Wild head to south Florida, Terry Cullen will go on what he ventures to guess will be his 10th father-son trip.
"I wouldn't miss it. It's so special," Terry said. "The thing is, Matt and I are the old guys. We keep it pretty quiet and then hear the stories in the morning that we weren't involved in."
Cullen's a homebody. He doesn't have some grand 41st birthday bash planned.
He'll play against the Habs on Thursday night, then come up to chaperone Brooks' sleepover with two friends.
"We'll keep it low key. Maybe Bridge and I will have a glass of wine," Cullen said. "Then we'll do it all again the next day. We're pretty happy it's worked out this way.
"It's good for all of us to be home."
Note: This article was originally published on The Athletic. The full article with related photos can be found by CLICKING HERE.
Michael Russo is a Senior Writer who covers the Minnesota Wild and National Hockey League. Before coming to The Athletic, Russo spent 27 years with the South Florida Sun-Sentinel and Minneapolis Star Tribune and has covered the NHL since 1995. He is a three-time Minnesota Sportswriter of the Year and in 2017 was named the inaugural Red Fisher Award winner as best beat writer in the NHL. Russo can be seen on Fox Sports North and the NHL Network and heard on KFAN (100.3-FM in Minneapolis) and on the Russo-Souhan Show (mnspn.com). Follow Michael on Twitter @RussoHockey.
Read More at TheAthletic.com:
Boudreau's wishes: More from Tyler Ennis and for Matt Dumba to respond
Michael Russo
Brayden Schenn has benefited from trade to Blues, but scouts, advanced stats speak to individual improvement
Jeremy Rutherford
November Fan Power Rankings: Lightning soar to top of the class
Dom Luszczyszyn
The Full 60 Podcast: Coyotes GM John Chayka
Craig Custance
Duhatschek: Like Sidney Crosby before him, Connor McDavid learning to navigate life as NHL's best player
Eric Duhatschek