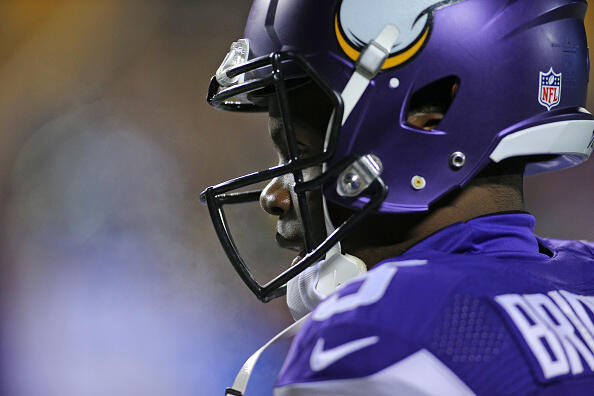 Photo: Getty Images
This article was originally posted to PurplePTSD.com
Fifteen months after suffering a gruesome knee injury that depending on who you ask could have resulted in the end of a career and even the amputation of a leg, now Teddy is back. Not just back walking, not just running, but back to football.
As of 10:30am Wednesday morning, Teddy Bridgewater was activated back to the Vikings active 53-man roster. He's back at practice and we already know that he'll be dressing this weekend against the Redskins serving as the team's backup quarterback always only one play away from being thrust into his first game action since the end of the 2015 season.
Judging by the reaction on Twitter yesterday, Teddy's activation was the second coming of Joe Montana (credit Dan Barreiro) and better yet, everybody and their mother now has 280 characters to tell us all how excited they are to have their franchise quarterback back.
How soon we all forget that last time we saw Teddy Bridgewater we were all criticizing his play. He can't throw the deep ball...he's not comfortable taking risks...he holds onto the ball too long...he can't read through his routes fast enough. Those were all things that we said, I said, everybody said.
People who supported his rise to becoming a franchise quarterback argued that he was being held back. Those of the pessimistic variety would argue that we only thought he was good because we're comparing him to that which was before him...Christian Ponder.
So what do we really have here?
The last time we saw Teddy Bridgewater playing he led the Vikings to an 11-5 record in 2015. Not bad at all, but was that Teddy or was that the Vikings? Statistically speaking here's how Teddy's 2015 season would compare to this year's crop of QBs through the first eight games of the season...
CLICK HERE to read the rest of this article and see the Teddy Bridgewater vs 2017 QB analysis at PurplePTSD.com