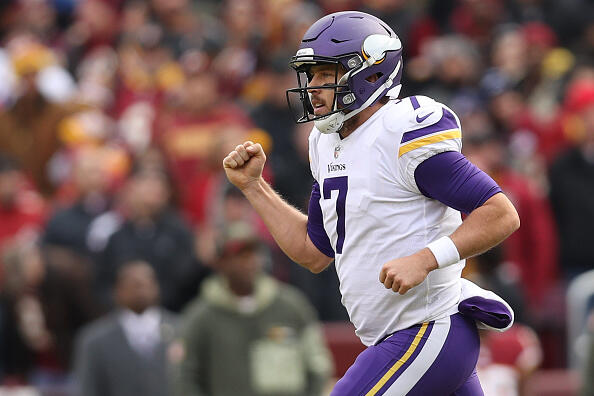 This was the week that Teddy returned to the football field. The coaches say that he'll ultimately be the quarterback for the team, Teddy is effectively saying the same thing, but someone must have forgotten to tell Case Keenum that's the plan.
Or maybe they did? Maybe Case caught wind of the Vikings future plans and took to the field Sunday in Washington with a little something extra to try and prove to his doubters.
With Teddy dressed and on the sidelines, Case took to the field against a pretty solid Redskins defense and had his way most of the day. Through the first half of play and a little into the second half, Keenum could not be stopped. For most of that first half he had a PERFECT passer rating of 158.3, his final numbers read 301 yards on 20-of-29 passing for 4 touchdown on the day. That's a career best day for Keenum for touchdowns thrown and his third highest career game for passing yards.
Case had the Vikings on their way to a blowout late in the second half, but then he almost screwed all of that up.
Part way through the third quarter Case got a little careless and floated a deep pass over the head of Kyle Rudolph. The only problem, D.J. Swearinger was waiting there for the interception.
The Redskins couldn't get points on that drive but on his very next pass, Keenum stared down Rudolph again and Swearinger jumped the route for back-to-back interceptions, this one he returned inside the five yard line. Washington would capitalize this time and score the touchdown a few plays later.
Rattled, thrown off and no longer perfect, Keenum remained in the game and found a way to run down the clock lifting the Vikings to their fifth straight win and an overall record of 7-2 on the year.
His final passer rating ended the day at a very respectable 117.0, the fifth highest rated game of Keenum's career. Still, once perfect his performance in the second half re-opened the conversation surrounding the timetable for Teddy Bridgewater's return.
Let's hope that motivates Case to come ready to play for a tough game at home next weekend against the Los Angeles Rams.