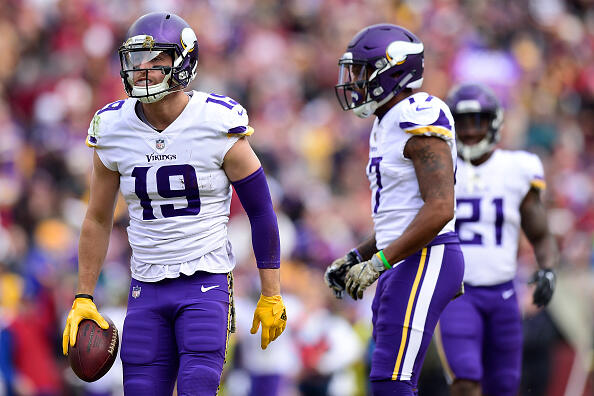 It's no secret, I tweet it about every week. I have a "man-crush" on Vikings wide receiver Adam Thielen!
The dude seemingly does no wrong, I mean outside of the one pass that he dropped this afternoon, he's always in the right spot, always trying his hardest, always open and (almost) always catches the balls he should.
Today was yet another great example of that.
Adam reeled in 8 catches on 12 targets today for 166 yards and a touchdown. For the year, that gives him 793 yards on the season and pins him inside the top five in the entire league meaning he should be well on his way to a pro-bowl season.
That's right, another undrafted Minnesota Viking on his way to the Pro Bowl. Or at least he should be, and only if the Vikings aren't in the Super Bowl, which is a completely separate conversation we could be having.
Thielen has developed into a HUGE part of the Vikings offense this season posting games of 157 yards, 98 yards, 96 yards, 98 yards and now a 166 yard game today versus the Redskins.
Even the national media is starting to notice. Today's T.V. broadcast mentioned that it's time to stop referring to Adam Thielen's career trajectory as a "Cinderalla Story", following it up by saying he's turning into a big time "star" in the league.
How about that, and to think, I beat him in the Initials Game!
Nobody cares about that, but they should care about doing whatever they can to get this guy to the pro bowl and keep him wearing purple for the rest of his career!