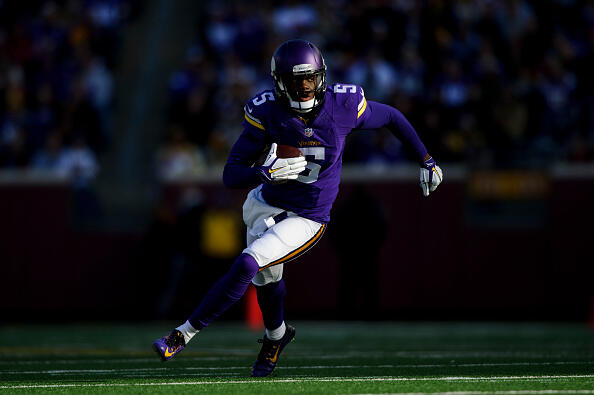 LANDOVER, Md. -- He didn't play a snap, but you could tell by the media crowded around his locker after Sunday's game at FedExField that it was a very special day for Minnesota Vikings quarterback Teddy Bridgewater.
Bridgewater, who hasn't played since suffering a horrific left knee injury before the start of the 2016 season, was activated Wednesday and served as Case Keenum's backup in Minnesota's 38-30 win over the Washington Redskins.
"It's great," Vikings head coach Mike Zimmer said of Bridgewater's return. "Teddy has worked extremely hard to get back to this spot and it was good to see him out there. This is another step in the process for him."
The cameras caught Bridgewater on the sideline wiping away tears of joy just before the game started.
"Just running out of that locker room, being able to stand next to those guys on the sideline for the national anthem, it just all boiled up," Bridgewater said. "I kind of screamed a little bit on the sideline after I said my prayer in the end zone. Then when I got on the sideline, I was like, 'Man, this is really about to happen.'"
With Bridgewater watching, Keenum passed for 304 yards, four touchdowns and two interceptions in the win.
"He's a fan favorite. He's my favorite too," Keenum said. "I may have a Teddy Bridgewater jersey at home. He's a great dude and teammate. I told somebody on the field that Teddy definitely raises the cool factor of the quarterback group tremendously.
"He's another set of eyes on the defense and being able to talk about certain things, whether it's protections, routes or coverages (is helpful)."
Bridgewater suffered a non-contact injury to his left leg during practice in August of 2016. He came away with a torn ACL and suffered other structural damage, including a dislocation of the knee joint.
Now, with Sam Bradford (knee injury) sent to injured reserve after having arthroscopic surgery on Tuesday, Zimmer has Keenum, Bridgewater and a two-game lead in the NFC North.
Keenum has completed 109 of 162 passes (67 percent) for 1,159 yards with eight touchdowns and five interceptions during Minnesota's five-game winning streak. He was excellent most of Sunday, but his two second-half interceptions helped Washington get back in the game.
"I've got a plan and we'll just see how it goes," Zimmer said when asked about Bridgewater after the game. "Sometimes plans change, but we'll see how it goes. We'll sit down this week and we'll visit about it and we're going to go from there."
Copyright © 2017 TTWN Media Networks LLC