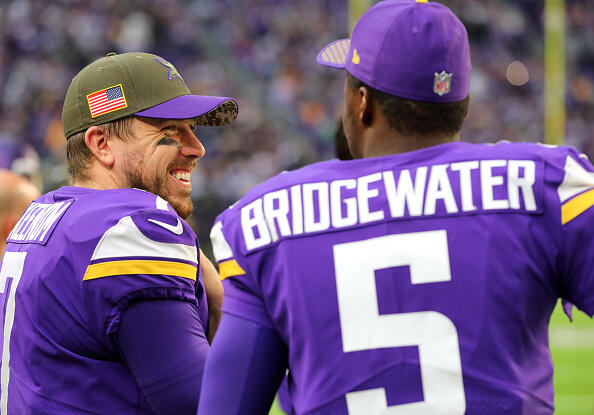 MINNEAPOLIS -- As soon as the Minnesota Vikings activated quarterback Teddy Bridgewater following his year-long recovery from a horrific knee injury, head coach Mike Zimmer has faced questions about incumbent Case Keenum and Bridgewater's inevitable promotion back to starter.
Zimmer has taken time with the decision, as he had earlier this season when Sam Bradford was trying to make his way back from his own knee injury.
Keenum continues to make it hard on Zimmer to make a change and Zimmer sounds like a coach willing to ride out Keenum while he's successful.
"It's going to be hard to yank him out of there right now," Zimmer said after Keenum helped Minnesota to a 24-7 win over the Los Angeles Rams on Sunday. "He's playing good. I still have really high hopes. You know a lot of things happen throughout the course of this season, so we'll just see how it goes."
Keenum was 27-of-38 passing for 280 yards and a touchdown in Sunday's win, playing mistake-free while the defense held down Los Angeles' top-scoring offense. Keenum didn't commit a turnover, escaped some trouble with his legs and wasn't sacked.
It's the third game this season Keenum hasn't been sacked or thrown an interception, tying a franchise record for a single season.
"If it is not broke, don't fix it," Keenum said when asked if he should remain the starter for the rest of the season. "Let's keep doing what we're doing. ... He's the coach. It's his decision. I'm here to play. However he wants to do, I'm here. I want to be the best player for this team.
"I'm going to keep doing what I do every week, and keep answering the same questions and just keep getting ready to play."
Zimmer hasn't hidden the fact that he wants to have Bridgewater start at some point. He made mention of a plan after Keenum threw four touchdowns and two interceptions in last week's victory and withheld naming Keenum the starter against the Rams until Wednesday.
With Keenum under center, Minnesota has won six games in a row. His mobility has helped the Vikings give up a league-low 10 sacks. On Sunday, Keenum faced two pass rushers coming at him, he stepped up away from Robert Quinn, who tried to strip the ball and ducked under linebacker Connor Barwin. Keenum lofted a pass that wide receiver Adam Thielen was able to haul in.
"I think he likes the spotlight and he made plays when he needed to," Quinn said. "Case is sneaky elusive. We thought we had him and he somehow got out and dumped the ball downfield."
Zimmer agreed and had a more colorful answer for Keenum's getaway.
"I'm thinking a lot of things at that point," Zimmer said of his thoughts when Keenum threw the ball up high. "But he's got a horseshoe right now."
Zimmer might appreciate having a horseshoe on his side for now.
Copyright © 2017 TTWN Media Networks LLC