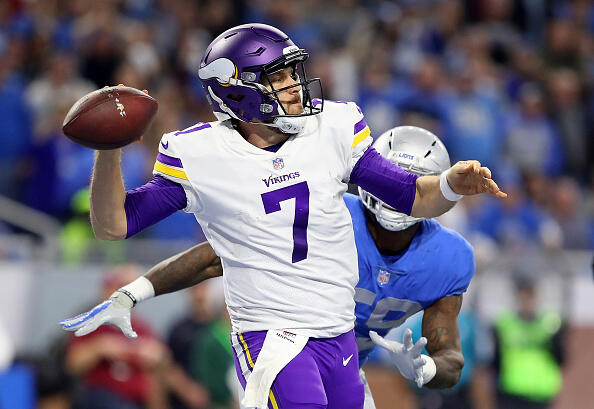 DETROIT -- Case Keenum could not nail down a starting job with the Houston Texans or the Los Angeles Rams. He has become more than just a fill-in with the Minnesota Vikings.
Right now, Keenum is playing as well as any quarterback in the league. He outplayed the league's highest-paid player, Detroit quarterback Matthew Stafford, in a 30-23 Vikings win on Thursday at Ford Field.
Keenum completed 21 of 30 passes for 282 yards and two touchdowns without an interception. Stafford went 20 for 35 for 250 yards and got picked off late in the game.
Former Vikings starter Teddy Bridgewater is back on the active roster, but it's clear the Vikings, who have won seven straight, will go as far Keenum can take them.
"I work on playing ball all the time. It means so much to me," Keenum said. "I'm ultra-competitive. I want to be great and I have confidence in myself that I can be. Being a part of this team is really special."
Special is a good word to describe Keenum's season. He replaced injured Sam Bradford after the first week and his confidence has steadily grown. He has completed 66.1 percent of his passes and has thrown 14 touchdown passes while getting picked off just five times.
"Any opportunity you get is special," Keenum said. "Any experience you have is priceless. I've used every experience I've ever had and pulled on different lessons I've learned and continued to learn. If you're not getting better, you're getting worse."
Keenum gave the Vikings a 17-point, first-half lead with his arm and his feet. He threw a pair of touchdown passes to tight end Kyle Rudolph and also scampered 9 yards for another score.
The only blemish on his performance was a bizarre taunting penalty at the end of the third quarter after he was sacked. Keenum flipped the ball and that was enough to get flagged.
"I talked to the ref after that," he said. "It's not something I meant to do at all. I was just frustrated with getting sacked. I guess I threw the ball. I don't even remember what happened. I didn't realize it was a penalty on myself."
The Vikings have become increasingly reliant on Keenum. He has passed for at least 280 yards over the last four games and the team has averaged 31.7 points during that stretch.
"Maybe the best thing about him is he's got great vision," Minnesota coach Mike Zimmer said. "He sees a lot of things that are going on around the field and maybe the game has slowed down for him."
Copyright © 2017 TTWN Media Networks LLC