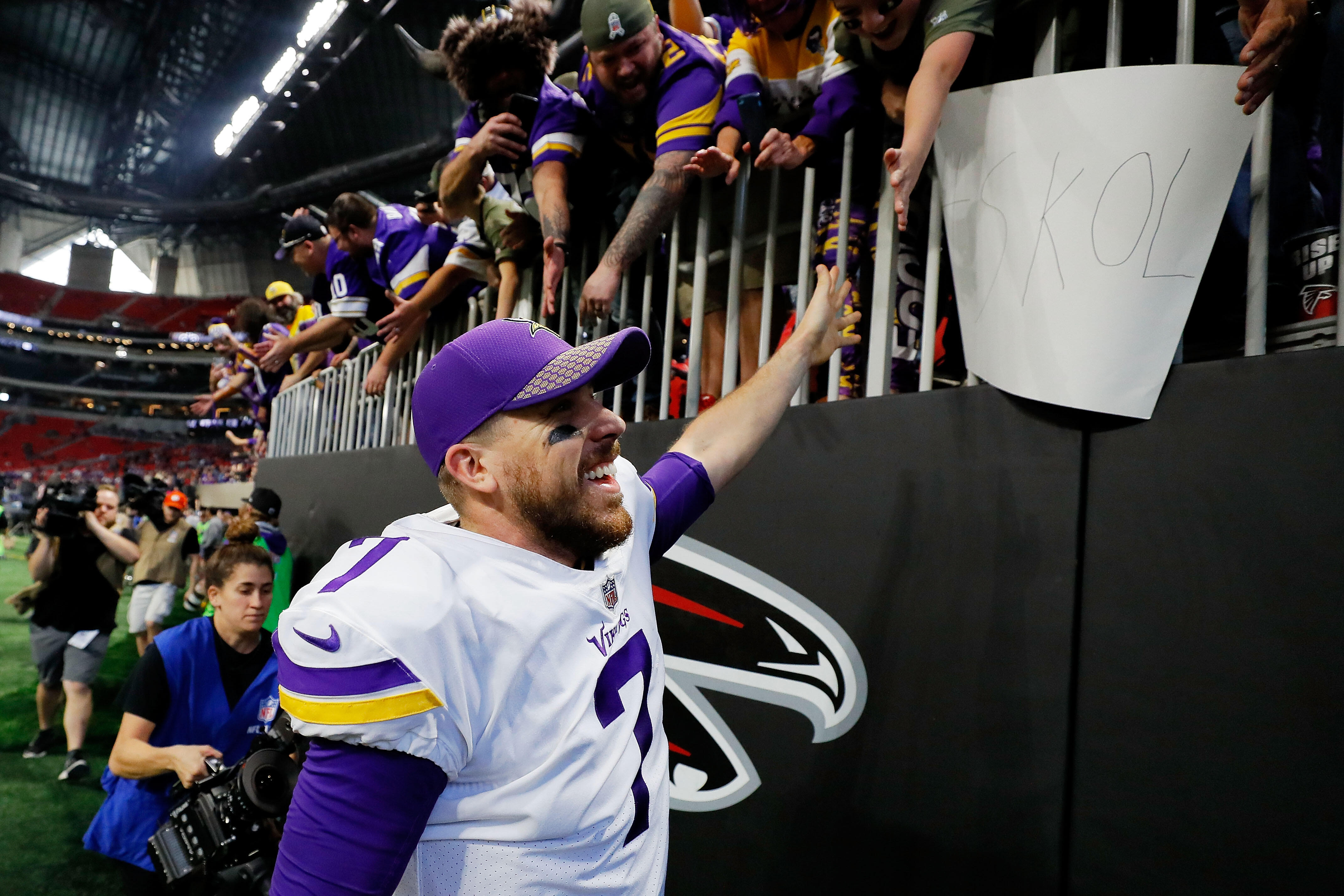 They've been the under appreciated all season long. They've struggled to make believers out of those outside the land of 10,000 lakes. Well, now that nation is starting to take note of the Minnesota Vikings.
Heading into Sunday's game in Atlanta, the Vikings faced a familiar narrative. While they sat atop their division, with only two losses on the season, it was their opponent who was getting all the headlines. It was the same two weeks ago versus the Rams. The Falcons entered the day with the attention of the nation tuned in after Julio blew up for 250+ and Matt Ryan had the once stumbling Falcons surging right towards the playoffs...then they hit a brick wall.
That brick wall is well rounded, disciplined and talented football team and they won today's game 14-9 in much the same fashion they've won their previous 7 straight. They brought pressure, they stayed in their lanes, they held when the getting was tough and most importantly they kept one of the league's most prolific offenses out of the end zone all afternoon long.
On offense, they stayed aggressive taking shots down field but really feeling their oats across the middle with Kyle Rudolph, Jarius Wright, Adam Thielen and Laquon Treadwell making big plays to extend drives. As always, reigning NFC offensive player of the month Case Keenum was his normal terrific self throwing for 227 yards, completing 83.3% of his passes, throwing for two touchdowns and not turning the ball over a single time.
"The difference in the ball game was the 3rd down conversions for each team," Mike Zimmer added to the conversation. "We scored touchdowns in the red zone."
It wasn't the knock down, drag out offensive attack we've seen the past few weeks, but it was efficient and once again, the Vikings found a way to fight from behind and walk away victorious at the end of the day!
Minnesota went on the road and won, they won against the reigning NFC champs who were hot and are a dangerous football team themselves. Don't overlook that.
Gang, the Vikings are 10-2 right now. They're in first place in the NFC North, second place in the NFC and their on the verge of clinching the division, clinching home field and doing some crazy things that we never though we'd be talking about at the beginning of the season.
Enjoy it, it's awesome!