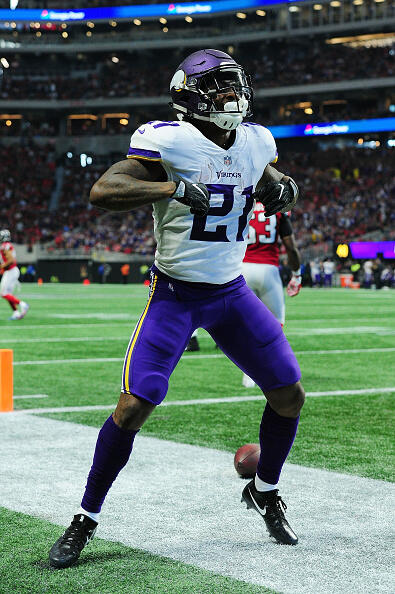 ATLANTA -- Minnesota Vikings running back Jerick McKinnon said in advance that he had something special ready if he scored in his homecoming on Sunday against the Atlanta Falcons.
McKinnon, who grew up in the Atlanta suburbs and played collegiately at Georgia Southern, didn't have to wait long to break out his celebration dance, going to his version of the Falcons' old "Dirty Bird" after catching a 2-yard TD pass from Case Keenum in the first quarter.
"It feels great to be home. I felt so much love," McKinnon said. "It was great to see everybody. I tried to get with as many as I could."
Keenum threw a second touchdown pass, this one to tight end Kyle Rudolph on the first play of the fourth quarter, and the Vikings (10-2) won their eighth straight, beating the Falcons 14-9.
McKinnon, a third-round pick in 2014, had a large contingent of family and friends at the game and wanted to make sure that Mercedes-Benz Stadium wasn't where the Vikings' winning streak came to an end.
"I can't lose, because if I lose I have to hear it for a whole year," McKinnon said prior to the game.
McKinnon and Latavius Murray have picked up the load since standout rookie running Dalvin Cook was lost for the season with a knee injury and the Vikings haven't been beaten since the first-round pick from Florida State was hurt.
Murray had 76 yards rushing on 16 carries, including a 30-yard run, and three catches for 31 yards. McKinnon had five catches for 28 yards and 24 yards on nine carries as the Vikings controlled the ball against the Falcons.
Keenum was 25-of-30 passing for 223 yards and Minnesota was 6-of-12 on third-down conversions.
"Anytime you are successful I think that breeds confidence," Keenum said. "You trust the defense to make a stop every time that they are out there and I think the defense trusts us to go out there to put drives together when we need to. I think trusting each other and being successful breeds confidence."
Minnesota held Atlanta to 1-of-10 on third down and limited All-Pro wide receiver Julio Jones to two catches for 24 yards.
"Helping each other out on defense and getting off the field on third down was big for us," Minnesota linebacker Anthony Barr said. "We are going to be up to the task no matter who the team is.
"We knew how great of an offense they were, and they have some big-time players over there. We just needed to play together, that's all we needed to do. Play together, play smart, and get off the field."
Copyright © 2017 TTWN Media Networks LLC