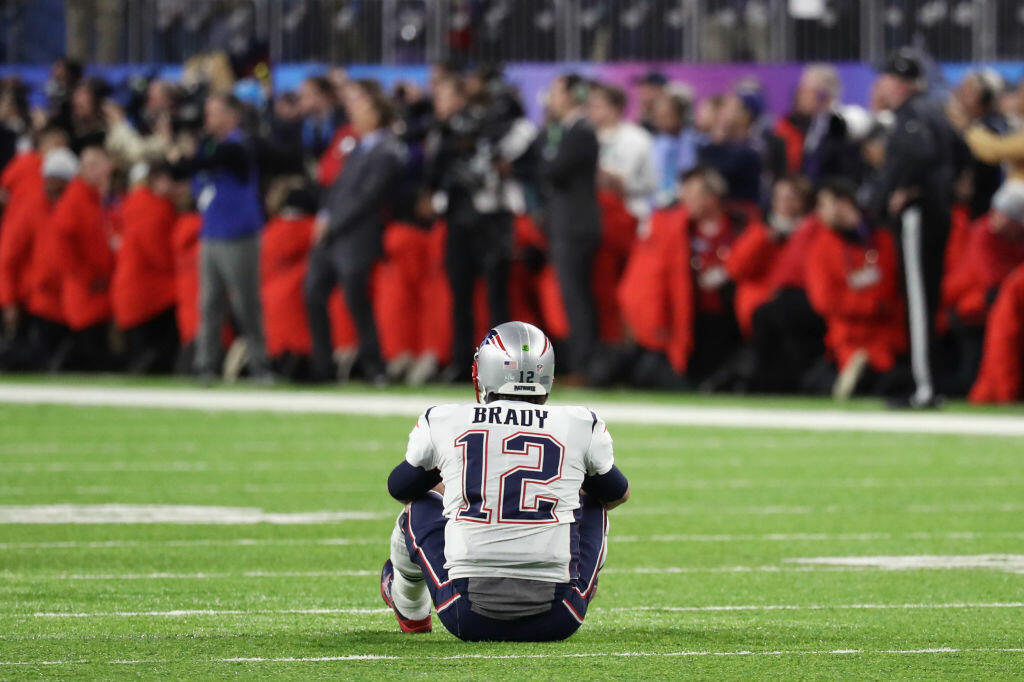 Too much time.
You said it. I said it. Pitchfork Nation said it. Hell, Justin Timberlake probably lip-synched it.
The Eagles had just scored the go-ahead touchdown to take a 38-33 lead on the Patriots in Super Bowl 52.
But the clock read 2:21 to play. Generally, that's considerably more than enough time for Tom Brady to answer. On this night, when he would set the all-time Super Bowl passing yardage record, it did not strain credulity to believe it was more than enough time for Brady to answer twice.
It's what he does. It's who he is.
But there was always an equalizer, always a way to slow Brady. There really was a way to take the moment away from the greatest quarterback ever. Intricate, complicated, stuff.
It's called making a defensive play.
You remember defense. It's the thing the Vikings played most of the season, at least until the NFC title game, when it faced Joe Montana (in fact, Foles and Montana are the only two QBs in post-season history to have back-to-back-75 percent completion games).
It's the thing neither the Eagles nor Patriots played for almost all of Super Bowl 52. As radio analyst Boomer Esiason suggested, What if we went to a Super Bowl and a Pro Bowl broke out?
With far more entertainment value.
But one interception, one sack — one strip sack especially — can change everything. The tricky part — against Brady the seemingly impossible part — is getting it.
Then Eagles defensive end Brandon Graham beat his man, and Brady's historic sense to feel just such a move failed him. He felt nothing until it was too late, and Graham was reaching for his right arm and knocking the ball away and teammate Derek Barnett was recovering the fumble deep in New England territory.
The first sack of the game came late in the 57th minute, and Brady sat transfixed on his butt, on the ground, looking around as if he new the ball game had finally turned for good.
Though the Patriots got the ball back, it had, and U.S. Bank Stadium became Cheesesteaks in Paradise, Rocky movie highlights and endless echoes of "Nobody respected us."
In fairness to the Eagles, they had every right to invoke sports' most tired mantra. They might well have been the most disrespected No. 1 seed in NFL playoff history, and here their fans were, no-doubt eager to climb any non-greased post they could find in celebration.
It is odd to watch the way a Minnesota stadium can be made to feel so foreign. On the Big TV, Ron Jaworski got cheered far more heartily than Bud Grant. Tom Thibodeau barely got a yawn, despite the camera person's efforts to give the crowd a second chance to cheer, and Thibs a second chance to almost grin.
Not even a hint of Gjallarhorn.
For Zygi and any other Vikings official or any player in attendance, it had to sting to know that there was a way to avoid this sensation.
Or, given Nick Foles' transformation into Montana, maybe there wasn't.
For the record, the Bumper to Bumper game ball goes to Eagles coach Doug Pederson, the Brett Favre understudy, who revealed cojones the size of church bells. Late in the first half, the Eagles faced fourth-and-goal from the New England 1 1/2 yard line. The chalk said take the three.
Maybe the Pederson knew the truth. Maybe his old buddy Favre reminded him of that truth when No. 4 spoke to the Eagles on Saturday. You (might) beat Brady by scoring touchdowns. So with an elan that surely had to bring a smile to Favre's face, Pederson went for it — returning the Patriots favor on a trick play. Foles promptly demonstrated he has better hands than Brady, and the Eagles had a touchdown and four extra points.
Much later, fourth quarter, Eagles trailing and facing 4th-and-1 from the Eagles 45. Still almost six minutes to play. The chalk says punt and pin the Patriots deep.
Pederson goes for it again. If he fails, the ball game is probably over. But Pederson knows if he punts the game might be over as well with Brady at the helm, even deep in his own end. Montana delivers a short pass to Zach Ertz for a first down, keeping alive a drive that ends in the winning touchdown.
Cojones, Joe Monana and a takeaway. That's all it took to beat a football dynasty.