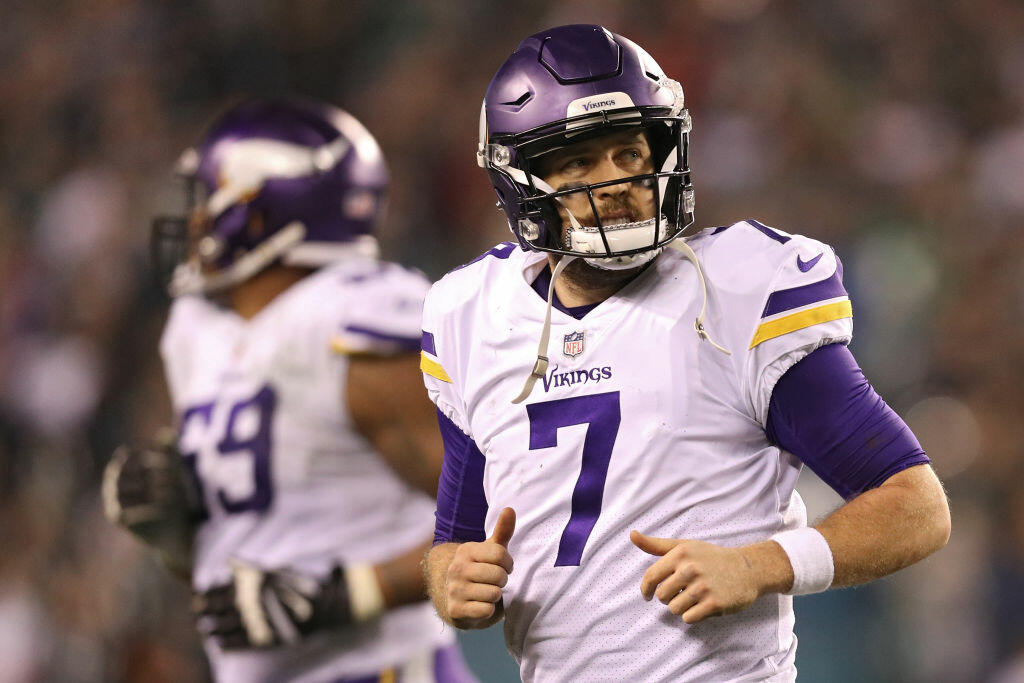 With the recent news that the Vikings will be hiring Eagles QB Coach John DeFilippo as their next offensive coordinator one would have to wonder if this is just the most recent in a series of events that is making it more and more unlikely that Case Keenum will return as QB in 2018.
The hiring of DeFilippo will likely push the Vikings internal candidate for the O.C. vacancy Kevin Stefanksi to explore other opportunities. The most likely other opportunity would be with Pat Shurmur and the New York Giants as the offensive coordinator. That means that in a matter of weeks two of the coaches that were likely in the "Case Keenum Camp" are no longer with the team. Couple that with the hire of a young buck, aggressive, new age offensive approach that DeFilippo brings with him from the Philadelphia Eagles and you can't ignore the thought that Keenum may not bring the desired fit for 2018.
Case led the Vikings to 13 victories this season and got them to the NFC Championship game. Still, the whole time the popular opinion was that he was leaving a little bit to be desired. The deficiencies mainly came in the deep game and the aggressive attack into the opposing defense.
But that doesn't mean that he didn't bring some positives to the table as well.
Keenum's elusiveness extended plays in almost every game this season allowing the Vikings to drive down the field and put points on the board at a high rate. His leadership and locker room rapport with the players was something that cannot fully be measured and the level of seriousness he brought to preparation each week is unmatched in the league.
But the continued appeal of a free agent quarterback like Kirk Cousins (who reportedly has the Vikings high on his list) and the potential trade target of a guy like Nick Foles who DeFilippo knows well, seems to fit better with a guy like DeFilippo running the show. Both of those targets are big arms who come from much more aggressive offensive schemes than we are used to seeing here in Minnesota, and that may be the desire.
Then again, maybe it's to work with Teddy? Maybe he was brought in to work with Bradford? And maybe, just maybe the Vikings think that there is a little more that the Vikings can pull out of Case Keenum himself.
Either way, the solution is at least one month out on the horizon. For now, DeFilippo will come to town to coordinate with Mike Zimmer and Rick Spielman to develop a plan and go from there.