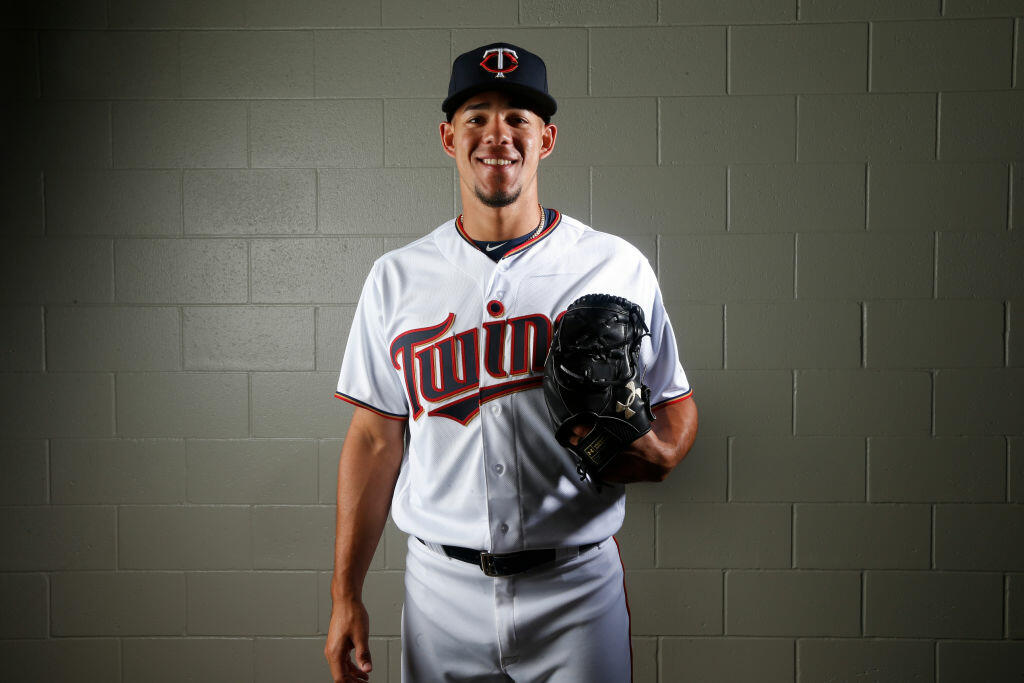 Photo: Getty Images
FORT MYERS, Fla. (AP) With his sharp-breaking curveball, a fastball averaging 94 mph and the fitness of an elite athlete, Jose Berrios has every reason to be confident on the mound.
Last season, he finally was.
From the day he was drafted out of Puerto Rico by the Minnesota Twins with the 32nd overall pick in 2012, Berrios has been one of the organization's best pitching prospects. He thrived at every level of the minors, and once he made it to Minnesota in 2016 there were no concerns about him being able to adapt to major league hitters and entrench himself in the rotation for years to come.
His debut was quite the dud, though, with an unsightly 8.02 ERA over 14 starts. He gave up 12 home runs and 35 walks in 58 1/3 innings. The missing ingredient, then, was self-assurance.
''Sometimes when things were going wrong,'' Berrios said, searching for a second to arrive at the right word in English, ''I got discouraged.''
Hard to figure for someone who's so talented - but everyone is human.
''And he's a very humble guy, so he's not going to go out and tell you how great his stuff is. I think that's a benefit for him because he's constantly striving to get better and not satisfied with his stuff. I think that's what's going to make him good for the length of his career at this level,'' said catcher Jason Castro, who played a significant part in helping Berrios make some mechanical and mental adjustments in 2017.
''His stuff is always going to play because it's just that good, but getting him to stay within himself and be consistent and not try to overthrow,'' Castro said. ''There were some things we identified that might help him out. He worked through it and did a heck of a job for us.''
Last season was a large step forward for Berrios. Opponents batted .239 against him, down from .310 as a rookie. His walks-per-nine-innings rate was reduced from 5.4 to 3.0.
The tone for improvement was set in his first start of the year on May 13 after being recalled from Triple-A Rochester, when Berrios gave up just two hits and one run in 7 2/3 innings at Cleveland. He finished 14-8 with a 3.89 ERA.
''I learned if I believe in myself and be positive all the time, I'll be successful in the game because God gives me the ability to play the sport and I work every day hard,'' said Berrios, who has three children with his wife, all of them under 4 years old.
That hard work has been well documented on social media, where Berrios will frequently post videos of his strenuous workouts throughout the offseason. The Twins don't want him to overdo it, of course, but Berrios said that's not a concern.
''During the offseason, I don't play baseball. I'm just working out and preparing myself to get ready,'' he said. ''During the season, I come down a little bit.''
The 23-year-old right-hander has more progress to make to become the legitimate front-of-the-rotation pitcher the Twins have envisioned, and the finger injury that's expected to keep Ervin Santana out for much of April will give Berrios an opportunity to step forward. Perhaps even on the mound on opening day.
''That would mean a lot. Every good pitcher wants to be there on the first day, but right now we prepare ourselves to pitch every five days,'' Berrios said.
Minnesota manager Paul Molitor has yet to declare his starter for the earlier-than-usual opener on March 29 at Baltimore. He also has understandably yet to declare his full faith in Berrios as that ace the Twins have mostly been missing since Johan Santana was traded 10 years ago.
''I think we all are hopeful he's going to be that kind of guy. I always caution people not to jump too far too fast on people that young,'' Molitor said. ''He's got experience, but it's not a ton. We're expecting growth. How far he takes that from the opening part of the season until the end, it's 162 games away.''
Copyright © 2018 TTWN Media Networks LLC