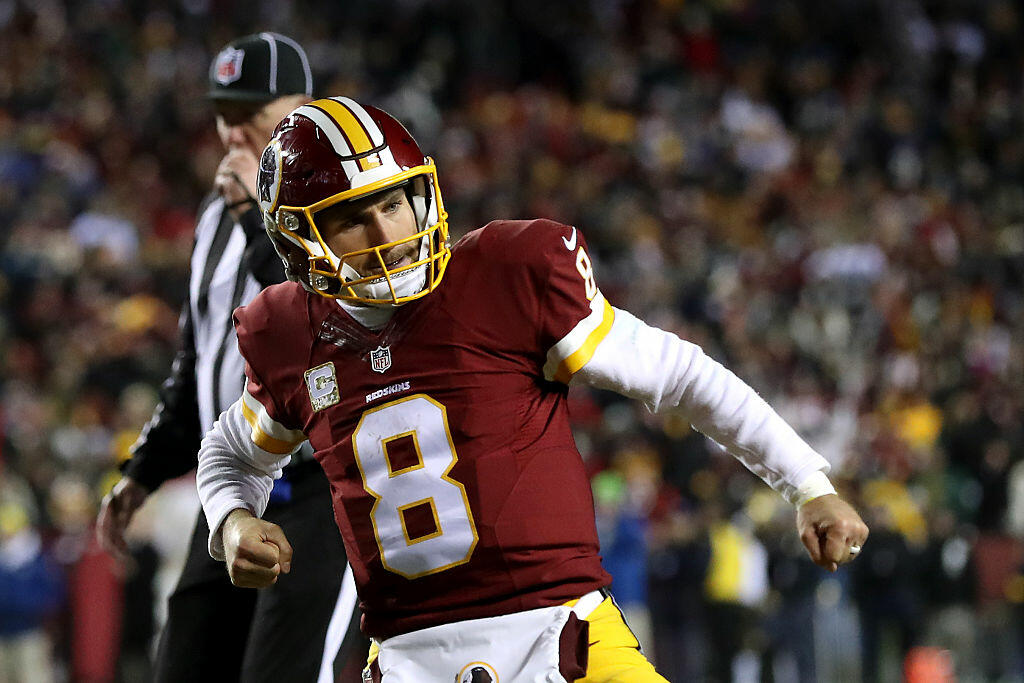 Photo - Getty Images
It's here! NFL free agency is officially upon us. Monday is the day that *official* conversations will begin, that teams will begin courting free agents in the hopes that they choose to join their team for the upcoming season.
For the Minnesota Vikings, that means that Kirk Cousins will likely be in town tomorrow and for most people, the hope is that he doesn't want to leave town.
For others, they're still not convinced. Despite the way that we've laid it on you thick here at KFAN.com the last week with "10 Crazy Stats" and "5 Reasons why", not everyone is convinced that Kirk is the answer for the Minnesota Vikings.
For some, it's an allegiance to Case Keenum. For others it's the high price tag that comes along with Cousins services. Still for some, they don't believe that Kirk is a "franchise QB".
Below we'll throw out some comps highlighting for us all why Kirk Cousins is a Franchise quarterback, is work at least $27 million a year and why he is indeed the best quarterback on the market for the 2018 free agency period.
Kirk Cousins vs Case Keenum...
I love Case Keenum. I think he's a great man, I appreciate so much of what he stands for on and off the football field, I think he had a great season this year, he provided some really special moments, he's all around great. But here are a few numbers that I want us all to take a look at when comparing Kirk Cousins side-by-side with Case Keenum...
In 2017 Case Keenum passed for 236 yards per game, he passed for an average of 1.467 touchdowns per game, threw .467 interceptions per game and posted a completion percentage of 67.57% in one of the league's most efficient offenses.
For Kirk Cousins, his average has been 274.5 yards per game passing, he's passed for an average of 1.68 touchdowns per game, he's thrown .75 interceptions per game, and has posted a completion percentage of 67%...oh yeah, did I mention those are his career averages in three years as a starting quarterback on an incredibly inefficient offense?
Case had a great season, but as Mike Zimmer himself said to Paul Allen at the Combine, we don't know if we're going to get the 2017 Case Keenum for 17 games or the Case Keenum we saw for years before that going forward? With Kirk Cousins we have a 48-game sample size in Washington, playing in a tough division with limited weapons around him. Keenum got Diggs, Thielen and Rudolph last year. Imagine if Kirk could get in there with those weapons?
Kirk Cousins vs all other Vikings quarterbacks...
In 2016 Kirk Cousins posted a career season. It was only his second season as the starting quarterback of the Washington Redskins and he put up some huge numbers. I'm talking 4,917 yards passing, an average of 307.3 yards per game with 25 touchdowns and 12 interceptions.
Looking back into the annals of Vikings quarterback past and you'll note that based on yards passed Kirk's 2016 season would have been the single best season in Vikings team history. That's right, his 307.3 yards per game average was more than Brett Favre in 2009 (262.6ypg), Daunte Culpepper back in 2004 (294.9ypg), more than Randall Cunningham in 1998 (246.9ypg) and better than Warren Moon in 1993 (284.3ypg).
Now yards passed isn't everything, but some of his other numbers would have been impressive as well. His 67.0% completion percentage would come in as the fifth highest mark in franchise history, his 97.5 passer rating would have been seventh best for the Vikings and his 25 passing touchdowns would have been seventh best.
For a team that has been starved for a franchise quarterback since almost forever, those numbers will suffice.
Kirk Cousins vs basically everybody else...
Think of the players that come to mind when you talk about "franchise quarterbacks" over the past decade or so. You'd likely come up with some names like Brady, Manning, Newton and Rodgers. What would you say if I told you that the first three years of Kirk Cousins' career as a starter were more impressive than all of them?
Check these numbers out.
The stats below are the sums of pertinent stats for quarterbacks over their first three seasons as starters.
Kirk Cousins13,176 yards passing - 81TDs - 36INTs - 67% completion - 97.5 passer rating
Aaron Rodgers12,394 yards passing - 86TDs - 31INTs - 64.6% completion - 99.4 passer rating
Peyton Manning12,287 yards passing - 85TDs - 58INTs - 60.4% completion - 85.4 passer rating
Cam Newton11,299 yards passing - 64TDs - 42INTs - 59.8% completion - 86.4 passer rating
Tom Brady10,227 yards passing - 69TDs - 38INTs - 61.9% completion - 86.0 passer rating
Drew Brees8,551 yards passing - 55TDs - 38INTs - 61.4% completion - 83.0 passer rating
Ben Roethlisberger8,519 yards passing - 52TDs - 43INTs - 62.4% completion - 87.9 passer rating
I don't have to break it all down for you, the numbers speak for themselves but Cousins tops the lists in most of these categories with most of his numbers most closely compared to Aaron Rodgers...ever heard of him?
If I were to say to you that the Vikings could go out and sign a quarterback who's first three seasons as a starter most closely resembled those of Aaron Rodgers, and in some categories he was better than Rodgers, none of you would be grumbling about how much the team might pay him at all!
This guy's good. It doesn't guarantee that he'll work out if he signs in Minnesota, it doesn't guarantee winning, but how many franchise level quarterbacks become available before they turn 30?