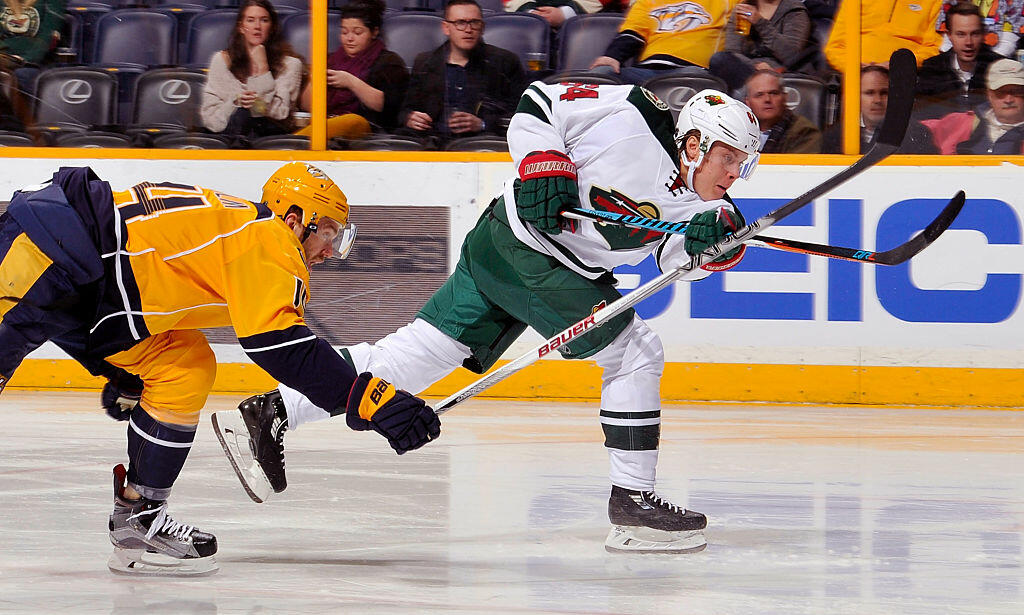 Photo - Getty Images
After winning 14 of 15 games and opening a 10-point lead in the Central Division, the Nashville Predators were due for a fall. Three games in four days against Toronto, Minnesota and Winnipeg -- the last two on the road -- provided the proper setup for a slump.
Three losses later, including Sunday night's 5-4 shootout setback to Winnipeg, Nashville's lead has been cut in half. That sets the stage for a little more drama in the regular season's final two weeks as the Predators now lead hard-charging Jets by just five points with seven games left.
The schedule-maker provided Nashville with a providential three-game homestand, starting Tuesday night with Minnesota's final visit of the regular season.
At 48-16-11, the Predators have 107 points, good for a one-point lead on Tampa Bay in the battle for the Presidents' Trophy and home-ice advantage throughout the playoffs. To hold onto that, Nashville will look to end its brief skid against Minnesota.
Predators defenseman Ryan Ellis said the team should be encouraged by their performance in Winnipeg, where it managed a point on the second half of a back-to-back and came within a post -- Kyle Turris beat Connor Hellebuyck but not the iron right before overtime ended -- of two points.
"It's not about Xs and Os so much," Ellis said. "It's about being on the puck first, hitting guys first and initiating stuff like that. Tonight, in a back-to-back versus that team, it was a good game for both sides."
It was definitely a good game for Nashville's backup goalie, Juuse Saros, who stopped 43 of 47 shots and gave his team a chance to leave Canada with two points. The rested Jets put 25 shots on Saros in the second period alone, and he made three clutch saves in overtime.
Pekka Rinne (40-11-4, 2.27 goals-against average, .928 save percentage), coming off consecutive losses for the first time since mid-December, should get the start in net against Minnesota. The Wild have beaten him all three times they've faced him this season, including a 4-1 verdict Saturday night that featured the ejection of Predators coach Peter Laviolette late in the third period.
Minnesota (42-24-9) had a chance to cap its weekend with a stirring come-from-behind win over Boston on Sunday night but ceded a Brad Marchand goal 28 seconds into overtime and fell 2-1 despite 26 saves from backup goalie Alex Stalock.
"We hit a couple of posts and we had a goal called back," Wild coach Bruce Boudreau said. "We got three of four points this weekend against two of the best teams in the league, so we're holding our own. This was a big point."
Minnesota enters with 93 points, three more than Colorado, and stands third in the Central. The Wild are 3-0-2 in their last five games but play five of their last seven on the road.
Devan Dubnyk (32-14-6, 2.60, .916), who owns three wins against Nashville this season, should get the call in net. Minnesota will get a fresh face in the lineup with the signing of Boston University standout Jordan Greenway, who had 13 goals and 22 assists this season for the Terriers. He's expected to make his NHL debut in Nashville.
Copyright © 2018 TTWN Media Networks LLC