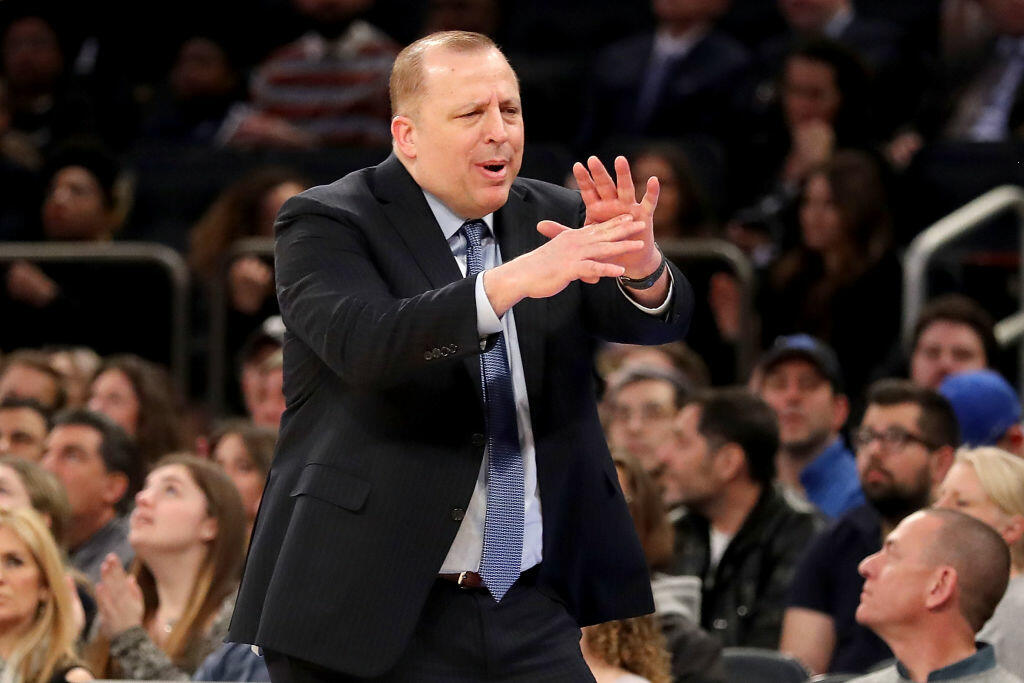 Photo: Getty Images
Homecourt advantage in the first round of the playoffs or a trip the lottery. Such a scenario exists for roughly half of the Western Conference, including the Minnesota Timberwolves, as the season closes in on the final week.
The Timberwolves (43-33) are part of the jumbled group of eight teams sitting from third to 10th in the West, all separated by just a handful of games. Minnesota, currently seventh, looks to remain in place or move up with Friday night's game against the lowly Dallas Mavericks at American Airlines Center.
Karl-Anthony Towns, coming off a record-setting 56-point performance, knows what's at stake. The Wolves haven't made the playoffs since 2004.
"I'd rather end the drought here, 14 years," he said. "We've still got some work to do."
Towns certainly went to work in Wednesday's 126-114 win over Atlanta, setting a career high and new franchise record for scoring. He added 15 rebounds for his league-leading 63rd double-double and six 3-pointers.
Towns became just the third player in NBA history with at least 50 points, 15 rebounds and five 3s in the same game, joining Russell Westbrook and James Harden.
"I just realized the ball kept coming to me more and more often," Towns said. "I guess that was a sign to shoot the ball. Everyone just kept telling me, 'You need six more, you need eight more, for 50.' I wasn't really thinking about that. I was just trying to find a way to win."
He took a career-high 32 shots, making 19.
"It just happens," Towns said. "The ball was moving everywhere, everyone was touching the ball. It was one of those nights where the last pass was just finding me in a good spot."
The spot in the West is of more importance to Towns and the 'Wolves than scoring records. The schedule appears to line up nicely for the Timberwolves.
Starting with Dallas, three of Minnesota's last six games are against teams that have already been eliminated from postseason contention. The other three -- two games against Denver and one against Utah -- are against teams currently below the 'Wolves in the standings.
Minnesota has had its way against the Mavericks, winning the three previous games this season by an average of 14 points. Dallas (23-51) is coming off a Wednesday's 103-93 loss to the Los Angeles Lakers, one night after the Mavs snapped a five-game skid with a win at Sacramento.
Dallas had a lead at halftime against the Lakers, but only seven assists on 21 baskets. Ball movement improved after the break, a fact that coach Rick Carlisle found promising despite the loss.
"We want to be a playoff team somewhere in the near future," he said. "When you play in the playoffs, you've got to be able to play (with a) flow and get the ball moving and play randomly off each other. The first half we wouldn't have been a good team doing that. The second half it was much better."
Carlisle made it a point of playing young players down the stretch, such as Maxi Kleber, Kyle Collinsworth and Jalen Jones. What is the coach looking for from players that are hoping to be part of the franchise's future?
"Basic execution," Carlisle said. "How hard do you run? Are you making sound, simple decisions? Position defensively, are you in the right place? Are you willing to take a charge? If someone gets beat are you there to help? It's basic stuff. And we got to look at these guys and evaluate them."
Copyright © 2018 TTWN Media Networks LLC