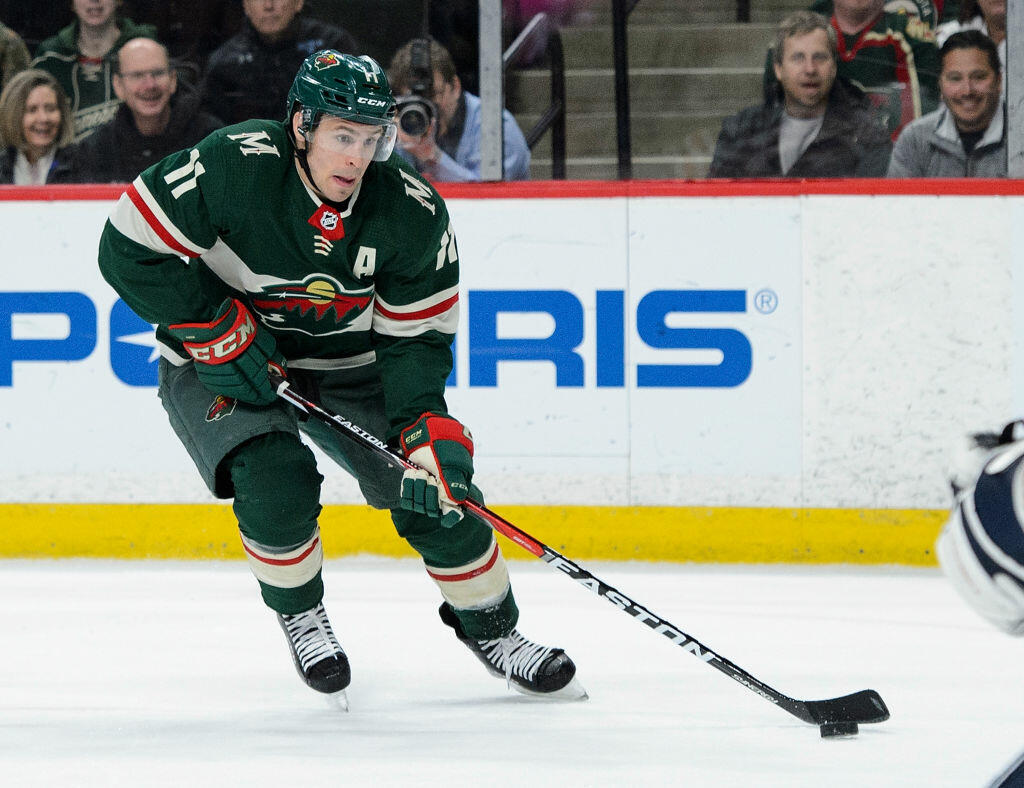 Photo: Getty Images
ANAHEIM, Calif. -- The race to the playoffs continues for two Western Conference rivals Wednesday night as the Anaheim Ducks host the Minnesota Wild.
Minnesota's home win Monday night clinched their postseason spot. For Anaheim, the playoffs are not yet confirmed.
The Ducks (41-25-13) have gained two consecutive overtime wins to move into the top wild-card spot. They are two points ahead of Colorado with a game in hand and trail Los Angeles by one point for third place in the Pacific Division.
On Friday, Anaheim bested the Kings 2-1. On Sunday, the Ducks defeated the Avalanche 4-3. Ryan Miller earned the victory Sunday after he came in to begin the second period for starter John Gibson, who was shaken up late in the first period. The Ducks' goaltending tandem made 28 saves.
Anaheim defenseman Cam Fowler also was hurt in the contest. He will be out two to six weeks, the team announced on Tuesday.
"(Gibson and Fowler) are both big parts of our hockey club," Ducks captain Ryan Getzlaf. "We dealt with a lot of injuries (at) the start of the season and throughout the year. The one thing we do have is experience with our young players. We're going to look to some of them to step up and fill some of those minutes."
Minnesota (44-25-10) finished March with points in seven of eight games. The Wild posted a 3-0 win over Edmonton on Monday night. Devan Dubnyk stopped 22 shots to gain the shutout. He is among the league leaders with five shutouts this season, three behind league leader Pekka Rinne of Nashville.
The win allowed Minnesota to secure their sixth consecutive playoff appearance.
Zach Parise had the first two Minnesota goals in the victory over the Oilers. The first came on a broken play that turned into a two-on-one. Parise kept the puck and fired it low past Cam Talbot.
"You want to get the early one, get the lead, play with the lead ... to get one early, get the crowd into it, get our team going, it was important to us," Parise said.
The Wild will play out the season without stalwart defenseman Ryan Suter. He sustained a fractured fibula Saturday versus Dallas. Defenseman Jared Spurgeon is also injured, though coach Bruce Boudreau said Monday that he would be ready for the playoffs, according to media reports. Both are listed as day-to-day on injured reserve, as is defenseman Gustav Olofsson.
"When Suter's out, I feel like maybe I have to step up, and same with (Matt Dumba)," Minnesota defenseman Jonas Brodin said. "We played pretty good (Monday). We played a lot against McDavid, that line, so I think we did a great job (to) shut the line down, but I think the whole D corps did a great job today."
Added Parise: "Ryan's a tough guy to replace, but they did a good job all over the ice, made smart plays and simple plays and did a good job, especially against their top line."
Carson Soucy made his NHL debut on defense versus Edmonton after being called up from Iowa of the AHL on Sunday.
The Ducks are 7-2-1 in their last 10 games. They fell behind 3-1 to the Avalanche but scored two goals in 96 seconds in the third period to tie the game. Ondrej Kase powered in the overtime winner with an assist from Getzlaf.
The Ducks are getting strong performance from their second line. Against Colorado, Andrew Cogliano had one goal and one assist, Ryan Kesler scored a goal and Jakob Silfverberg had two assists. Kesler also had two minor penalties. Anaheim is among the most penalized teams in the NHL. Minnesota is mid-pack in the NHL in power play percentage.
The two injuries marred the victory. Gibson, who had a concussion earlier this season, was bowled over in a net-front collision. He finished the first period but did not return. The team said Tuesday that he is day-to-day. Reto Berra was recalled from San Diego of the American Hockey League to back up Miller if needed.
Fowler was hit hard into the boards late in the third period. He was not available for overtime.
"We're going to have to probably move some (defensive) pairs around a little bit," Ducks coach Randy Carlyle said. "There will be some mix and match on the back end, more so than to say we're going to put one guy in and he's going to take Fowler's spot. That's not fair to the people vying for that position.
"The best thing we can do is put a game plan in place and mix and match our pairs. Play the right way and do a lot of things we've been doing for long stretches."
Following Wednesday's game, Minnesota stays on the road to end its regular season. The Wild play at Los Angeles on Thursday night and then move on to battle San Jose on Saturday evening.
The Ducks host Dallas at home Friday and travel to Arizona Saturday to wrap up their regular season.
Copyright © 2018 TTWN Media Networks LLC