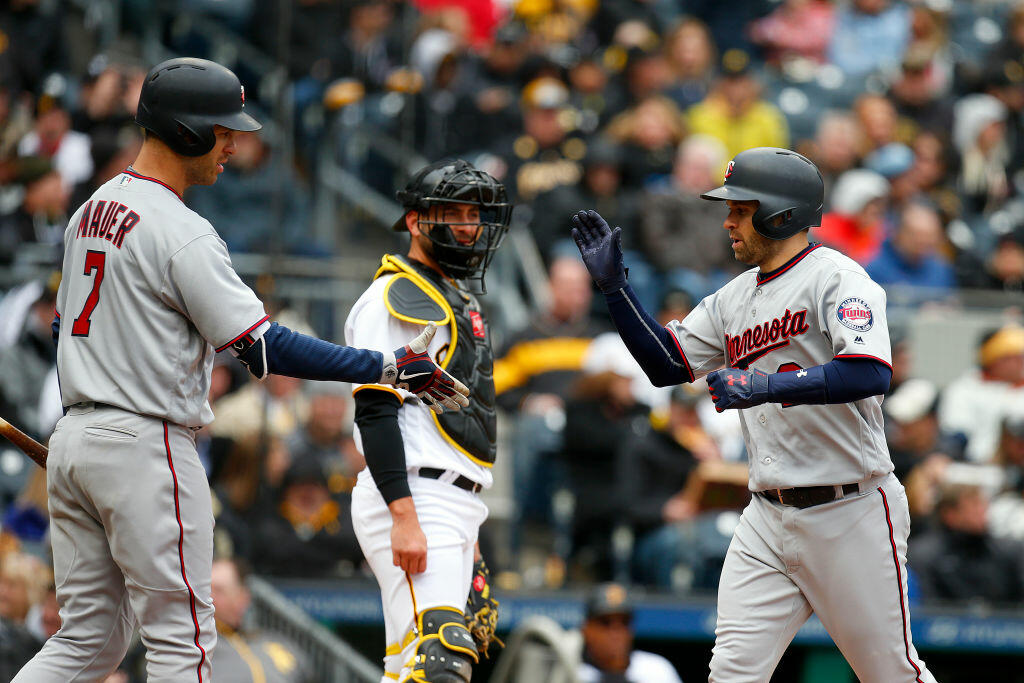 Photo: Getty Images
The Pittsburgh Pirates' 4-0 start this season could be considered a surprise, especially to a fan base that has been vocal on social media and everywhere else it can find about its low expectations and displeasure with the club's offseason moves.
Most notably, the Pirates traded away two top players, outfielder Andrew McCutchen and starter Gerrit Cole, and did not appear to replace them with high-octane performers.
Pittsburgh's home opening 5-4 win against the Minnesota Twins (2-2) on Monday at PNC Park was not sold out and, after a scheduled day off Tuesday, a forecast for cold, rainy weather Wednesday could shrink the crowd size for the second and final game of the series.
It won't dampen the Pirates' spirits.
"It's been really fun. Not too many other words to describe it. This has been a great start," said third baseman Colin Moran, who blasted a grand slam Monday. "Looking forward to keeping it going. It's been a good start, to start 4-0. Try to build on that."
It's been a bit wild too, with two weather postponements and a day-night doubleheader in Detroit, a late-night arrival home before Monday's early afternoon home opener, a 13-inning game and two games where Pittsburgh got all its offense in the first inning and then held on to win.
"It says a lot about our character, about our fight," said Pirates right-hander Jameson Taillon, who tied a career high with nine strikeouts in 5 1/3 innings in winning Monday's game.
"It's been cold. Weird travel schedule. Doubleheader. It's been kind of an interesting start to the year. It says a lot about the fight in these guys. That's kind of how I think we're going to have to win these games."
One of the games in which the Pirates scored all its runs in the first was Monday against Minnesota.
"It's tough coming back on a five-run lead, but I'm proud of the way guys battled," said Twins second baseman Brian Dozier, who hit a solo home run in the near comeback. "That's the thing about this team. We never feel like we're out of it."
Right-hander Ivan Nova (0-0, 3.60 ERA), who allowed two runs over five innings in Pittsburgh's opener, is scheduled to face Minnesota right-hander Jake Odorizzi (0-0, 0.00) on Wednesday.
Nova is 2-0 with a 1.93 ERA in three career games (two of them starts) against the Twins, but he has not faced them since pitching seven scoreless innings of a 3-0 win on Aug. 21, 2011, while he was with the New York Yankees.
Odorizzi also is making his second start after being his team's opening day guy. He tossed six scoreless innings, with two hits, two walks and seven strikeouts in a 3-2 loss against Baltimore.
And that was with some butterflies.
"I was a little bit nervous," Odorizzi said. "I think regardless of opening day or game three, four, five, whatever it may be, as a starting pitcher it's still your debut for the year. So I had a little bit of nerves going on, but it was good adrenaline."
Odorizzi has never faced Pittsburgh.
Logan Morrison is expected to start at first base for the Twins to give Joe Mauer a rest before Thursday's home opener.
Copyright © 2018 TTWN Media Networks LLC