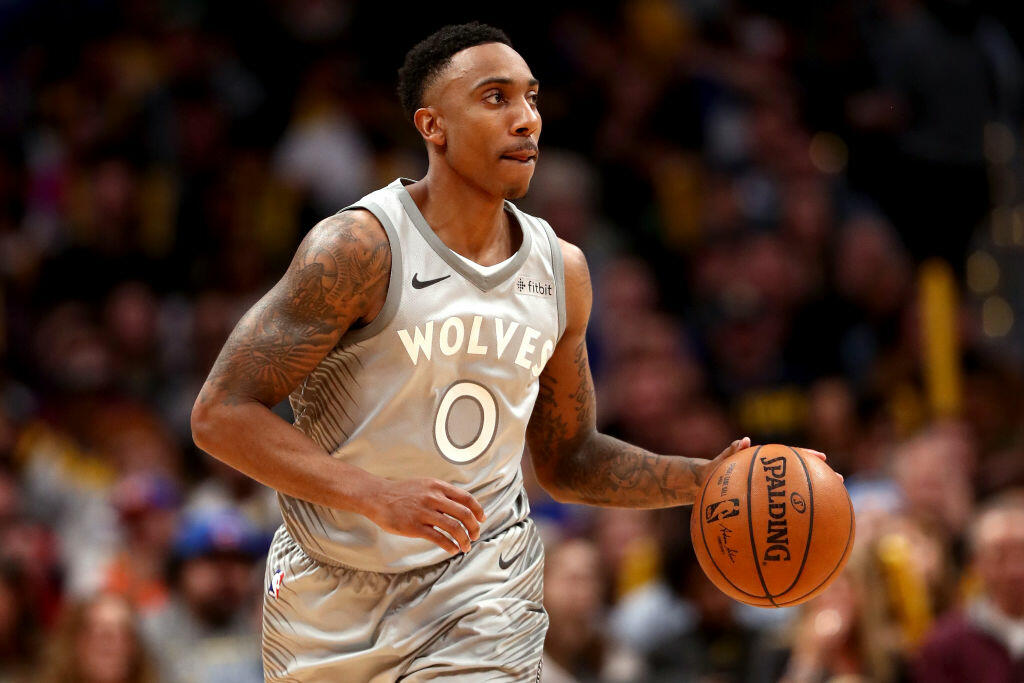 Photo: Getty Images
MINNEAPOLIS -- The Minnesota Timberwolves have just two regular-season games remaining, and it is possible they will need to win both to make the playoffs for the first time since 2004.
One reason occurred two weeks ago when the Memphis Grizzlies shot 47.6 percent and handed the Timberwolves a 101-93 home loss.
Minnesota hopes to atone for its sub-par showing against the Grizzlies Monday night when the teams get together at the Target Center.
Minnesota (45-35) enters the game against Memphis in the eighth and final spot in the Western Conference. The Timberwolves (45-35) have the same record as the Denver Nuggets, but Minnesota currently holds the tiebreaker, though it hosts Denver Wednesday.
Ahead of the Timberwolves are a cluster of teams all jockeying for playoff positioning. The Utah Jazz, New Orleans Pelicans, San Antonio Spurs and Oklahoma City Thunder are the four teams immediately ahead of Minnesota in the wild Western Conference playoff race.
Helping Minnesota's chances in its final two games is the return of veteran Jimmy Butler, who missed 17 games with a knee injury. Butler returned to action on Friday and helped lift the Timberwolves over the Los Angeles Lakers in a much-needed road win by scoring 18 points in a 113-96 win.
On Friday, Butler scored 11 points after halftime when the Wolves outscored the Lakers by a 62-38 margin.
Minnesota struggled without its Butler on the court, especially on the defensive end. In Butler's absence, the Wolves went 8-9, allowed 109.8 points per game, posted a 109.6 defensive rating and allowed opponents to shoot 47.4 percent from the field.
"When you play hard, just good things happen," Butler told the Minneapolis Star Tribune after Friday's win. "Hopefully, everybody takes note of that and realizes how important these games are down the stretch. Now we need to go get two more."
The first of Minnesota's remaining two games is against a Grizzlies club with the second-worst record in the NBA. However, Memphis (22-58) held Minnesota to 41 percent shooting two weeks ago.
"I give those guys a ton of credit for battling and fighting through the ups and downs of the season," Grizzlies interim head coach J.B. Bickerstaff told the Memphis Commercial Appeal after beating the Timberwolves. "Not giving in and competing."
Memphis also posted a 95-92 home victory on Dec. 4 in Memphis. Given what's at stake, the Timberwolves can't afford to go 0-3 to the Grizzlies, especially since Minnesota also owns eight defeats to teams with at least 50 losses this season.
The Grizzlies are coming off a 130-117-win Sunday against Detroit when they shot a season-high 57.8 percent and also made 48.5 percent of 3-point shots.
Memphis is 4-8 since snapping a 19-game losing streak March 17 against Denver.
It's possible Minnesota could clinch a playoff spot Monday, but it would need some help. The Timberwolves would first have to win. They would also need San Antonio to beat Sacramento and would need Denver to lose to Portland.
If all three of those don't happen Monday, that makes Wednesday's regular-season finale against Denver even more crucial.
"Last time I had two games that mattered a lot, it didn't end well," Minnesota center Karl-Anthony Towns told the Star Tribune, referring to his only season of college basketball at Kentucky when he lost to Wisconsin in the national semifinals three years ago. "Let's hope this one goes right."
Copyright © 2018 TTWN Media Networks LLC