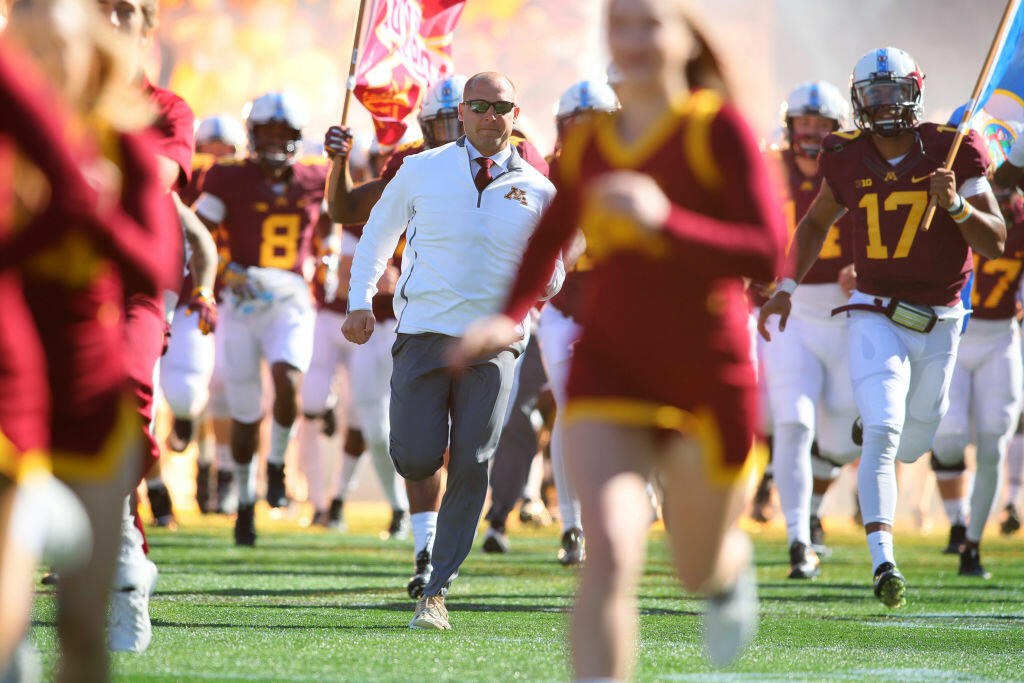 Photo: Getty Images
The University of Minnesota football team will now play its annual spring game at 6:00 p.m. on Thursday, April 12 at TCF Bank Stadium.
The game was originally scheduled for a 12 p.m. kick on Saturday, April 14, but is being moved to Thursday in advance of potential inclement weather affecting the Midwest this weekend.
The move is being made in the interest of student-athlete and fan safety as the National Weather Service is forecasting a strong storm to move through the region this weekend. "The spring game is a reward for our players and fans, so cancelling it was not an option," said head coach P.J. Fleck. "Moving the game from Saturday to Thursday enables us to keep it outside at TCF Bank Stadium so fans can watch our team. It will also provide a safe environment for everyone involved and will allow for our coaching staff to evaluate players in a game-like setting. We recognize that some of our fans, especially those with families were planning to come to the game on Saturday, so we will schedule a fan event with our team that allows for them to connect with our student-athletes later this year.
"I am excited for Thursday. We are playing a real game this year with Team Maroon facing Team Gold, and I encourage fans to wear either Maroon or Gold to support the side they are cheering for."
The game will be streamed live on BTN2Go and will air on delay at 8 p.m. on Thursday on BTN. It can also be heard locally on the radio on KFAN 100.3 and statewide on select Gopher Radio Network stations.
The game is free to attend and there are many family friendly events surrounding the yearly exhibition contest. With the exception of postgame autographs, the majority of activities scheduled for Saturday will still take place on Thursday.
Parking in Lot 37 and the Maroon, Gold and Victory lots will be $4, while parking in the Gopher lot will be $6. Fans should keep in mind that during the day these lots are used by university staff and students, so space may be limited. Tailgating will not be permitted.
Abbott, which is the presenting sponsor of the game, will host a pre-game fan fest from 4:00 – 6:00 p.m. near Gate A. There will be free food, music and plenty of activities for children.
The team will also be supporting a newly launched Minnesota Student Association campaign called It Ends Here, which is a rallying call and social movement to end sexual misconduct on campus. The Gophers will embrace It Ends Here on Thursday, as Minnesota players will wear It Ends Here shirts to the game and will also wear an It Ends Here decal on their helmets.
Fans are still encouraged to bring their decorated oars to TCF Bank Stadium and drop them off at Gate A when they enter the stadium. Gate A opens at 5:00 p.m. and fans will be seated on the north side of the stadium. Nearly 200 personalized oars were donated last year at the spring game and are now prominently displayed in the tunnel that the team walks down before games. They are one of the final images the Gophers see before taking the field and serve as a way to connect the community and state with Gopher football.
While fans are present at the game, they will notice a variety of seats throughout TCF Bank Stadium that will be tagged as available for the upcoming 2018 season. Gopher athletic staff members will be present throughout the game to assist fans who are interested in season tickets.
Spring Game Timeline
3:00 p.m. - parking lots open for spring game attendees
4:00 – 6:00 p.m. - pre-game fan fest near Gate A
5:00 p.m. - Gate A opens for fan entry
6:00 p.m. - Spring Game Presented by Abbott begins