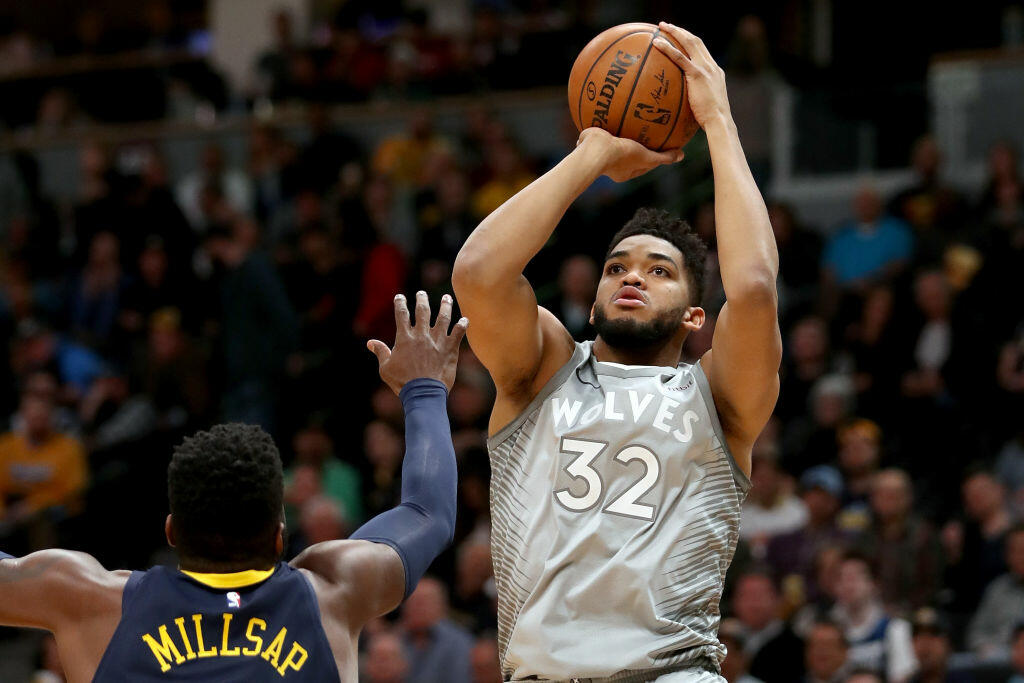 Photo: Getty Images
MINNEAPOLIS -- Eighty-one games boil down to the finale for the Denver Nuggets and Minnesota Timberwolves.
Win and in.
Months of play have led to Wednesday's final regular-season game between the two teams in Minnesota. Wednesday's winner will go to the playoffs. The loser will start its offseason. There are different seeding possibilities for the winner in the packed Western Conference standings but a win is the only thing that matters for now.
"I just want to clinch it," Timberwolves coach Tom Thibodeau said after Monday's victory against Memphis. "Tonight, Wednesday, whenever it is. Just get it done. We talked about finishing. That's been our thing. Just finish. And whatever way we have to get there, let's get there."
Thibodeau was talking to reporters before Denver had finished its game on Monday night to set up Wednesday's showdown. The Nuggets came from behind to beat Portland 88-82.
"Our guys stepped up and understood the urgency of the situation," Denver coach Mike Malone told the team's website.
Two weeks ago, the season coming down to the final game was unlikely. Minnesota was playing without All-Star Jimmy Butler and fading down the stretch. When the Wolves lost 100-96 at Denver on April 5, it was their final game without Butler and ended a 6-9 stretch.
Minnesota has won the past two games with Butler back in the lineup after knee surgery.
Monday's win against Portland was the Nuggets' sixth in a row.
"We've got to go to Minnesota," Denver swingman Will Barton told the team's website, "and get the job done."
It will be a different matchup than even six days earlier. Butler didn't play in that game. Still on a minutes restriction, Butler played 22:58 in Monday's win and had 15 points, three steals and three assists.
However, forward Taj Gibson left Monday's game early with a sore neck and is questionable for Wednesday.
"We'll see," Thibodeau told the Minneapolis Star Tribune about Gibson's availability. "Based on what he did today, we'll see how he feel tomorrow. If he's not (in), we have more than enough. We just need guys to step and get it done."
Gibson, like Butler, has been a backbone-type player in his first season with the 'Wolves.
"I hope so," guard Jamal Crawford told the Star Tribune about Gibson playing. "To be honest, Taj is the heart and soul of our team. Everybody talks about everybody else for good reason, but he's the guy who's the rock of our team. Knowing Taj, I would put my money that he plays, I hope."
The Nuggets got back guard Gary Harris on Monday after he missed 11 games with a knee injury. He had 12 points and two steals in 18 minutes off the bench.
"He didn't play like a player that missed 25 days," Malone told the team's website.
While Minnesota is sitting on a 13-season playoff drought, Gibson knows the intensity that will come Wednesday after having experienced a win-and-in regular-season finale in 2010 with the Bulls. Teammate Derrick Rose also was on that Chicago team.
"We've been through this before," Gibson told the Star Tribune. "It all comes down to knowing your opponent and wanting it even more. Understanding the last game with Denver didn't sit right with us."
Butler has pushed his team all season. He has one more in the regular season.
"A win can control our own destiny," he told the Star Tribune. "We've got a game on Wednesday anyway. No matter what, we're going in there to win."
Copyright © 2018 TTWN Media Networks LLC