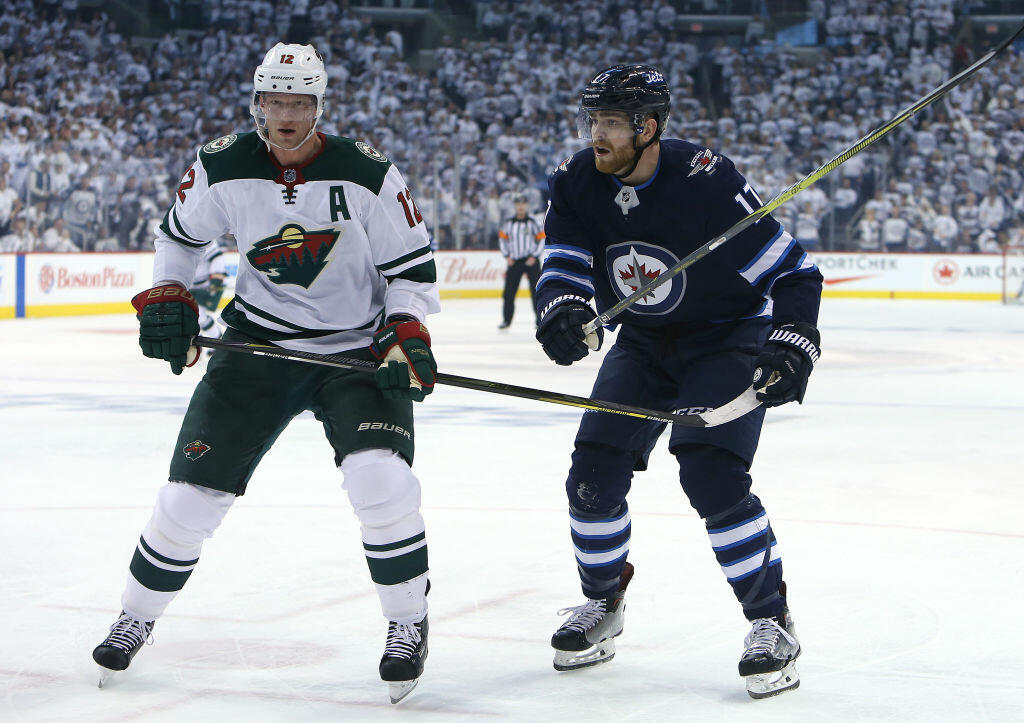 Photo: Getty Images
WINNIPEG, Manitoba -- It was 8,015 days between playoff wins in Winnipeg and the city's rabid fan base is hoping they'll only have to wait 48 hours for the next one.
The Jets defeated the Minnesota Wild 3-2 on Wednesday night, earning their first win in franchise history and a 1-0 series lead. The two teams will be back at it on Friday night at Bell MTS Place.
The last time Winnipeg hockey fans witnessed a home victory was a 4-1 win over the Detroit Red Wings at the old Winnipeg Arena on April 21, 1996. The Jets lost that first-round series 4-2 and then packed up for the Arizona desert, where they were reborn as the Phoenix Coyotes.
Wednesday's tilt was a predictably physical affair, with 70 hits being thrown, nearly double the average of 39 from the teams' regular-season games. The biggest, not surprisingly, was thrown by hulking Jets defenseman Dustin Byfuglien, who smoked Wild forward Joel Eriksson-Ek with a shoulder-on-shoulder hit in the first period, sending more than 15,300 white-clad fans into a frenzy.
Some of them also wore white face paint while others were decked out with white hair extensions or wigs, but whatever their accessories, they successfully re-enacted the "White Out," which first gained popularity back in the mid-1980s with the original franchise.
Jets captain Blake Wheeler said in a press scrum after practice on Thursday that it wasn't surprising that bad blood would be spilled so early in the series. Wheeler, of course, fought his own teammate, defenseman Ben Chiarot, at practice a few weeks ago.
"That's kind of the way it looks in the playoffs. The first period's a bit helter-skelter and guys are laying the wood a little bit. The second period was more physical. Buff had a huge hit. They had some guys make some big hits. That's the way it's going to be," Wheeler said.
The recipient of several of those hits, Winnipeg forward Mathieu Perreault left the game in the second period and will be a game-time decision Friday for coach Paul Maurice.
Wild coach Bruce Boudreau, who guided the Anaheim Ducks to a four-game sweep of the Jets in 2015, said with Devan Dubnyk withstanding a barrage of rubber in net, they had a chance to win when they took a brief 2-1 lead early in the third period.
"You can't give 29 (Patrik Laine) a chance right down the slot to score on a turnover. You're looking for disaster there," Boudreau told a media scrum. "He deked our player, we didn't hold the middle and he got to come right down Main Street. And when he does that, he's shooting the puck. When he shoots the puck, every chance, it's got a chance to go in."
If Perreault is unable to answer the bell, it's expected rookie Jack Roslovic will step into the lineup.
Winnipeg will also be without defensemen Toby Enstrom, Dmitry Kulikov and center Matt Hendricks.
The biggest name in the Wild's sick bay is workhorse defenseman Ryan Suter, who is out indefinitely with a broken fibula.
Copyright © 2018 TTWN Media Networks LLC