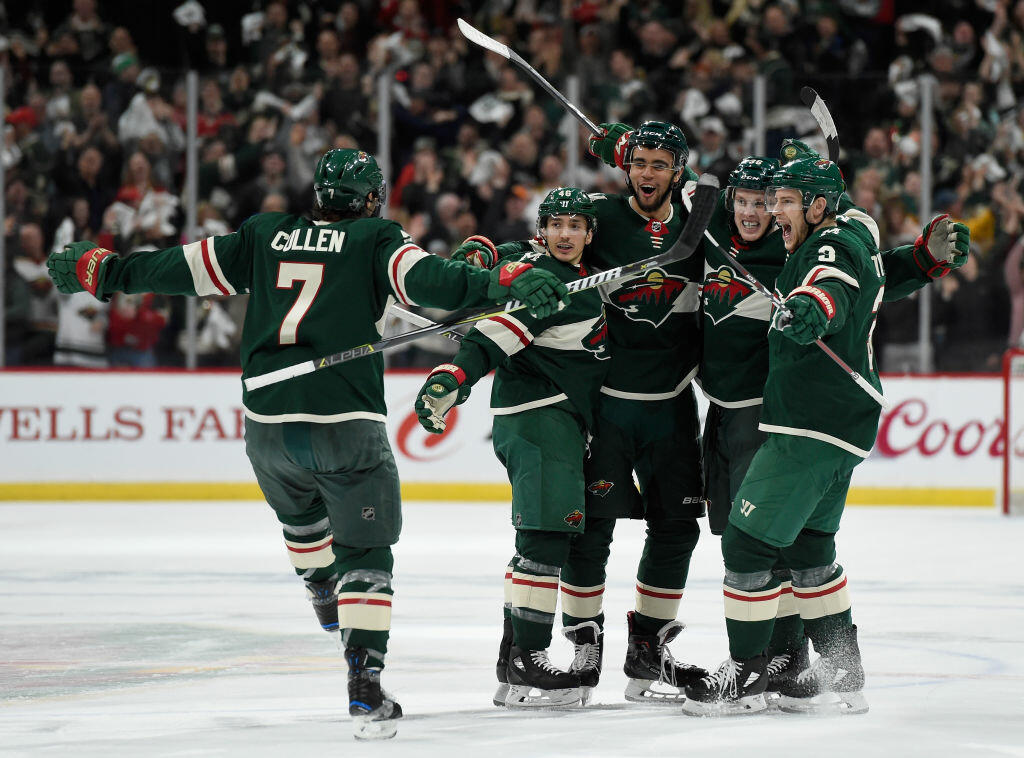 Photo: Getty Images
SAINT PAUL, Minn. -- As the Twin Cities were digging out from a record-setting April snowstorm on Monday, the Minnesota Wild were hoping to keep digging out from the hole they created after losing the first two games of their playoff series with the Winnipeg Jets.
But on the day after the Wild finally showed some offense, getting their first win of the series by a 6-2 count on Sunday, their coach cautioned that his team's status was still plenty urgent heading into Game 4 down two games to one.
"We're still in a desperate situation. We were last night and we are tomorrow," Wild coach Bruce Boudreau said after his team's practice on Monday. "If we lose (Tuesday), we're still down 3-1 going into Winnipeg. It's not a question about feeling good about yourself. We survived."
The Wild clearly enjoyed being at home for the first time in the series and are looking to build upon the success they had in Game 3 as they attempt to even the series.
"I don't think we changed too many things. We really just want to keep things simple," said Wild rookie forward Jordan Greenway, who scored his first NHL goal on Sunday. "We wanted to wear down their D early. I think we played a lot more physical, we kind of made the first push. That was key. Going forward I think keeping that physicality and wearing them down, I think more space should open up for us like it did (Sunday) and we should get more chances."
For the Jets, the biggest question remained unanswered after their skate on Monday. Defenseman Tyler Myers left Game 3 in the second period after an awkward collision, first with Wild forward Marcus Foligno and next with the boards near the Winnipeg bench. Jets coach Paul Maurice offered no update on Myers' status Monday but did reiterate that he didn't like the hit and expected the league to take a look at Foligno's actions.
For his part, Foligno noted that he and Myers are friends off the ice from their time as teammates in Buffalo and claimed he had no nefarious intent in the collision. If Myers is unable to play Tuesday, rookie blueliner Tucker Poolman will likely be the new name in the Winnipeg lineup. Beyond that potential transaction, Maurice did not see the need for additional changes with the Jets still in control of the series.
"You're not doing any major adjustments after an NHL season or switching a lot of things up. But there are areas, that when your game is going, that you can make adjustments from," Maurice said. "The foundation of our game is a certain amount of quickness. We can execute and operate offensively and defensively at a higher rate of speed. We didn't have that in our game. There weren't a lot of adjustments to be made off of it."
The Jets will be seeking the first road playoff win in franchise history. The Atlanta Thrashers were 0-2 on the road in the playoffs, and the Jets have now gone 0-3 away from home in the postseason since the move to Winnipeg in 2011.
Copyright © 2018 TTWN Media Networks LLC