Did the Minnesota Vikings just get their groove back?!? | KFAN 100.3 FM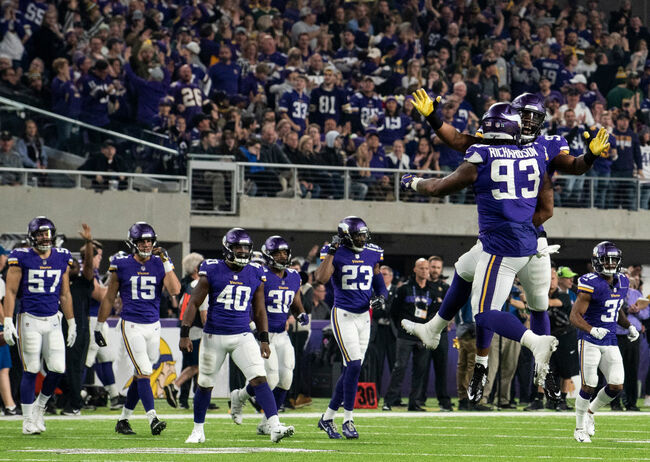 One week after not exactly showing up for Sunday Night Football against the Chicago Bears, the Minnesota Vikings took the field on Sunday night once again, this time against their arch-rival the Green Bay Packers.
It didn't happen immediately but there was a bit of a bounce back for the Vikings who hopped up on that national stage and completely took it right to the Packers.
It was Green Bay who got on the board first with an Aaron Rodgers touchdown and collectively, the entire state of Minnesota got a little bit worried for what was to come. But on this night, it wasn't time for the Vikings to roll over and quit. To the contrary, Kirk Cousins and the Vikings went blow for blow with Aaron Rodgers and then some!
Cousins, who would finish the day with 342 yards passing with 3 touchdowns, a passer rating of 129.5 certainly led the Vikings on this day and it would seem as if he really enjoys playing against Green Bay since he ending of his last game got him off the schnide and into competition.
But it wasn't just Kirk who "got right" tonight against the Pack it was the defense and the running game as well.
For the former it came to the tune of four sacks on Aaron Rodgers. More importantly though, it was good coverage and run stopping that led to holding Green Bay to only 8 first downs on the night, while Rodgers got stuck with only 172 net yards passing.
It certainly seemed like the defense was more aggressive, the offense was more tactical and the special teams took advantage of the opportunities they were given.
But was this a visual representation of the Vikings getting their groove back tonight?
You could say that, and it definitely wasn't a bad thing what happened tonight, but you also have to see both sides of the coin here. This all happened up against a Green Bay team that has been greatly depleted by injury, they've also been frustrated with failures this season and haven't won a game on the road yet.
So while you might be eating a big piece of celebratory pie tonight, take it with a grain of salt. This was a good win for the Vikings. They flexed a bit in all phases of the game. But before we get too far ahead of ourselves, which we Minnesotans love to do, let's go out to Foxboro next weekend for a matchup against the Patriots and walk away with our egos and confidence still riding high.
Then I'll feel a little more comfortable about saying that the groove has returned.