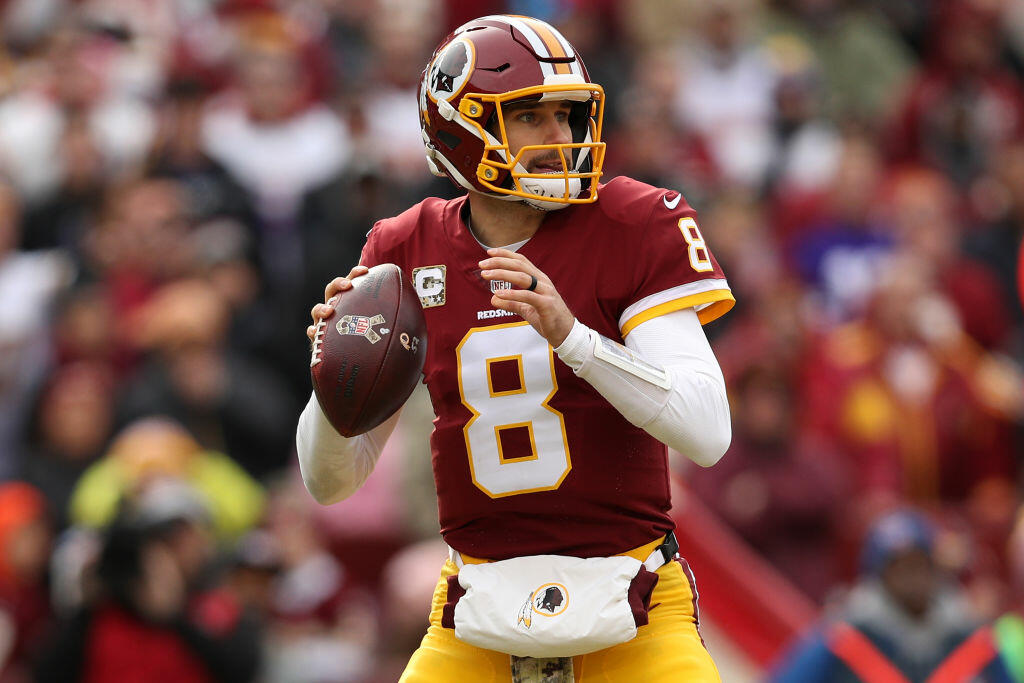 Photo: Getty Images
It's been an interesting week here in Minnesota as all of the sudden the Minnesota Vikings are the belles of the free agency ball.
By most accounts coming out of the 2018 NFL Scouting Combine last week, it's basically a done deal that a Vikings and Cousins marriage is all but in the works.
First we heard that the Vikings were included in the final four team choices for the Cousins camp along with the New York Jets, Denver Broncos and Arizona Cardinals. Next we heard from a Jets reporter that Kirk was "destined" to be a Minnesota Viking in 2018. Finally, again over the weekend we heard that the Jets are now acting under the assumption that the deal is already done for Cousins and the Vikings and New York is preparing for options B and C already.
Acting under these assumptions, most of the conversations in town this weekend were discussing whether or not the Vikings should be interested in Cousins. Is he worth the money? Is he that much better than Case Keenum?
But here's what we seem to be forgetting in the shadow of the NFL Combine. Free agency is not the draft, the decision is not completely up to the team, it does in fact take two to tango in free agency.
That's where this gets even more intriguing. It seems as if the fascination is indeed mutual.
Below are five reasons why Kirk Cousins might be interested in Minnesota and playing for the Vikings.
1. The Vikings are one of the "healthiest" organizations in football...
Compared to some of the other teams that are sniffing around his services, the Minnesota Vikings as an organization have to be one of the healthiest organizations in football. Over the past five seasons they've done the right things to build their team through the draft, develop a stalwart defensive unit to anchor your team, implant solid leadership into the front office and head coaching room, square away facilities to be an impressive pull and set yourself up to win now. As far as Cousins is concerned you have a top 5 coach, a top 3 defense, state of the art facilities and a team that appeared in the NFC Championship just one year ago. That's attractive no matter who you ask.
2. The Vikings were aggressive in getting John Defilippo, there's a reason for that...
And that reason is likely something that can be attractive to a quarterback with the skill set that Cousins brings to the table. If the Vikings choose to move away from Case Keenum it may be for this very reason as well. There are some things that Defilippo wants to bring to the table that Keenum's shortcomings won't fit with. Those short comings included weaker arm strength and selective vision, two things that Cousins reportedly does well. Young quarterbacks like the flash, they like the creativity and they like stretching the field in the way that the Eagles, Doug Pederson and John Defilippo bring to the table.
3. The weapons here in Minnesota man...
In his three full seasons as a starter in Washington, Kirk Cousins has passed for more than 4,000 yards every season, with nearly 5,000 (4,917) a year ago. He did that with guys named Chris Thompson and Samaje Perine in the backfield and receivers like Jamison Crowder and Ryan Grant on the outside. The Minnesota Vikings bring to the table what might be the best tandem of wide receivers with Thielen and Diggs, they also bring an upstart running back who showed signs of being special last year and a big time red zone target in Kyle Rudolph. All of that is better here in Minnesota than it was in Washington. At that point sprinkle on top a top ranked defense and Minnesota looks REALLY good compared the Jets, Broncos and Cardinals who are in the mix.
4. Tax reciprocity between Minnesota and Michigan...
When you're making a list of pros and cons, all sorts of weird things could factor into the final decision. One such thing that might factor in for Kirk is income tax here in Minnesota. You probably know that the income tax here in Minnesota is rather high. For the upper tax bracket where Cousins would fall into it would be just under 10%. If a player were to not love that or not love some of the things those taxes supported something like tax reciprocity would be a big deal. Funny enough, reciprocity exists between Minnesota and Michigan meaning that half Kirk's income tax would be paid here to Minnesota while the other half would go back to support causes back home for Kirk in Michigan. Again, it may seem small but on a list of pros and cons there's no way this doesn't factor in.
5. Minnesota has the second largest branch of Kirk's charity of choice, International Justice Mission...
Many players latch on to a charity of choice that they carry with them throughout their professional careers. For Kirk Cousins, that charity is the International Justice Mission (IJM), an organization that fights for the rights of the poor throughout the world rescuing victims of trafficking and slavery. Outside of Washington D.C. where the organization is based, the Twin Cities have the second largest IJM community in the world. That could be a factor and for sure is a pro for a guy like Kirk who is so involved with the charity.
So there's obvious reasons for attraction on both sides of the fence here and there's only seven more days before the official tampering window opens up for negotiations, that means one more week to speculate all of this stuff!