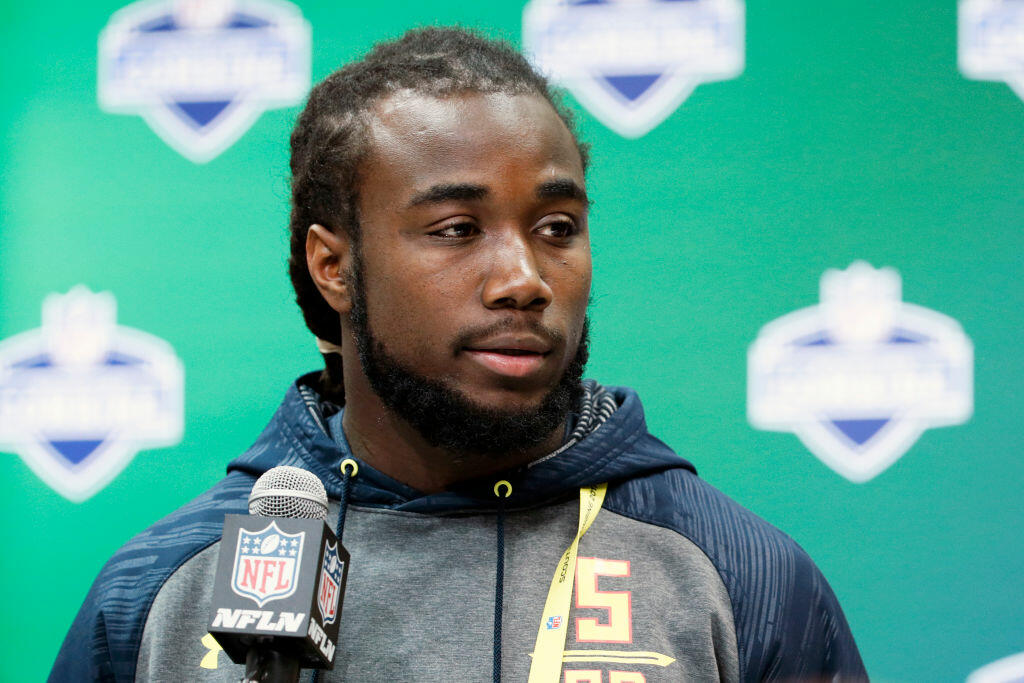 Vikings rookie Dalvin Cook was all smiles after leaving the practice field during Wednesday's OTA's.
Aside from one drop, on a ball thrown slightly behind his lightning-quick route, No. 33 in purple was looking sharp.
While at Florida state, he had a nose for navigating holes and using his speed to burst through and make big plays. As his former head coach Jimbo Fischer put it to the NFL Network after the Vikings selected him 41st overall on draft day, "Some guys move the chains, and get first downs. Some guys change the numbers on the scoreboard. He changes numbers on the scoreboard w/ his explosion & finishing plays."
However, now that he's up at the next level, Cook said he has seen the difference already with the speed of the game.
"My rookie moment was you know, coming from rookie camp, now we've added the vets, seeing how quick the holes close, and how fast the linebackers and secondary are. They are chasing you down-field, you've got to stay on your horse, that was my rookie moment. Every body is fast, every body is big and fast at this level."
I asked Cook, despite the speed of the game at this level, if he still feels like he has the speed to separate himself from defenders on Sundays. He confidently talked about the mentality he uses to give himself that extra burst that makes him special.
"I feel like if a guy is chasing me, I've got to do what I've got to do. That will be my mentality as soon as I step on the field every time. You know, a guy chasing me, I've got to get to the end zone so when I see a guy chasing me, I just block everything out and try to beat him to that spot."
With Latavius Murray still sidelined from practicing as he recovers from off-season surgery, Cook and Jerrick McKinnon have shouldered most of the load at running back during the first stretch of OTA's.
The explosive rookie has yet to sign his first NFL contract with Minnesota, but that hasn't let that be a distraction to him.
"I'm excited about [the contract], but I'm just playing football. I'm just going to let my agent and organization take care of it. But I'm very excited, it might be pretty close, so you know I look forward to it. You can't let it linger with you. You have to come out here and still play football. That's the key right there, coming out here and playing football. Let the business take care of itself."
Vikings fans look forward to Cook putting pen to paper so they can watch him turn on that getting chased mentality once he steps onto the field on Sundays.
Other Wednesday practice notes:
-Teddy Bridgewater was off to the side working with a coach one on one with his helmet and familiar red No.5 practice jersey. Working on his lateral movements, even cutting at 45 degree angles during a cone drill.
-Latavius Murray appeared to be out of a walking boot, but remained an observer.
-Rodney Adams took vast majority of punt return duties, despite Marcus Sherels participating in the practice.
-Stephon Diggs hauled in everything thrown his way, including a 60-yard bomb courtesy of a perfect throw by Sam Bradford on a go-route. Diggs waltzed into the end zone after he beat the coverage of Newman and Smith, and immediately pointed back at Bradford as if to say "nice throw!"
-Adam Thielen was just an observer as well at practice, and did not speak to media afterward.