Was Monday night finally Sam Bradford's official "coming out party"?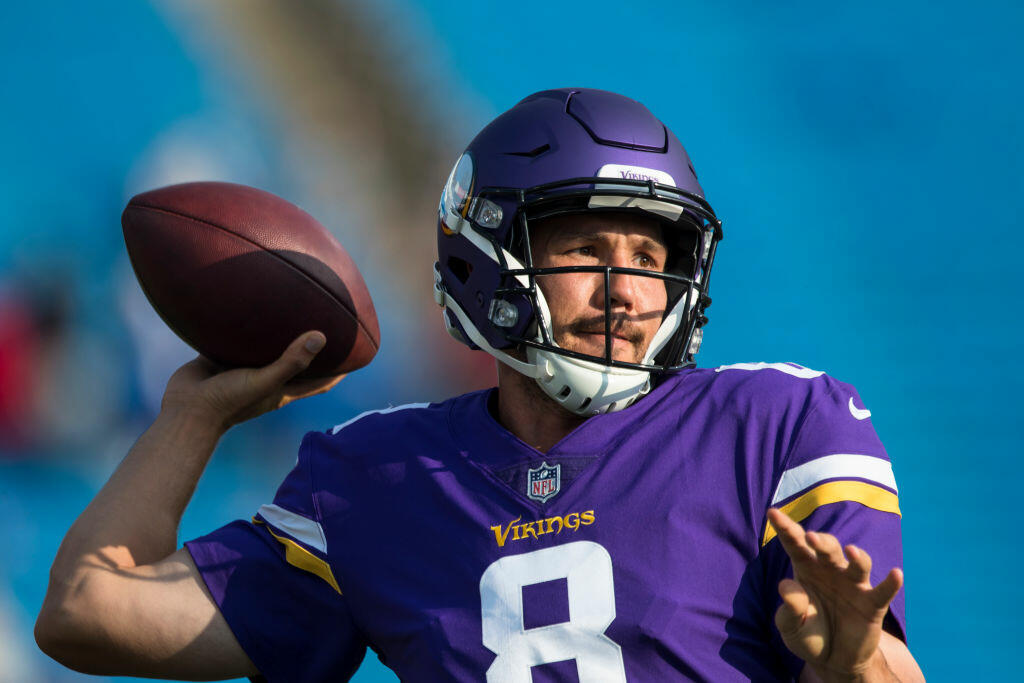 Monday night for Sam Bradford was so good the awards are already stacking up. Not only did he walk away from the game with a team victory, but he hauled in the NFL's NFC Offensive Player of the Week honor today as well. Still, I'm left with one question I'd like to pose for all of us to quivel over. Despite being a household name throughout the NFL since his college years, can Monday night September 11th, 2017 finally considered to be Sam Bradford's official "coming out party"?
We use that term loosely anytime that a player blows up and splashes onto the national landscape but for a guy who can into the league with such high expectations, living up to those expectations can be a tough act to follow.
But it's the road to Monday night that is an interesting one for Bradford who has played almost the entirety seven year career with the deck stacked mightily against him.
Anybody drafted as the top pick overall is set to join an underachieving team. Such was the case for Bradford and the Rams and a big part of that was due to a bad offensive line. The struggles up front led to struggles for Sam in the backfield and ultimately led to a few season ending injuries that stamped Sam with the stigma of being an injury-plagued player throughout the NFL.
Then he got traded to Philadelphia, joining a team that wasn't much better and didn't fit his style of play whatsoever.
In one season as the quarterback for Chip Kelly's offense, Bradford led a fast-paced offense that was designed for mobile athletic quarterbacks. Sam's a good QB but I don't think anybody has ever referred to him as being extremely mobile. Before you knew it, the Bradford experiment in PHI came to an end as did the Chip Kelly experiment in PHI shortly thereafter.
So Sam was traded to Minnesota joining a Vikings team that didn't have a great offensive line BEFORE it was ravaged with injuries and paired up with a running game that was darn near anemic. Still Sam found something here in Minnesota paired up once again on his third round with offensive coordinator Pat Shurmur.
That brings us to 2017 and Monday night when Sam posted what turned out to be the single best game of his entire career. 27-for-32 passing for 346 yards, 3 touchdowns and no turnovers. He got time in the pocket, stayed upright and got a run game working all of which led to a 143.0 passer rating, the tops for his career.
"I wasn't surprised by Monday night at all," Vikings tight end Kyle Rudolph said Wednesday. "The guy that the world saw on Monday is the guy that we get to see everyday in practice."
These are the sorts of things that we've been hearing about Sam for years. He has what it takes to become an elite QB in the league, but he (like everybody) needs the pieces around him to fully flourish and succeed.
"He's as accurate as anyone that I've ever been around," Rudolph continued. "He can push the ball downfield and when we're able to get the run game going and make defenses put an extra guy in the box it really opens that up for us."
And the entire country got to sit back and watch on ESPN Monday night. The secret's out on Sam and now the pressure is on to see if with tape out there, with the cover blown, he's still able to put it together on a weekly basis. That is the true test to find out whether or not we're dealing with another flash in the pan or a franchise quarterback here.
Did I mention that he's also in a contract year this season? Not a bad time to pick up your game as best you can!

Vikings Blog
Want to know more about the Vikings Blog? Get their official bio, social pages & articles on KFAN FM 100.3! Read more